The Rainmaker at Bohemian Theatre Ensemble | Theater review
A disillusioned farm girl and her drought-stricken family get taken in by a huckster in N. Richard Nash's drama.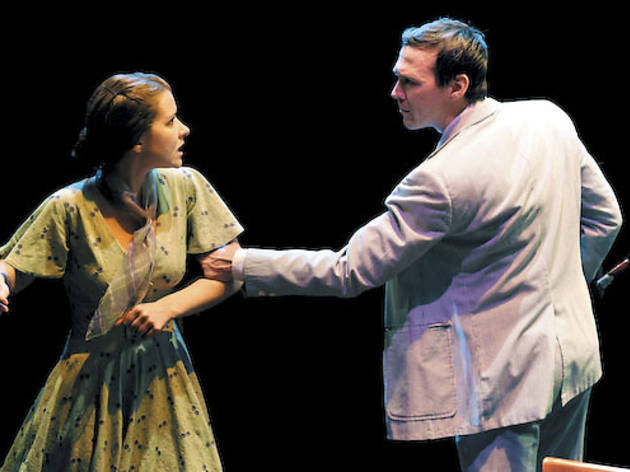 N. Richard Nash's 1954 drama, later adapted into a film starring Burt Lancaster and Katharine Hepburn, hinges the well-being of its central salt-of-the-earth farming family on a series of sliver-thin hopes. Caught in a drought, the Currys accept a $100 challenge from a charming, rain-promising shyster (Matthew Keffer). They know better, of course, and are aware their deal goes against traditional American level-headedness; as Mark Twain put it, "Faith is believing what you know ain't so."
In that educated suspension of disbelief, this production suggests, lies the beauty. For Lizzie Curry (Anna Hammonds), a willful, lonely, prematurely disillusioned spinster, it's a harder pill to swallow. As the sole daughter of the family, Hammonds is convincing and touching as a young, cerebral woman weighing a glimmer of practical and romantic optimism against further heartbreak. She's a high point in Stephen M. Genovese's heartfelt family dynamic, made more intimate by his naturalistic, closed-off set. With Keffer, though, the director deflates some of Nash's central premise. The rainstick-carrying Starbuck must evoke some sense of promise, however slight; smooth talking and pin-striped, Keffer instead evokes mostly skepticism à la Lyle Lanley pitching Springfield a monorail. Too early on, the jig is up.