The Ritz at Circle Theatre | Theater review
Terrence McNally's bathhouse comedy can't wash off its layers of dust.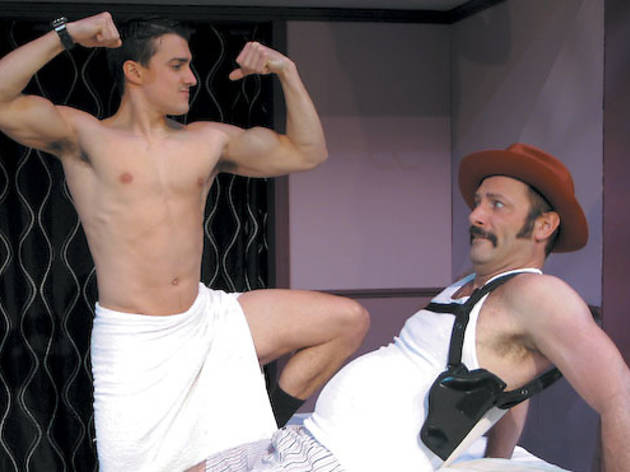 Inside a sleazy gay bathhouse, garbage man Gaetano Proclo (Dennis Schnell) hides from his homicidal brother-in-law while avoiding the unwanted advances of chubby chasers and a possibly transsexual lounge singer. Before creating landmark gay dramas Love! Valour! Compassion! and Corpus Christi, Terrence McNally tried his hand at screwball sex comedy with 1975's The Ritz, a dusty piece that owes more to Benny Hill than Harvey Milk.
The plot is thinner than an ultra-sensitive condom, with an ill-defined central conflict that keeps the stakes consistently low. There's no motivation for Carmine Vespucci's (David Krajecki) hatred of his sister's husband, and the resolution is so half-assed that you're left wondering why the story was told in the first place. The play gets very chaotic at the conclusion, with dei ex machina flying fast and furious between extended, frantic chase scenes.
Bob Knuth's ensemble does adequate work with a lackluster script, including solid performances from Alexander Sharon as a studly detective with a prepubescent voice and Shawn Quinlan as the Ritz's resident nymphomaniac. John Cardone is a highlight as Claude, the petite older man who becomes enamored with Proclo's girth. As Puerto Rican entertainer Googie Gomez, Elizabeth Morgan adopts a strangely Eastern European accent. There's no denying the cast is having fun onstage, but The Ritz should have been left in the '70s.