The Rover at 20% Theatre Company | Theater review
A challenging 17th-century comedy falls flat in an overly busy production.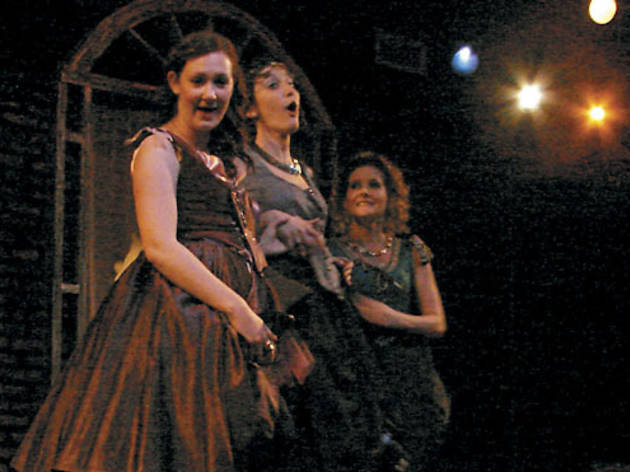 It's amazing how much trouble a mask can cause. In Aphra Behn's 17th-century Restoration comedy, set in Naples during Carnival, women take advantage of the festival's costumes to conceal their faces and look for romance, their hidden identities spawning multiple love triangles. With complicated lyrical dialogue and antiquated gender views (despite Behn's position as one of the West's earliest successful female playwrights), the challenging Rover falls flat in Jessie Mutz's production.
Overly busy staging pulls focus from Behn's plot, most detrimentally during scenes between virtuous Hellena (Deanne McDonald) and horny Willmore (Peter Eli Johnson); the ensemble's background business continually distracts from the lovers' flirtation. Hectic blocking and hurried line readings also obscure the plot, sucking the impact from dramatic moments such as an attempted rape in Act II. While the cast relishes the slapstick comedy, the broad humor muddles the sexual drama. Willmore is forced to choose between aspiring nun Hellena and established prostitute Angelica (Megan Skord Campbell), yet he doesn't appear to be struggling with his decision.
Costume designer kClare Kemock crafts attractive, expensive-looking period threads, but placing characters in stripped-down outfits once they're paired off at the end seems unnecessary. If it's meant to represent how the characters have transcended gender expectations, the rest of the production doesn't do much to support that notion.