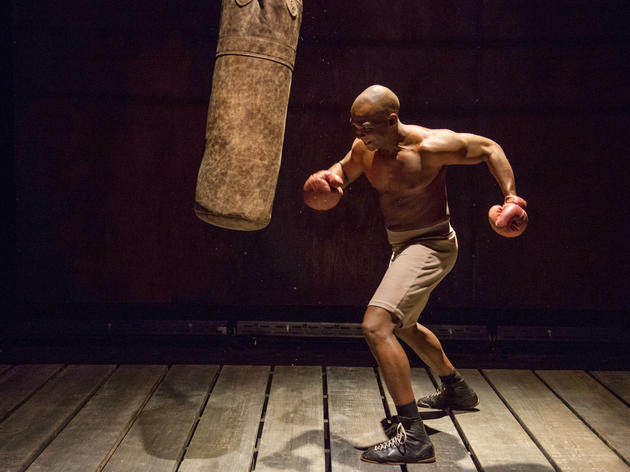 The boxer Jack Johnson was indisputably a top talent in the heavyweight world at the turn of the 20th century. He was also black, which made many white fans of the sport want to dispute his talent regardless, on twisted principle. Howard Sackler's play The Great White Hope, which won the Pulitzer and the Tony Award after moving to Broadway in 1969, took its title from the nickname used for a string of white challengers who tried to strip Johnson of the heavyweight title after he finally goaded the white champ into a match in 1908, which Johnson won.
Like The Great White Hope, Marco Ramirez's powerful new play The Royale tells a fictionalized version of Johnson's story, though it uses a more modern theatrical vernacular. Ramirez's cocky, driven protagonist, Jay Jackson (another seductive performance by Jerod Haynes, who memorably portrayed Native Son's Bigger Thomas at Court Theatre earlier this season), is drawing big crowds and easy money touring the black circuit, with a trusted trainer, Wynton (Edwin Lee Gibson), and an ambitious white promoter, Max (Philip Earl Johnson). Jay can't be matched in the ring; the first time he meets a challenger who actually challenges him, a wise-beyond-his-years young man called Fish (Julian Parker), Jay knocks him out but then hires him on as a sparring partner.
Yet Jay itches for a chance to prove himself not just the best black heavyweight fighter in the world, but the best fighter period. He pressures Max to get the retired white champ to take him on, just as Johnson did, and once the white champ takes the bait, Jay's willing to give up an insulting cut of the purse for his shot at proving himself. But to whom?
Ramirez weaves a percussive beat into his script, with ensemble members Jeffery Freelon and Eric Gerard at the edges of the stage providing the stomps, thumps and barking laughs that mark jabs and blows in the ring but also accent the action out of it. Jaime Castañeda's beautifully spare staging, with designer Brian Sidney Bembridge providing the stark backdrop and lights, matches the play's rhythmic pulse, driving methodically forward until, just before the "fight of the century," Jay hits a roadblock from his past.
As Jay reels from this unexpected psychic blow, forced to truly reckon with what the outcome of his fight could mean beyond the ropes, trainer Wynton tells him a stomach-churning story from his own beginnings as a fighter—a story that echoes the brutal "Battle Royal" scene from Ralph Ellison's Invisible Man, and gives The Royale its name.
It's a story whose moral, you might say, is that your actions are your own but their repercussions can affect others. And that great hopes, black or white, can have their own costs. What Jay does with that, at this play's gut-punch of a climax, could have you holding your breath to the end of the count.
American Theater Company. By Marco Ramirez. Directed by Jaime Castañeda. With Jerod Haynes, Edwin Lee Gibson, Mildred Marie Langford, Julian Parker, Philip Earl Johnson, Jeffery Freelon, Eric Gerard. Running time: 1hr 10mins; no intermission.