The Sign in Sidney Brustein's Window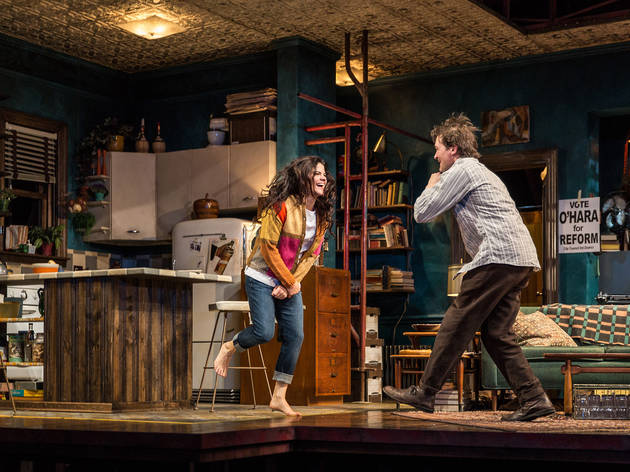 1/8
Photograph: Liz Lauren
The Sign in Sidney Brustein's Window at Goodman Theatre
2/8
Photograph: Liz Lauren
The Sign in Sidney Brustein's Window at Goodman Theatre
3/8
Photograph: Liz Lauren
The Sign in Sidney Brustein's Window at Goodman Theatre
4/8
Photograph: Liz Lauren
The Sign in Sidney Brustein's Window at Goodman Theatre
5/8
Photograph: Liz Lauren
The Sign in Sidney Brustein's Window at Goodman Theatre
6/8
Photograph: Liz Lauren
The Sign in Sidney Brustein's Window at Goodman Theatre
7/8
Photograph: Liz Lauren
The Sign in Sidney Brustein's Window at Goodman Theatre
8/8
Photograph: Liz Lauren
The Sign in Sidney Brustein's Window at Goodman Theatre
Lorraine Hansberry's other play has its own resonances for the present in a fresh look at the Goodman.
Lorraine Hansberry's follow-up to A Raisin in the Sun—the last play she saw staged before she died of cancer at age 34—gets a striking reconsideration in Anne Kauffman's production for the Goodman, a staging that benefits from a remarkable ensemble of actors. In this portrait of artists, activists and intellectuals in 1964 Greenwich Village, New York, Hansberry tackles a long list of social and political issues of the day: race, class, homosexuality, prostitution, drugs, idealism and corruption. You almost sense she knew she wouldn't have another play in her. What you don't get a clear sense of is just what makes her title character tick.
Sign takes place entirely in the apartment of Sidney Brustein (Chris Stack) and his wife Iris (Diane Davis); their home serves as a kind of headquarters for a motley crew of Bohemian types. As the play opens, Sidney and his friend Alton (Travis A. Knight) are sorting through the detritus of Sidney's latest failed venture, a club for listening to folk-music records, and discussing his next: Without consulting his aspiring-actress wife, Sidney has bought a struggling neighborhood newspaper.
It's the latter that brings the attention of Wally (Guy Van Swearingen), who's running against the Machine as a reform candidate for city council and wants the New Village Crier's endorsement. Sidney at first refuses to get involved, but by the second scene has flipped, openly campaigning for Wally's election (including with the titular sign in the window, rendered here as a giant banner suspended over Kevin Depinet's deconstructed apartment set).
But what are we supposed to make of Sidney Brustein? Is it his abstinence or his involvement that's his misstep? His cynicism or his idealism? What are we to do with his constant belittling of his wife, or scoring points against perceived enemies at his friends' expense?
Sidney isn't the only character Hansberry thus complicates, as a series of near-monologues in the play's middle passage see Alton make a heartbreaking decision for understandable reasons, or Iris's buttoned-up big sister Mavis (Miriam Silverman) revealing new facets of her inner life to Sidney. The third act unspools into chaotic melodrama before ending on a seemingly wiser, hopeful note that's worth hearing in this societal moment. Is it idealism or cynicism we should ward off? Hansberry might be warning us about both.
Goodman Theatre. By Lorraine Hansberry. Directed by Anne Kauffman. With Chris Stack, Diane Davis, Miriam Silverman, Travis A. Knight, Grant James Varjas. Running time: 3hrs; one intermission.