1/9
Photograph: Nomee Photography
2/9
Photograph: Nomee Photography
3/9
Photograph: Nomee Photography
4/9
Photograph: Nomee Photography
5/9
Photograph: Nomee Photography
6/9
Photograph: Nomee Photography
7/9
Photograph: Nomee Photography
8/9
Photograph: Nomee Photography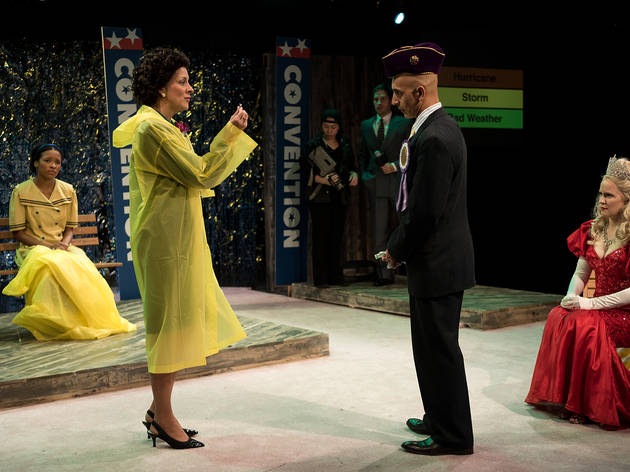 9/9
Photograph: Nomee Photography
Remy Bumppo Theatre Company revives Thornton Wilder's fanciful comedy about a nuclear family that lives through eons of human history.
The most astounding thing about The Skin of Our Teeth, Thornton Wilder's Pulitzer Prize–winning 1942 behemoth, is that is still feels so radically experimental today. And unlike Wilder's quietly radical Our Town, The Skin of Our Teeth makes no effort to hide its eon-spanning, reality-shredding weirdness. It's the play in which Wilder lets down his hair, grows out his moustache, and starts shooting electric acid rainbows out of his butt. And the fact that it features multiple apocalypses—complete with refugees—over its three-hour running time makes it feel more contemporary (gulp) than ever.
This is why I'm glad to report that director Krissy Vanderwarker has managed to wrangle this beast to the ground, stick a bit in its mouth, and tame it—at least as much as a play like this one can or should be tamed. With a game cast of 14 and a stellar design team (lights by Christine A. Binder, set and projections by Yeajin Kim, music and sound by Stephen Ptacek, costumes by Mieka van der Ploeg and props by Jessica Mondres), this production sends you out of the theater a little dazed, a little confused, but also invigorated. All in all, it's a smashing success, a punch-drunk love letter to the human race.
Now, before continuing, it must be noted that The Skin of Our Teeth has the kind of plot that, when summarized, makes the summarizer sound more than little bit deranged. But here goes...
Over the course of its three acts, The Skin of Our Teeth follows the many trials and travails of the Antrobus family, who serve as a sort of stand-in for the human race itself. Act I begins with the Antrobuses living in a mashup of post-war suburban New Jersey and the paleolithic age. To wit, they have a beautiful suburban home with a fire pit in the middle of the floor and a dinosaur and a mammoth roaming about their front yard.
The family patriarch, George (Kareem Bandealy), is on his way home from New York City where he's just finished inventing the alphabet and the wheel. His wife Jane (Linda Gillum) awaits his arrival alongside the family's cynical maid Sabine (Kelly O'Sullivan) and the couple's two children, Gladys (played at the performance I saw by Kayla Raelle Holder) and Henry (Matt Farabee). The family is anxious, as a sheet of Arctic ice moving down along the eastern seaboard is causing a new (or rather, the original) Ice Age.
Act II sees the Antrobuses some thousands of years later celebrating George's election to the presidency of the Fraternal Order of Mammals, in a Roaring '20s version of Atlantic City that comes with heavy overtones of Sodom and Gomorrah. Act III takes place thousands of years even further into the future (but also still the past?), as George and Sabina return from fighting a seven-year-long war; Henry, whose original name is Cain, comes back, too, but he fought for the other side. Their home is rebuilt, and life and the Antrobuses move on, though it seems like maybe they haven't learned much—which makes sense, what with them standing in for the human race and all.
Got all that? No? Well, that summary doesn't even get into the many moments during which the play's "actors," especially the "actress" playing Sabina, break character and comment on how the play makes no sense, really, or how playing a certain scene might hurt an audience member's feelings, or how half the cast ate some bad meringue and now members of the stage crew are being rounded up to perform in their stead. These moments are actually quite delightful, thanks in no small part to O'Sullivan's immense reserves of charisma—delivered here with a flinty, sarcastic edge—and to the play's willingness to make fun of itself, to let the audience in on the joke of its crushing ambitions.
It's that kind of warmth and good humor that suffuses this entire production and keeps it afloat. The Antrobuses might only make it through the play by the skin of their teeth, but audiences won't have much trouble at all.
Remy Bumppo Theatre Company at Greenhouse Theater Center. By Thornton Wilder. Directed by Krissy Vanderwarker. With ensemble cast. Running time: 3hrs; two intermissions.