The Skriker at Red Tape Theatre | Theater review
Eric Hoff's promenade staging of Caryl Churchill's freaky fairy tale is ambitious but overstuffed with distractions.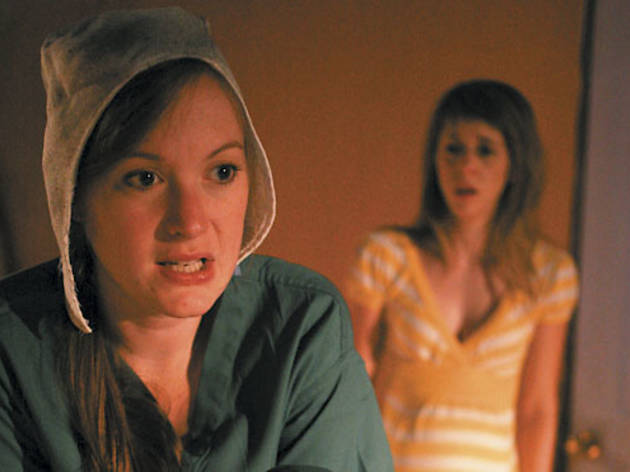 Earlier this year, up-and-coming director Eric Hoff premiered [node:15129873 link=Hit the Wall;], Ike Holter's rowdy and brilliant fictionalized recounting of the 1969 Stonewall riots, to deserved acclaim. Beyond its exceptional cast and agitating, inspiring script, the Inconvenience's greatest success to date can be credited to Hoff's own directorial accomplishment: atmosphere. A skilled illusionist, he built an environment that paid homage to the caution-be-damned, loose spirit of revolution without losing the infrastructure of Holter's play.
It would seem fitting, then, for Hoff to direct Caryl Churchill's intensely atmospheric and viscous fever-dream fairy tale about an otherworldly spirit puppeteering and terrorizing two young women—and in promenade, no less. Churchill's 1994 play ought to be performed and viewed with the emotional open-mindedness more commonly applied to dance or music pieces. Audiences expecting a traditional narrative from The Skriker will be disappointed or, at the very least, bewildered.
A loose structure, though, is no excuse for sloppiness, and Hoff's queasy production rides off the rails early on. Amid moving walls that form a constantly changing labyrinth, audiences are ushered through Churchill's bleak reality to a decadent hellscape and back. It's a better idea in concept than in execution, which amounts to trudging laps around a stifling gymnasium while waiting for set pieces to be moved and trying to ignore woefully misconceived side business, seemingly designed to grate. Grounded, urgent performances by Sadie Rogers, Carrie Drapac and Amanda Drinkall are swallowed whole by the surrounding directorial decadence. If Red Tape's production aimed for fever dream, it falls short at fever headache.