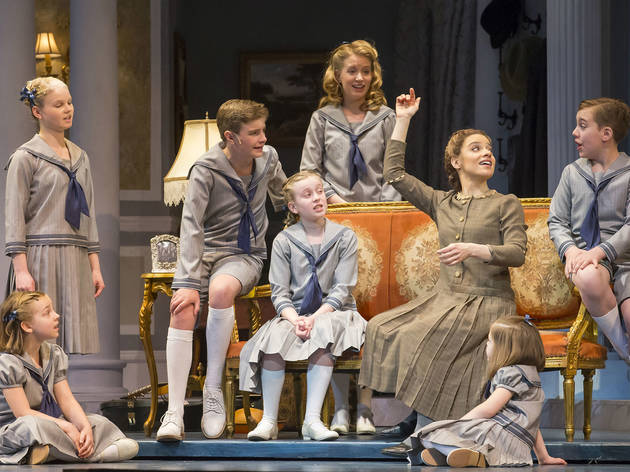 1/13
Photograph: Todd Rosenberg
The Sound of Music at the Lyric Opera
2/13
Photograph: Todd Rosenberg
The Sound of Music at the Lyric Opera
3/13
Photograph: Todd Rosenberg
The Sound of Music at the Lyric Opera
4/13
Photograph: Todd Rosenberg
The Sound of Music at the Lyric Opera
5/13
Photograph: Todd Rosenberg
The Sound of Music at the Lyric Opera
6/13
Photograph: Todd Rosenberg
The Sound of Music at the Lyric Opera
7/13
Photograph: Todd Rosenberg
The Sound of Music at the Lyric Opera
8/13
Photograph: Todd Rosenberg
The Sound of Music at the Lyric Opera
9/13
Photograph: Todd Rosenberg
The Sound of Music at the Lyric Opera
10/13
Photograph: Todd Rosenberg
The Sound of Music at the Lyric Opera
11/13
Photograph: Todd Rosenberg
The Sound of Music at the Lyric Opera
12/13
Photograph: Todd Rosenberg
The Sound of Music at the Lyric Opera
13/13
Photograph: Todd Rosenberg
The Sound of Music at the Lyric Opera
Lyric Opera of Chicago. Music by Richard Rodgers. Lyrics by Oscar Hammerstein II. Book by Howard Lindsey and Russel Crouse. Directed by Marc Bruni. With Jenn Gambatese, Billy Zane, Christine Brewer, Elizabeth Futral, Edward Hibbert. Running time: 2hrs 45mins; one intermission.
Theater review by Kris Vire
Continuing the Lyric's new annual Rodgers and Hammerstein initiative following last year's Oklahoma!, director Marc Bruni stages a lush, visually and aurally impressive revival of The Sound of Music, the much-loved 1959 rendering of the von Trapp family. It's likely the family-friendliest of the planned titles (Carousel, The King and I and South Pacific are slated in coming years). Surely, at least, it's not often the Lyric's programs include puzzle pages for young patrons to "help the von Trapp family cross the mountains!" by completing a maze. And the opera house couldn't have asked for better free marketing than NBC's live broadcast of the musical with Carrie Underwood last November, an unexpected blockbuster.
Bruni's production is traditional in all the right ways: With a cast of 40 actors and singers onstage and 37 top-notch musicians in the pit, you imagine Richard Rodgers himself couldn't imagine a more ideal way of hearing his score in an era when most producers try the "doing more with less" routine. Bruni and scenic designer Michael Yeargan make full use of the Civic Opera House's grand stage, from towering tableaus of the abbey to the irresistible moment when all seven of the von Trapp children ride onstage on matching but custom-sized bicycles—talk about commitment to a production aesthetic. Yet the production isn't wholly without visual missteps; when Jenn Gambatese's Maria first descends Yeargan's two-dimensional mountain, you might well be reminded of the yodeling mountain climber of The Price is Right fame—not exactly the lonely goatherd the production would like to evoke.
The sweetly appealing Gambatese makes a light and lovely Maria, full of practicality and pluck; indeed, this governess is so tinged with leftover essence of Gambatese's previous role as Wicked's good witch, you could imagine her fellow nuns asking "How Do You Solve a Problem Like Galinda?"
Billy Zane's Captain von Trapp comports himself with dignity, but also a touch of hesitancy; we don't see much of a journey from strict and stolid to softened by Maria, and there's not enough stirring behind his "Edelweiss" at the play's crucial moment. But one might not find so much to quibble with if Zane weren't surrounded by remarkable talent, including the altogether outstanding collection of young actors melting hearts as his children. Keep an eye on which mountains these kids climb.