1/6
Photograph: Rob Zalas
The Source at Route 66 Theatre Company
2/6
Photograph: Rob Zalas
The Source at Route 66 Theatre Company
3/6
Photograph: Rob Zalas
The Source at Route 66 Theatre Company
4/6
Photograph: Rob Zalas
The Source at Route 66 Theatre Company
5/6
Photograph: Rob Zalas
The Source at Route 66 Theatre Company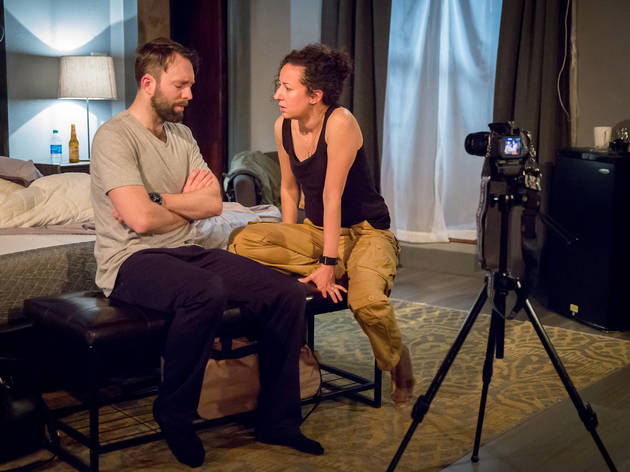 6/6
Photograph: Rob Zalas
The Source at Route 66 Theatre Company
A journalist and a filmmaker get paranoid while waiting on an informant in this timely but flimsy new work.
The battlefield of modern surveillance is boiled down to a single hotel room in Gabriel McKinley's new play. In a premise that's actually distractingly similar to Edward Snowden, The Source features a journalist (played by Cody Proctor) and a documentarian (Kristina Valada-Viars) sitting around a well-appointed foreign hotel room in a never-named foreign country, waiting for the titular figure to make contact. However, unlike Snowden, this leaker fails to show up. As they wait for him to at least make contact, the two grow increasingly frustrated, then worried, then outright paranoid. Beset by mysterious alarms and knocking sounds, the two begin to obsess about just who might be listening in on them and whether "the source" ever even existed in the first place.
Route 66's production, from director Jason Gerace, is a precise and finely-tuned one. It is very well-paced, which is critical for a script whose narrative engine runs on tension. With designers Christopher Kriz (sound) and Mark Comiskey (Projections), Gerace even crafts some wonderfully moody, tone-setting interstitials, including a searchlight effect that creates a real, unsettling sense of dread. (The set, by Jack Magaw, is posh, detailed and entirely unmemorable—which is to say it is a perfect rendering of an upscale hotel room.)
Proctor and Valada-Viars have a bubblingly antagonistic chemistry with each other. In another world (or at least, another genre) you could see these two starring in the world's grimmest buddy comedy. But there is always a nagging sense that the subtlety of their performances is working against McKinley's one-dimensional, melodramatic script. Both the characters and the dialogue are rife with clichés, which makes it difficult to see the story as anything other than it is: a clever situation meant to dramatize the debate of "freedom versus security." Even the mechanics of that plot rely far too much on Oona, the documentarian, withholding massive amounts of information well past the point of believability. As such, The Source is never able to escape the looming shadow of its own source material. It feels less like a standalone story than an intriguing "what if." Maybe Waiting for Snowden would have been a more accurate title.
Route 66 Theatre Company at the Den Theatre. By Gabriel McKinley. Directed by Jason Gerace. With Cody Proctor, Kristina Valada-Viars. Running time: 1hr 25mins; no intermission.
Rating Breakdown
5 star:

1

4 star:

0

3 star:

0

2 star:

0

1 star:

0
Just saw The Source last night - a last minute decision - and am SO glad I did. Extremely topical subject matter and smart, tight dialogue is assembled into an emotionally moving force through powerful, deeply authentic acting by what has to be two of the cities greatest talents in Kristina Valada-Viars and Cody Proctor. They both gave so much in their performance... a true treat for any fan of the theater. Compliments to the staging that set the right tone to support the story-telling. Catch it if you can - you won't be disappointed.