The Strange Undoing of Prudencia Hart at Chicago Shakespeare Theater | Theater review
A tightly wound academic comes face-to-face with the devil in this engaging offering from the National Theatre of Scotland.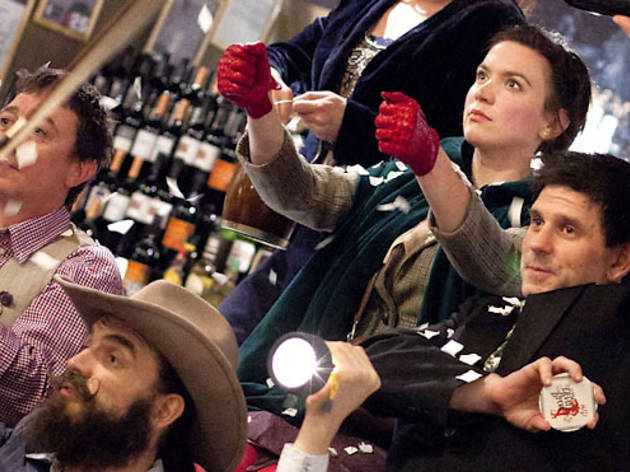 Prudencia Hart is a bit uptight. The titular character of this thoroughly charming play-with-music from the National Theatre of Scotland, now enjoying a brief stay on Navy Pier as part of Chicago Shakespeare Theater's World's Stage series, is an academic "collector." An Edinburgh resident, Pru studies folklore, specifically Scotland's "border ballads" and their depictions of the devil; her dissertation is on "the topography of hell." Presenting at a conference in the wee border town of Kelso, Prudencia's annoyed by her colleagues' modern interpretations and libertine attitudes—particularly her sworn enemy, rock-star researcher Colin Syme, who has the nerve to treat football chants and Facebook statuses as folk texts. But a snow-in, a raucous pub night and an encounter with the devil himself nudge Pru toward letting her hair down a bit.
CST's Upstairs Theater is converted into a pub, with audience members seated at communal tables that are regularly commandeered by the five cast members for use as temporary stages. David Greig's cheeky, winning script, mostly in rhyming verse, allows the actors to roam about the room, donning and shedding characters instantaneously via strategically placed props or costume pieces. The shared narration cleverly suggests Pru's beloved ballads, shrewdly updated with references to Kylie Minogue and Costco car-parks. The setup also allows for a good deal of benign audience interaction; at a Sunday matinee, I got the brunt when chosen as the recipient of a bacchanalian lap dance. Like Prudencia, I must have looked as if I needed a nudge.