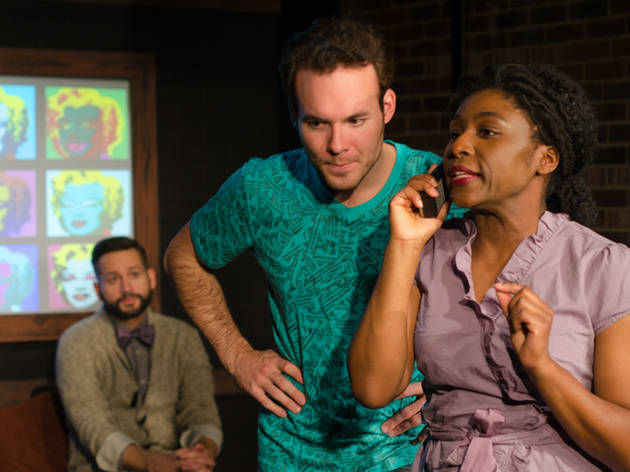 1/7
Photograph: Rayme Silverberg
Edward Fraim, Nicholas Bailey and Ginneh Thomas in The Submission at Pride Films and Plays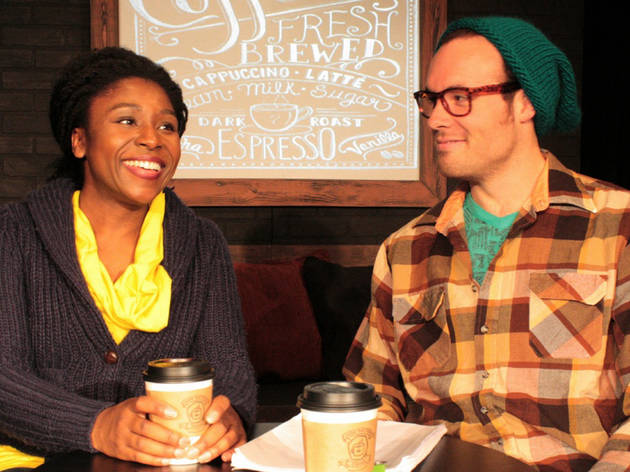 2/7
Photograph: Rayme Silverberg
Ginneh Thomas and Nicholas Bailey in The Submission at Pride Films and Plays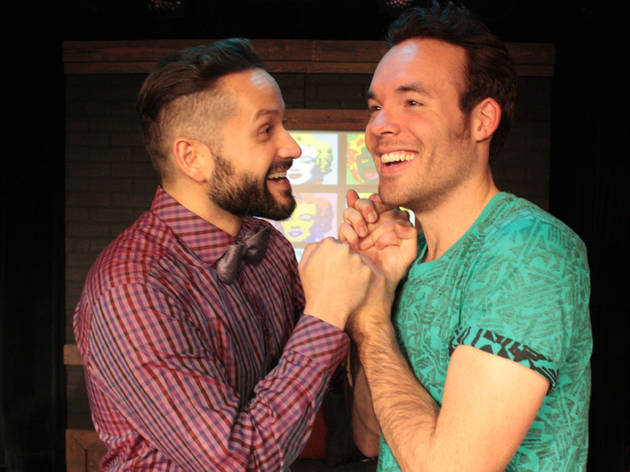 3/7
Photograph: Rayme Silverberg
Edward Fraim and Nicholas Bailey in The Submission at Pride Films and Plays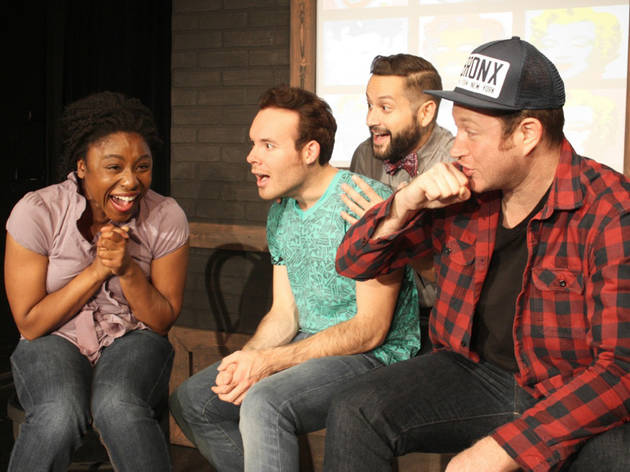 4/7
Photograph: Rayme Silverberg
Ginneh Thomas, Nicholas Bailey, Edward Fraim and Adam Pasen in The Submission at Pride Films and Plays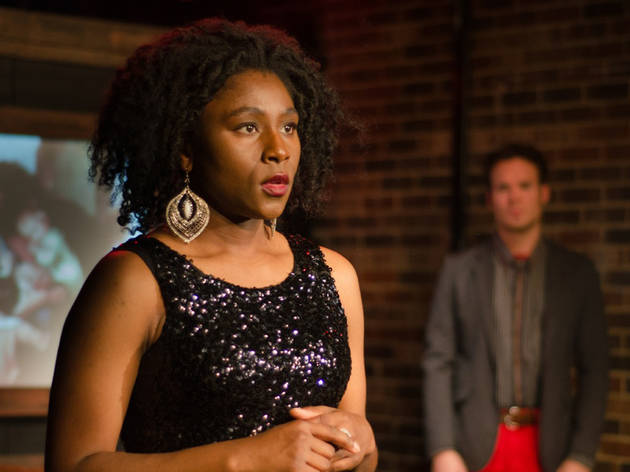 5/7
Photograph: Rayme Silverberg
Ginneh Thomas and Nicholas Bailey in The Submission at Pride Films and Plays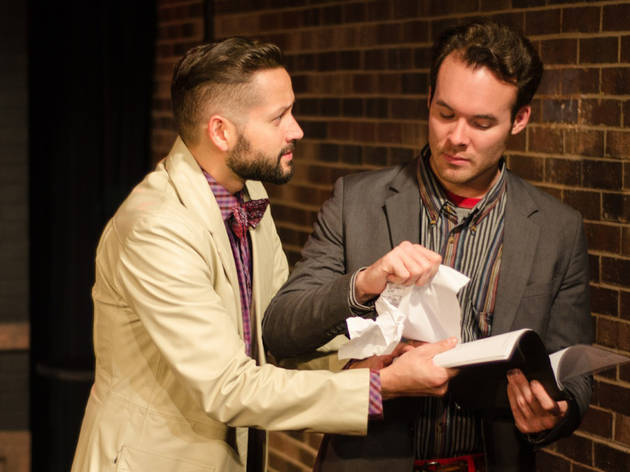 6/7
Photograph: Rayme Silverberg
Edward Fraim and Nicholas Bailey in The Submission at Pride Films and Plays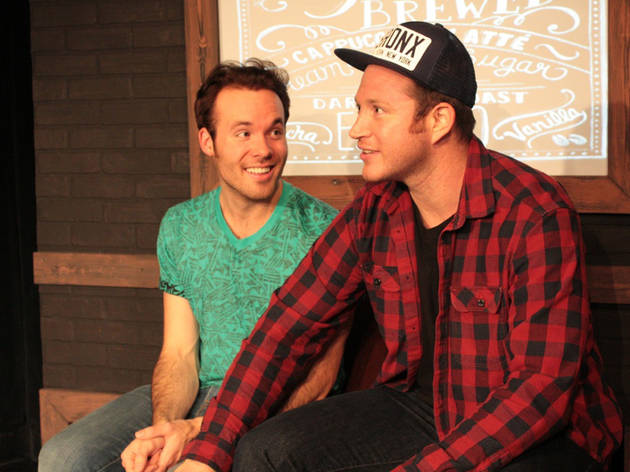 7/7
Photograph: Rayme Silverberg
Nicholas Bailey and Adam Pasen in The Submission at Pride Films and Plays
Pride Films and Plays at Apollo Studio Theater. By Jeff Talbott. Directed by Jude Hansen. With ensemble cast. Running time: 1hr 50mins; one intermission.
Theater review by Dan Jakes
Ask any actor of color earnestly if theater, one of the enduring bastions of progressive discussions about equality, is free from the racial discord many of its plays depict, and you might deservedly receive a stunned glare not unlike those liberally tossed back and forth in Jude Hansen's production for Pride Films and Plays as a response. Of course it isn't, and you don't have to look hard for examples to the contrary; cultural appropriation, curious casting choices, representation (or the lack thereof) in new work selection, "whitesplaining" and stereotypes still find their way on and behind the scenes of contemporary stages, no matter how good the big picture intentions of its community.

Arguably, though, for a more revealing answer—a more cringe-inducing one, in the case of amateur playwright Danny (Nicholas Bailey)—ask a white artist the same question. Despite all the evidence to the contrary, many in the industry share a pervasive thought that the professional experience for minority artists is somehow inherently easier, as if ethnicity alone is a shoo-in factor for grant money, roles and slots. Jeff Talbott's 2011 drama baits anti-affirmative action sentiments by asking a fairly absurd question: Can the theatre industry embrace a powerful and race-focused work about a black family if it knew it was written by a white author?

Ignoring plenty of precedent, the answer is no, according to Danny, who submits his own unrepresented and unsolicited script to the prestigious Humama Festival of New American Plays under the pen name Shaleeha G'ntamobi. It's a brilliant piece of writing, according to his partner (Edward Fraim) and friend (Adam Pasen), and the Actors Theatre of Louisville agrees, granting "Shaleeha" a full workshop and production. Beyond the story of its inspiration—the generously paraphrased train-car tales of a young black man to whom Danny took a creative liking—we never really learn exactly what it is that makes the play so effective, which feels like a missed opportunity. A Spade, the play-within-the-play about the race-related hardships an urban black family faces, misses the chance to be an argument about biases in society for characters to interact with and is just a vague MacGuffin for a fame-chasing playwright.

(That "fame," by the way, is later and awkwardly guaranteed verbatim by the Humana Festival showrunners, and though I don't know the inner workings of ATL, I'm fairly certain that's not a part of the welcoming spiel.)

This presents an obvious challenge for Danny, a white man, who responds with a sitcom-fashioned and inevitably unsustainable solution: hire a black actress, Emilie (Ginneh Thomas), to play his proxy. Cheesecloth as that premise is for a drama, Danny's undoing is foreshadowed even more greatly by the plain fact that his social skills, racial sensitivity and otherwise, are awful. It's a premise similarly covered in Thomas Gibbons's more nuanced and better crafted Bee-luther-hatchee, in which a black editor discovers the reclusive writer of an acclaimed African-American autobiography is a white man.
Hansen's thoughtful direction attributes Danny's many faux pas in front of Emilie, including unprompted diatribes on the "Blony" and "Bloscar" awards, to a misappropriated liberal sense of comfort and entitlement surrounding race. Bailey's game and generationally self-satirizing performance helps substantiate some of the character, but Talbott's script works overtime to make his own protagonist so hopelessly indefensible. If he's supposed to represent a mentality, the result is just alienation.

For a character thrust into a bizarre and precarious situation this flimsy, Thomas lends a lot of credibility to Emilie, who seems to digest the indignities of the scheme's implications with quiet inner conflict underneath curiosity and rationale to achieve a foot in the door. It helps ground the material, even when things dissolve into a predictable and unfortunate gay community vs. black community spout-off.

Even if it can't overcome the lack of credibility in the material, The Submission does mark an ambitious, relevant and more expansive work by PF&P. It's a conversation worth continuing, just with a better platform.