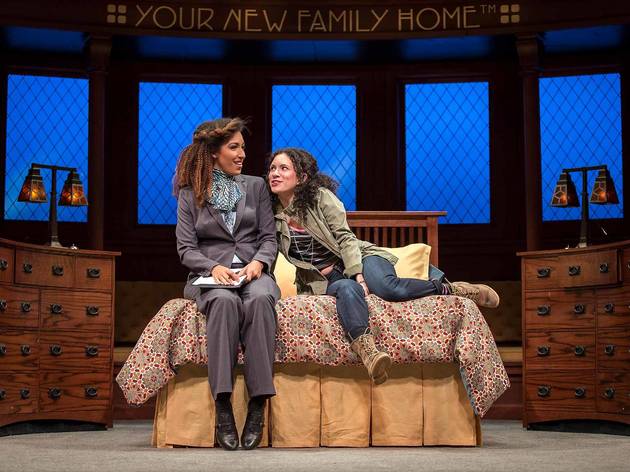 1/8
Photograph: Liz Lauren
Tawny Newsome and Alejandra Escalante in The Upstairs Concierge at Goodman Theatre
2/8
Photograph: Liz Lauren
John Stokvis, Tawny Newsome and Theo Allyn in The Upstairs Concierge at Goodman Theatre
3/8
Photograph: Liz Lauren
Alejandra Escalante and Travis Turner in The Upstairs Concierge at Goodman Theatre
4/8
Photograph: Liz Lauren
John Stokvis and Alejandra Escalante in The Upstairs Concierge at Goodman Theatre
5/8
Photograph: Liz Lauren
Tawny Newsome and José Antonio Garcia in The Upstairs Concierge at Goodman Theatre
6/8
Photograph: Liz Lauren
Theo Allyn and Tawny Newsome in The Upstairs Concierge at Goodman Theatre
7/8
Photograph: Liz Lauren
Tawny Newsome and Sandra Delgado in The Upstairs Concierge at Goodman Theatre
8/8
Photograph: Liz Lauren
Gabriel Ruiz in The Upstairs Concierge at Goodman Theatre
Kristoffer Diaz 's contemporary hotel farce is worth checking in to.
Celebrity is a slippery notion in the age of reality TV, teen Vine stars and insatiable online audiences. If you don't tune in to TLC, Bravo or the right YouTube channels, you might not recognize a single face or name on the tabloid covers in the checkout line at Jewel. Kristoffer Diaz's new farce toys a bit with that idea, stocking its upscale hotel with "celebrity" guests who include a leechy blogger and an unwitting viral video star; their fame is self-feeding, and everyone in the hotel save for the good-hearted title character wants access to them to boost their own profiles in one way or another.
But let's not make this sound too high-minded. The Upstairs Concierge is farce, after all; Diaz (The Elaborate Entrance of Chad Deity) may have updated the archetypes, but the comedy here still turns on the lavishly ludicrous.
Ella (Tawny Newsome), an earnest young woman with a degree in "contemporary comprehensive conciergery," is on her first day on the job at the elaborately named "The Concept at the Hotelman Arms—Your New Family Home," and she's eager to please.
But Ella's day quickly goes south thanks to her bosses' competing opinions of which of the arriving celebs is "our most important guest": the Perez Hilton–ish "'brity blogger," BB (José Antonio García), or Rebecca (Alejandra Escalante), a free spirit who became a YouTube sensation for her bunting skills. Rebecca's pursuit by multiple baseball franchises, and Ella's mandate to keep her hidden, provide much of the door-slamming propulsion. A third guest is a whack-job pop author by the unlikely, lemony-snickety name of Shivery Delicious who's prone to taking on false personas; she's played by Sandra Delgado, whose indulgence in silliness is infectious.
The setup, like all farce, requires you to go along with some deeply absurd improbabilities; Diaz explicitly pokes some fun at the conventions of the form, with tongue-in-cheek justifications for the lack of locks on the hotel room doors, for instance. Once Diaz has all his pieces on the table, The Upstairs Concierge really revs up, dense with visual gags, wordplay and physical comedy.
It's possible some viewers will trip up on reconciling this kind of goofy humor with contemporary trappings and a relatively realistic Loop setting, but there's nothing loopier here than in Feydeau or Fo; leave your disbelief at check-in and enjoy committed comic performances by the likes of John Stokvis and Gabriel Ruiz, as the hotel's bumbling, horny bellboys, or Theo Allyn as a deliciously weird Yankees scout. (The casually diverse casting in the Goodman's production is worth appreciating; to have actors in a range of ethnicities filling roles that aren't defined by ethnicity, in a non-period piece, shouldn't be noteworthy but is.)
There is still room Upstairs for improvement. Before we get to the strong center, the play's opening stretch is distressingly slow, which the cast seemingly tries to cover by barreling through exposition. The ending is troubled, too, coming to a stuttering halt without finding a satisfying out.
And Newsome's central character could use some fleshing out. Newsome is an enormously appealing stage presence and a naturally agreeable audience entry point. But she radiates capability, making Ella's early credulity feel inauthentic. A bit more insight into her motivations before the guests start checking in could help make Diaz's comedy suitable for an extended stay.
Goodman Theatre. By Kristoffer Diaz. Directed by KJ Sanchez. With ensemble cast. Running time: 1hr 20mins; no intermission.