The Voodoo Chalk Circle at the State Theatre of Chicago | Theater review
Chelsea Marcantel's post-Katrina recasting of Brecht's play is curiously apolitical but entertaining nonetheless.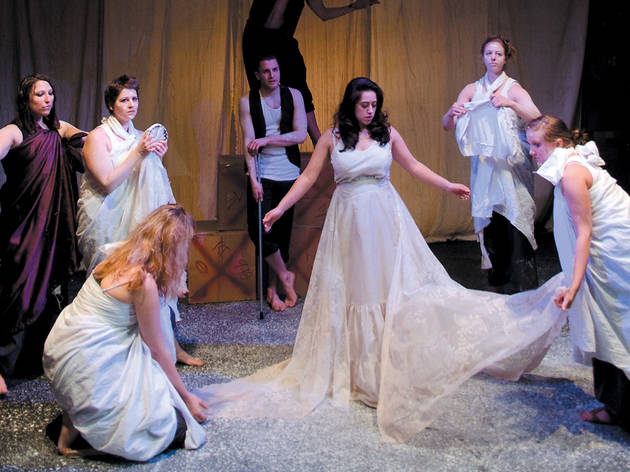 I'm not sure how Brecht would view Louisiana native turned Chicagoan Marcantel's loose adaptation of his Caucasian Chalk Circle. While setting the piece in the aftermath of Katrina seems inspired, this Circle almost entirely jettisons the German playwright's ironic political commentary. This quietism is apparent in the play's large structure: It's oddly silent on the subject of race (for a Katrina story, this is a conspicuously Caucasian cast), and retails a questionable picture of looting run amok in the hurricane's wake­. And it's also visible in small moments: This version switches the original's Solomonic resolution, with its vision of an upper class willing to tear apart its young, for one in which the innocent child Michael blithely picks out the right caregiver.
On the other hand, Marcantel boils down a hugely complex script to a briskly paced and potent one-act. The State Theatre ably rises to the occasion of her scenario, tossing all but the theatrical kitchen sink into the performance space. Silhouette projections, various forms of puppetry, audience participation, an offstage choir: Speicher's array of devices could easily have congealed into something unwatchable, but instead it's like Mary Zimmerman on the cheap, consistently charming in its ingenuity. An exuberant young cast, headed up by Josh Hambrock's insinuating, Tom Waits–style narrator, sells the piece relentlessly. It may not invite the critical reflection Brecht was after, but it's a rousing show.