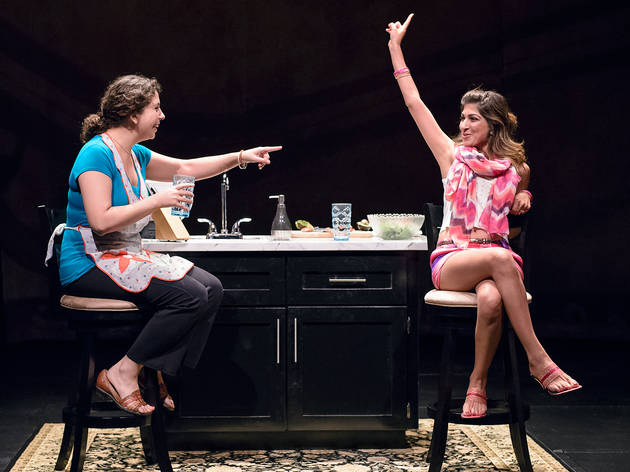 1/4
Photograph: Michael Courier
Susaan Jamshidi and Minita Gandhi in The Who and the What at Victory Gardens Theater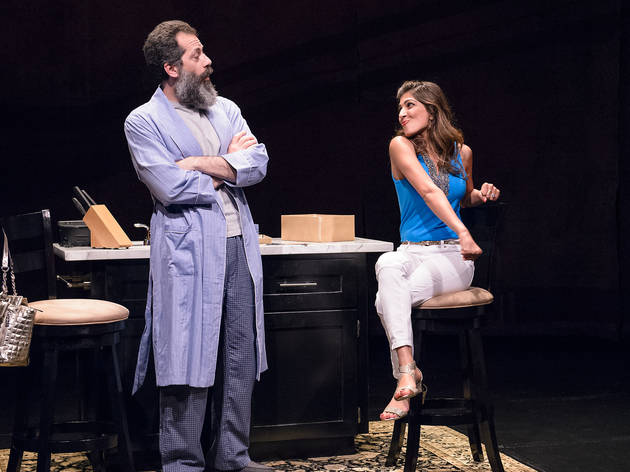 2/4
Photograph: Michael Courier
Rom Barkhordar and Minita Gandhi in The Who and the What at Victory Gardens Theater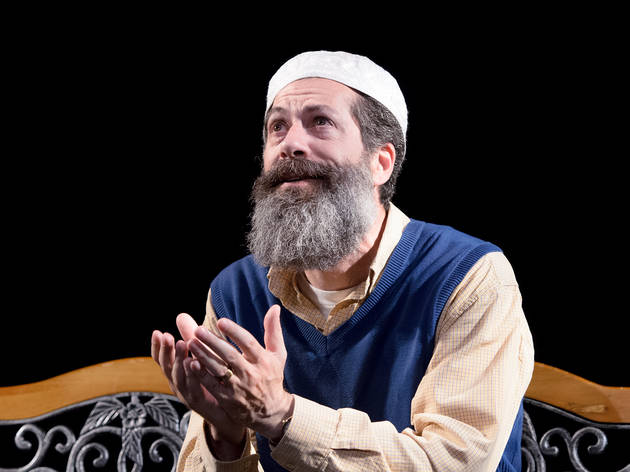 3/4
Photograph: Michael Courier
Rom Barkhordar in The Who and the What at Victory Gardens Theater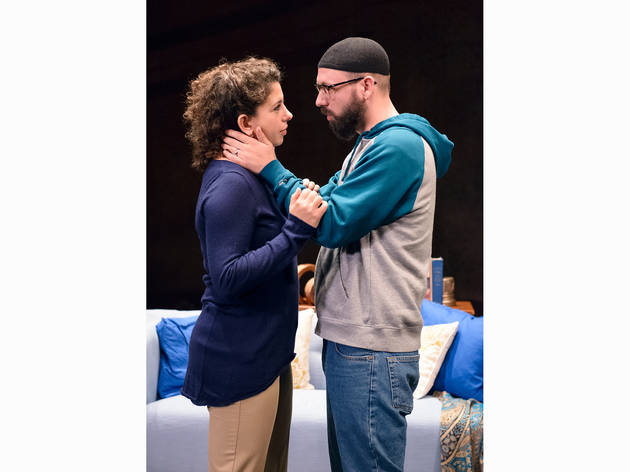 4/4
Photograph: Michael Courier
Susaan Jamshidi and Shane Kenyon in The Who and the What at Victory Gardens Theater
Ayad Akhtar lays out the tension between tradition and assimilation in a Muslim-American family.
The conflict between tradition and progress is at the heart of this 2014 work by Ayad Akhtar (Disgraced), but it's also about the balancing of comedy and conflict. Zarina (Susaan Jamshidi) is a frustrated author, unable to write since breaking off an engagement. Her father, Afzal (Rom Barkhordar), began working as a cab driver after immigrating from Pakistan, and now boasts that he owns 30% of the taxis in Atlanta. Unbeknownst to his daughter, he sets her up with a profile on a Muslim dating site—but meets the men himself, to vet whether they're good enough to meet Zarina.
When he finds a candidate he likes in Eli (Shane Kenyon), a Detroit-born convert who runs a mosque in suburban Cobb County, he springs the news on his aghast daughter, who's resistant to her father's matchmaking efforts but agrees to go on a date. Eli gets Zarina to open up about the book she's working on but won't talk about with her father or her sister, Mahwish (Minita Gandhi). "It's about gender politics," she hedges. "And then what happens?" her quick-witted date replies.
All of this action in the first act plays out like romantic comedy with some Muslim theology mixed in. It's after intermission, when we come back a year later to find Eli and Zarina married and the book finished, that things turn explosive rather jarringly. In a conversation with his son-in-law, affable Afzal reveals some of his more, shall we say, traditional thoughts about gender roles in marriage, telling Eli Zarina has too much power over him and he has to "break" her.
And this is before Afzal sneaks a peek at Zarina's manuscript, which turns out to be a kind of feminist portrait of the prophet Muhammad as a flawed man, with human doubts and carnal desires. To Zarina, it's an effort to understand the man behind the stories; to her father, it's dangerous blasphemy.
Akhtar, a novelist who's still relatively new to writing for theater even with a Pulitzer under his belt, could work on pacing; Act I feels a little languorous in its storytelling, while the second act rushes by at breakneck speed. Still, these are complex, nuanced characters, created with care by Ron OJ Parson's strong cast. Barkhordar is particularly fine as a father who clearly wants only what's best for his daughters, even if he has different ideas about what's best than they do.
Victory Gardens Theater. By Ayad Akhtar. Directed by Ron OJ Parson. With Susaan Jamshidi, Rom Barkhordar, Shane Kenyon, Minita Gandhi. Running time: 1hr 50mins; one intermission.