Heads up! We're working hard to be accurate – but these are unusual times, so please always check before heading out.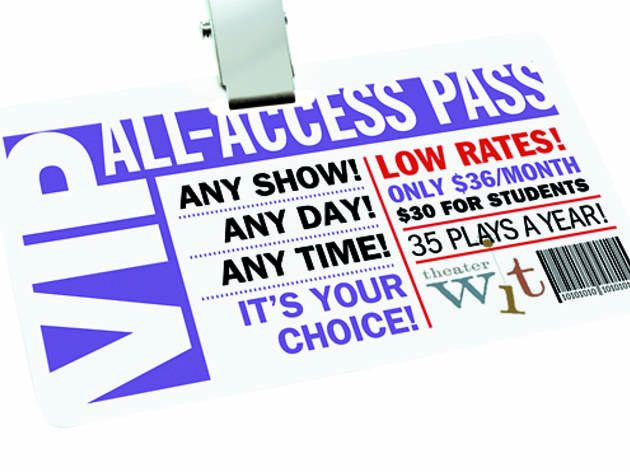 Theater Wit offers unlimited attendance for flat monthly fee
The three-space "multiplex storefront theater" brings the Netflix membership model to the stage.
Netflix made news last week with the announcement that it planned to divorce its legacy DVD rental business from its Internet streaming service, charging separately for the two. Customers who saw the move as a simple price hike were irate, but as a longtime customer, I think it makes sense; the two services feel very different to me. The DVDs are an obligation, requiring me to prioritize my queue and then sitting next to my TV after they arrive, taunting me with guilt until I watch them. The streaming service, on the other hand, is an opportunity, a cache of available entertainment that says, "Hey, no rush, come check us out when you feel like it."
The latter is how Theater Wit's artistic director Jeremy Wechsler characterizes his bold new venture: a monthly, flat-rate membership plan allowing unlimited attendance at any event in his three-theater venue. It's a way of boosting single-ticket sales for Wit and its tenant companies "as an invitation, rather than a sell."
Inspired by a similar program at Seattle's A Contemporary Theatre, Theater Wit will offer a $36 per month pass ($30 a month for students) allowing members to reserve a seat, at no additional charge, to any performance, including productions by Theater Wit, its resident companies Stage Left and Bohemian Theatre Ensemble, or other renters.
The latter group this season is a diverse mix, including TimeLine, Griffin, Sideshow, Porchlight, Strange Tree Group, New Millennium, Pride Films and Plays, Route 66 and an appearance by the Antwerp-based theater group Salomee Speelt. Additional perks, such as member nights, discounts at the bar and bring-a-friend deals, are likely.
Wechsler says he discussed terms with his venue's tenants, to ensure the membership program aligns with prior agreements "and to make sure we didn't cannibalize their own subscription programs." But he thinks the monthly, unlimited nature of this new scheme will attract a different crowd than traditional subscriptions, noting that ACT's subscription base in Seattle hasn't dropped after the introduction of its ACTPass.
"You bought this pass, it's like a gym membership. Using it then becomes 'free,' " Wechsler says. "I think it changes the question for the audience member, from 'Should I invest money in this particular show?' to 'Should I go out?'  You're investing nothing but your time, which you're looking for a way to spend."
The goal is to increase the frequency with which patrons return, and to encourage intermingling among the resident companies' discrete audiences. "I'm in this particularly unique position, as this kind of multiplex storefront theater, to get people to cross over and experiment with other shows," Wechsler says, adding that the monthly pass "removes a barrier to re-entry."
The deal is structured so that Theater Wit, which runs box-office services for all productions in the venue, takes on all the risk; the box office will pay out to tenant companies when a passholder takes a seat, no matter how often. Wechsler acknowledges that if his experiment is too successful, Theater Wit could lose money. "If everybody buys these and comes four times a month, that could cost us thousands of dollars."
But he believes in the model: "A single theater can't offer a 'Netflix' variety, but we've got 35 plays [a year]," he says. "And I think Netflix encourages people to watch more movies."