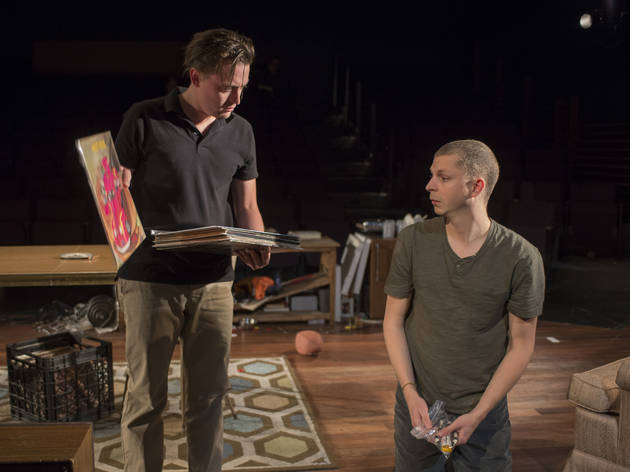 1/7
Photograph: Michael Brosilow
This Is Our Youth at Steppenwolf Theatre Company
2/7
Photograph: Michael Brosilow
This Is Our Youth at Steppenwolf Theatre Company
3/7
Photograph: Michael Brosilow
This Is Our Youth at Steppenwolf Theatre Company
4/7
Photograph: Michael Brosilow
This Is Our Youth at Steppenwolf Theatre Company
5/7
Photograph: Michael Brosilow
This Is Our Youth at Steppenwolf Theatre Company
6/7
Photograph: Michael Brosilow
This Is Our Youth at Steppenwolf Theatre Company
7/7
Photograph: Michael Brosilow
This Is Our Youth at Steppenwolf Theatre Company
Steppenwolf Theatre Company. By Kenneth Lonergan. Directed by Anna D. Shapiro. With Michael Cera, Kieran Culkin, Tavi Gevinson. Running time: 2hrs 10mins.
Theater review by Kris Vire
The preshow announcement for the new production in Steppenwolf's Upstairs Theatre is unusually detailed. Going far beyond the usual turn-off-your-cellphones entreaty, it explains politely but firmly that the light and noise of texting is distracting to both audience members and the actors onstage. Photographs and other recordings are strictly prohibited, it says, accompanied by a brief case for copyright law. We're even beseeched to remain in our seats, with the corollary instruction that re-entry may not be allowed if we leave the theater. Missing from the voiceover, however, is the standard exhortation to unwrap any candies now.

This extended lesson in Theater Etiquette 101 may be a reflection of the audience Steppenwolf—and commercial producer Scott Rudin, who's shepherding the whole production to Broadway following this limited run—hope This Is Our Youth might attract: a younger crowd (oh please God, let them be young, you can almost hear the powers that be praying) that's as new to live theater as are two-thirds of the play's notable young cast.

Kenneth Lonergan's 1996 comedy is set in 1982 Manhattan, focusing on a trio of young adults of some privilege, all at that crucial late-teens, early-20s moment when uncertain identity butts up against newfound agency. Dennis (Kieran Culkin) is the son of a famous painter, selling drugs to his fellow rich kids out of the studio apartment his parents pay for "because they're so grateful I don't wanna live with them." Aimless, mayhem-prone Warren (Michael Cera) is recently returned to his father's apartment after dropping out of college in Ohio; after the latest clash at home, he shows up at Dennis's door with $15K in cash stolen from his jerky old man.

Dennis, selfish and self-regarding, treats Warren like a puppyish putz, but eventually relents to letting Warren crash. Over a couple of shared joints, a plan is hatched for the night: score some coke, repair Dennis's on-the-outs relationship with his unseen girlfriend Valerie, and hopefully hook Warren up with Valerie's friend Jessica (Tavi Gevinson), a fashion student he has the hots for. Things go off the rails, in ways predictable and not.

Cera, the film and TV actor, has never played another role onstage (though he and Culkin essayed Warren and Dennis in a brief, separate production of This Is Our Youth two years ago in Australia). Gevinson, the 18-year-old force behind the popular teen magazine Rookie, is making her professional stage debut, following an onscreen turn in last year's Nicole Holofcener film Enough Said. Culkin, the oldest but seemingly ageless member of the cast, has a somewhat longer stage résumé; I happened to see his Off Broadway debut 14 years ago, in a James Lapine play called The Moment When, and he appeared (as Warren) in the London production of This Is Our Youth some years back.

All three, though, acquit themselves with confidence and charm in Anna D. Shapiro's intimate alley staging (which the director will rework for a proscenium configuration at Broadway's Cort Theatre). Lonergan, who went on to write and direct the terrific films You Can Count on Me and Margaret, has a strong ear for the clumsy performance of adulthood that comes at the moment just before one is forced to take stock of its responsibilities and consequences.

Gevinson captures this well in a key moment in which she remembers she should call her mother, then visibly decides she shouldn't have to. She presents Jessica's paranoiac obsession with what people will think of her as the true teenage experience it is. With her blond hair teased out in '80s fashion, she reminds one a bit of Scarlett Johansson. Culkin, with his magnetically manic, smartest-one-in-the-room take on Dennis, evokes thoughts of Robert Downey Jr., though Lonergan's script keeps the character a bit too hard-charging for his final shift to fully read.

But Cera is pure Cera. Having honed his mastery of awkward ineffectuality in the likes of Arrested Development, Juno and Superbad, the actor slots into Warren's awkward ineffectuality so seamlessly as to make it hard to reconcile that the role was originated by Mark Ruffalo. Yet Cera gives Warren a real vulnerability and a strong arc of discovery over the play's brief span. There's little that's wasted in this Youth.