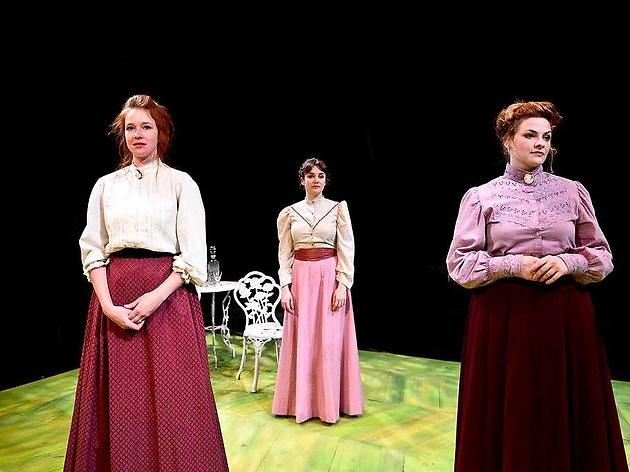 1/5
Photograph: Evan Hanover
 Lindsey Gavel, Hilary Williams and Mary Williamson in The Hypocrites' Three Sisters at the Den Theatre
2/5
Photograph: Evan Hanover
Hilary Williams and Mary Williamson in The Hypocrites' Three Sisters at the Den Theatre
3/5
Photograph: Evan Hanover
Lindsey Gavel, Hilary Williams, Joel Ewing and Mary Williamson in The Hypocrites' Three Sisters at the Den Theatre
4/5
Photograph: Evan Hanover
Lindsey Gavel, Joel Ewing, Mary Williamson and Hilary Williams in The Hypocrites' Three Sisters at the Den Theatre
5/5
Photograph: Evan Hanover
Vance Smith and Lindsey Gavel in The Hypocrites' Three Sisters at the Den Theatre
The Hypocrites move Chekhov's siblings into modern language, but Moscow and all it stands for remain tragically out of reach.
Geoff Button's deeply funny new modern-language adaptation of Three Sisters puts the petty comedy of Chekhov's "comedy" front-and-center in its first half, paradoxically making its characters' glum endpoints all the more tragic.
Sisters Olga (Mary Williamson), Masha (Lindsey Gavel) and Irina (Hilary Williams) and their brother, Andrei (Joel Ewing), are eking out a stifling life in provincial, turn-of-the-20th-century Russia as the play opens, entertaining soldiers from the local army battalion and dreaming of Moscow.
While it doesn't change the period, Button's script revamp uses disarmingly modern vernacular; where one of the translations on my bookshelf has the sisters teasingly refer to Vershinin (Vance Smith), the married officer who becomes Masha's illicit love interest, as "The Lovelorn Major," Button renders it as "Major Puppylove." The director further muddies the time setting by adding snippets of folk and pop songs from decades before and after the play's setting.
Erin Barlow's shrill Natasha, who marries Andrei, is the clear villain of this production; Button, along with scenic designer William Boles and costume designer Jeremy W. Floyd, employs a colorful visual metaphor to illustrate Natasha's increasing influence over the household and edging out of the titular sisters.
Barlow's hard switch from shy and nervous to imperious witch makes Natasha come across a little Disney-stepmother, and a particular staging choice regarding the other characters' tentative objections to Natasha's imposition is leaned on a bit hard. But Williamson, Williams, Ewing and Gavel are precisely in tune as the endearing, frustrating, charming, self-sabotaging and all too human Prozorov sibs. Will they ever get to Moscow? Will any of us?
The Hypocrites at the Den Theatre. By Anton Chekhov. Adapted and directed by Geoff Button. With ensemble cast. Running time: 2hrs 20mins; one intermission.