Heads up! We're working hard to be accurate – but these are unusual times, so please always check before heading out.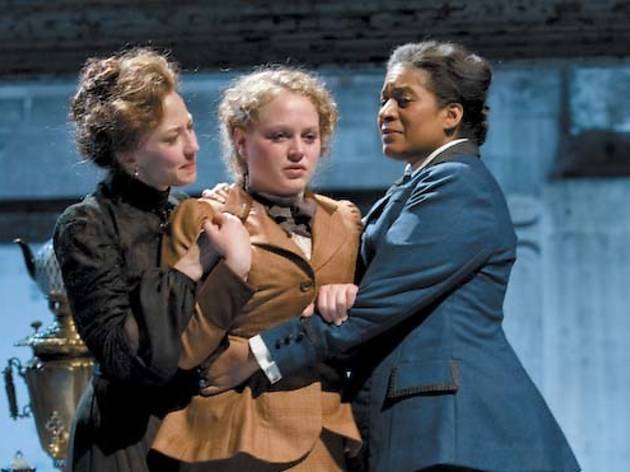 Three Sisters at Steppenwolf Theatre Company | Theater review
Tracy Letts's accessible adaptation puts Chekhov's human longings at the forefront.
Audiences who first encounter Tracy Letts this summer onscreen, via his violent, vulgar Killer Joe, may question the author's chemistry with Chekhov. But Letts, of course, has gentler modes. His new adaptation of Three Sisters contains a handful of well-placed vulgarities among its modern colloquialisms, but more important, his script, stripped of some era-specific elements that can serve as stumbling blocks for contemporary audiences, shows a tremendous empathy for Olga, Masha, Irina and the men in their lives. Letts and director Anna D. Shapiro put the characters' very human longings at the forefront.
The sibs' yearning hope to return from their provincial home to Moscow—or really, to the time of more abundant possibility that Moscow represents—still goes unfulfilled, of course. Chekhov's delicate play is steeped in existential, unmeetable desires for love, happiness and the meaning of it all (there are multiple, increasingly despondent conversations among the characters about what people 200 years on will think of them). Steppenwolf's cast finds nuance in both the big, bold declarations and the moments of quieter wistfulness. Among the men, Usman Ally stands out as Solyony, painting him as a man whose social anxieties manifest in wry aggression; Scott Jaeck is warm and moving as Chebutykin, the physician who can't heal himself. On the other side, Alana Arenas's fiery take on increasingly cruel sister-in-law Natasha might walk away with the show if she hadn't so successfully turned us against her. Ora Jones, Carrie Coon and Caroline Neff each deliver fine performances as the titular trio. Neff in particular opens up beautifully in her first turn on the big stage, her Irina balancing pensiveness with a spark of optimism that, in the play's final moments, is tragically snuffed.