Tigers Be Still at Theater Wit | Theater review
Kim Rosenstock's endearing comedy is served up by an appealing, ideal cast.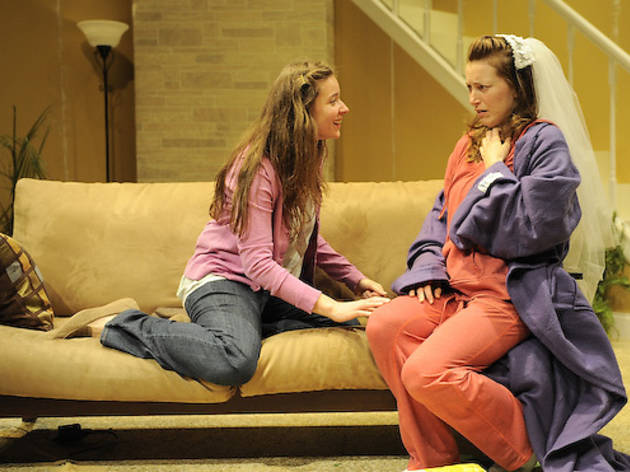 A pair of unseen presences loom over Kim Rosenstock's tremendously appealing 2010 comedy. One is the titular big cat, escaped from the zoo and roaming the suburban landscape where Sherry (Mary Winn Heider) has recently returned after completing her master's degree in art therapy. The other is Sherry's mother, a onetime prom queen suffering from a mysterious immune disorder. The medication prescribed by her doctors has caused her to gain a great deal of weight, a development that's left her so ashamed and depressed that she's locked herself in her bedroom upstairs, communicating with Sherry and her sister Grace (Kasey Foster) only by phone. Grace is in a bad way as well; having been dumped by the fiancé she lived with, she's retreated to the living-room couch, where she subsists on a steady diet of Jack Daniel's and Top Gun viewings.
Sherry has only just escaped her own depressed torpor born of a yearlong job search. She's finally been hired as a middle-school art teacher, by a principal (Guy Massey) who happens to have been her mother's high-school sweetheart. He asks Sherry to take on his troubled 18-year-old son, Zack (Matt Farabee), as both an assistant and a therapy patient.
Rosenstock uses what could sound like another self-consciously quirky set of circumstances to instead incisively and empathetically explore her characters' paralyzing grief, which stalks them like, say, a large, dangerous feline. Jeremy Wechsler's savvy alley staging is smartly paced and ideally cast. The interplay among Heider, Foster, Farabee and Massey is heightened but fully honest and endearing.