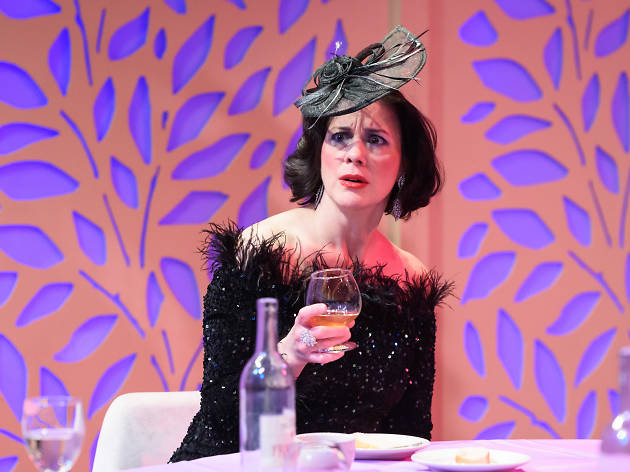 Time Out says
Theater review by Alex Huntsberger
Caryl Churchill's 1982 masterwork Top Girls is never more daring than in the first of its three acts. Urbane career woman Marlene (Linda Gillum) is hosting a fantastical dinner with a guest list of women from ages past: Pope Joan (Rebecca Spence), Victorian explorer Isabella Bird (Annabel Armour), Dutch folklore figure Dull Gret (Aurora Real De Asua), the dutiful Griselda from Canterbury Tales (Amber Sallis) and the 13th-century Japanese diarist and courtesan Lady Nijo (Karissa Murrell Myers). Churchill infuses this scene with such acrid vivacity that you'd think she had written it on a dare.
As the ladies eat and drink—and drink some more—solidarity and celebration over Marlene's recent promotion at work curdle into bitterness, rage and regret. Whatever inspiration Marlene hopes to take from their life stories is dulled by the suffering they all endured. Director Keira Fromm, whose sharp-elbowed style serves the material well, combines a top-notch cast with precise staging to move the scene from amiable chatter to utter chaos in what feels like a heartbeat. Time and time again in this production, Fromm locates the explosive heart in Churchill's writing and then wires it to blow sky high.
Throughout Top Girls, Churchill makes the case that although the world may be horrible to women, the way to overcome it is not to be just as horrible back. Act Two traces the very 1980s goings-on at the recruitment firm where Marlene works. When her worshipful teenage niece, Angie (Real De Asua), makes a pilgrimage to London seek her out, the posh, cruel Marlene is quick to write the girl off as someone who can't make it in a man's world. (She sees her as as sweet and stupid; she doesn't know how full of rage she is.) Act Three jumps back a year to show a tense encounter between Marlene and her estranged sister, Joyce (Spence), as Angie looks on. Churchill waits more than two hours to evoke Margaret Thatcher by name, but the Iron Lady's influence is palpable throughout.
Churchill does not let her eye for nuance compromise her moral outrage. When a colleague's wife (Spence again) argues that Marlene should cede her promotion to him, disgust seeps through Marlene's steely demeanor; when her guard is down, that same animus pours forth onto less deserving targets. Gillum expertly depicts Marlene's disregard for the have-nots, like her sister and her mother, who aren't sociopathic enough to become the haves. If her Marlene is an unstoppable force, Spence's blunt and beaten-down Joyce is the immovable object made to meet her. And De Asua's Angie is heartbreaking: a young woman whose innocence is the wellspring of her overwhelming anger. Unlike Marlene, she's all flesh and blood, with no trace of iron. No wonder the Thatcher set thinks she doesn't stand a chance.
Remy Bumppo Theatre Company. By Caryl Churchill. Directed by Keira Fromm. With ensemble cast. Running time: 2hrs 40min. Two intermissions.
Details
Venue name:
Theater Wit
Address:
1229 W Belmont Ave
Chicago


Cross street:
between Racine and Lakewood Aves
Transport:
El stop: Brown, Purple (rush hrs), Red to Belmont Bus: 9, 77
Price:
$15–$47.75
Dates And Times
Users say