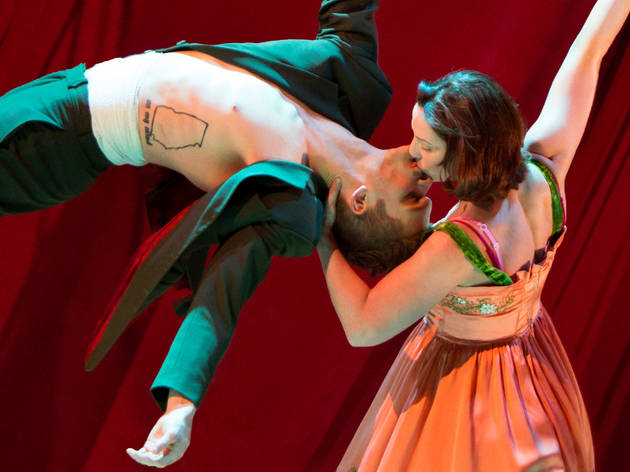 1/5
Photograph: Heidi Bohnenkamp
Andrew Durand and Etta Murfitt in Kneehigh's Tristan & Yseult at Chicago Shakespeare Theater
2/5
Photograph: Steve Tanner
Andrew Durand in Kneehigh's Tristan & Yseult at Chicago Shakespeare Theater
3/5
Photograph: Steve Tanner
Gareth Charlton in Kneehigh's Tristan & Yseult at Chicago Shakespeare Theater
4/5
Photograph: Steve Tanner
Andrew Durand and Carly Bawden in Kneehigh's Tristan & Yseult at Chicago Shakespeare Theater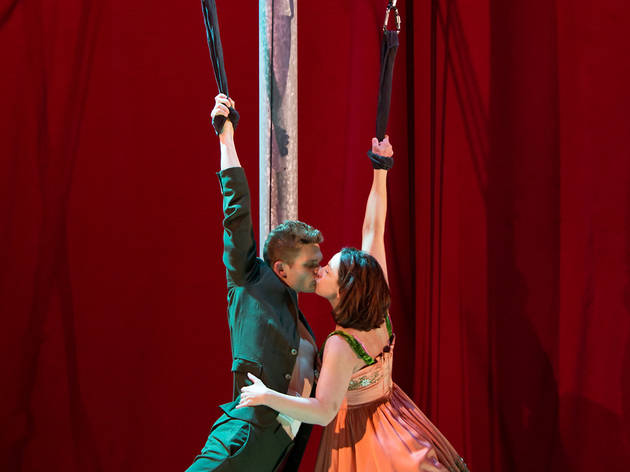 5/5
Photograph: Heidi Bohnenkamp
Andrew Durand and Etta Murfitt in Kneehigh's Tristan & Yseult at Chicago Shakespeare Theater
Kneehigh at Chicago Shakespeare Theater. Adapted and directed by Emma Rice. With ensemble cast. 2hrs 15mins; one intermission.
Theater review by Kris Vire
In one of the giddiest scenes in Kneehigh's Tristan & Yseult, the eponymous star-cross'd lovers ravish each other with such abandon and force they actually lift off the ground and spin in the air. Having consumed a powerful love potion—which, as our mod-siren narrator Whitehands (Carly Bawden) suggests, only frees an existing attraction from repression—the two are drunker in love than Bey and Jay on a surfbort.

The ancient legend of Cornish prince Tristan and Irish princess Yseult, whose illicit but insatiable affair meant betraying ties of family and country both, is an acknowledged influence on such little-known pairings as Lancelot/Guinevere and Romeo/Juliet. It's probably best known today via Wagner's opera Tristan und Isolde, which makes appearances in the score here—as do "O Fortuna," Patsy Cline, the Jackson 5 and Nick Cave and the Bad Seeds.

That stylistic variety carries over into every area of Kneehigh's carefully capricious aesthetic here, which includes a live band and a delightfully organic, openly theatrical sense of visual spectacle. In adapter-director Emma Rice's thrillingly DIY-inventive staging, you'll believe a boy can fly, but you'll also hear from the characters hoisting him by a pulley—all of the cast members here, leads included, also double as "the Unloved," the hapless minion "lovespotters" who enable the romance from the outside looking in.

The production isn't all whizbang fun and games; Kneehigh hits at the consequences of passion as well. Stupidly charismatic leads Andrew Durand and Etta Murfitt capture both the chemistry-fueled high of first love and the bittersweetness of its dissipation. And if you think longtime Kneehigh member Craig Johnson is cast as Yseult's handmaiden Brangian just for cross-gender drag giggles, wait for Act II's stinging ultimate fulfillment of her duties.

It seems near criminal that Kneehigh, the widely acclaimed, 30-year-old Cornwall-based company that began touring its work with Tristan & Yseult just over a decade ago, is just now making its Chicago debut. But it's no surprise that Chicago Shakespeare's indispensable World's Stage series is what made it happen. If this potent potable doesn't get you in the mood, check your pulse.