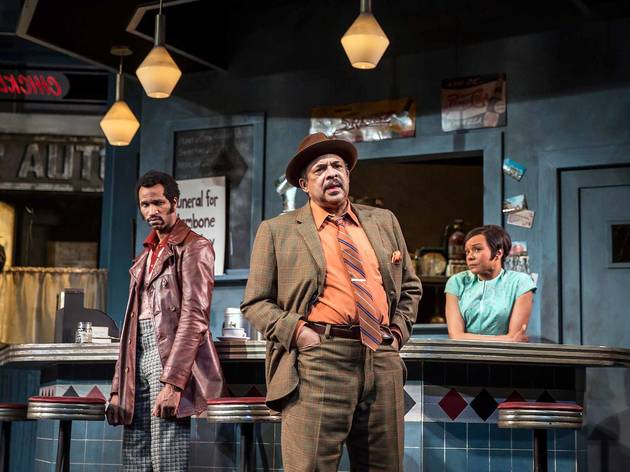 1/11
Photograph: Liz Lauren
Two Trains Running at Goodman Theatre
2/11
Photograph: Liz Lauren
Two Trains Running at Goodman Theatre
3/11
Photograph: Liz Lauren
Two Trains Running at Goodman Theatre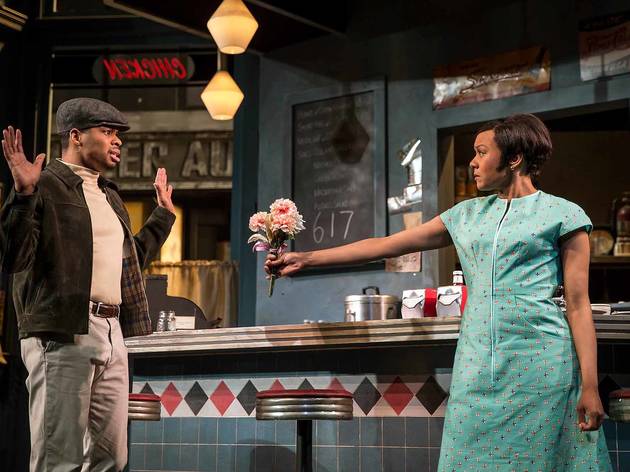 4/11
Photograph: Liz Lauren
Two Trains Running at Goodman Theatre
5/11
Photograph: Liz Lauren
Two Trains Running at Goodman Theatre
6/11
Photograph: Liz Lauren
Two Trains Running at Goodman Theatre
7/11
Photograph: Liz Lauren
Two Trains Running at Goodman Theatre
8/11
Photograph: Liz Lauren
Two Trains Running at Goodman Theatre
9/11
Photograph: Liz Lauren
Two Trains Running at Goodman Theatre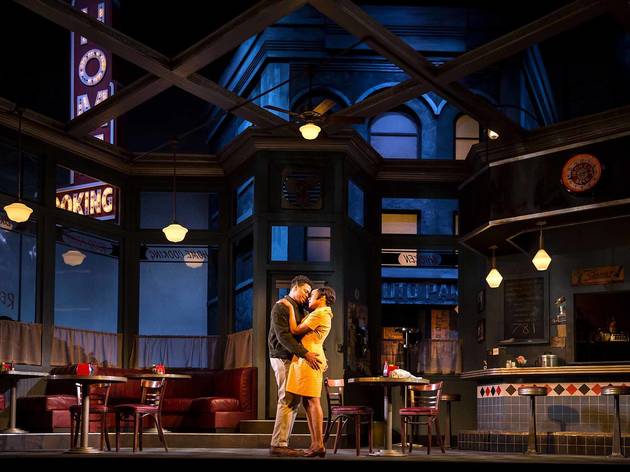 10/11
Photograph: Liz Lauren
Two Trains Running at Goodman Theatre
11/11
Photograph: Liz Lauren
Two Trains Running at Goodman Theatre
Signals get crossed in the Goodman's excellent revival of August Wilson's 1960s number.
The seventh play chronologically in August Wilson's ten-piece Century Cycle of takes on the African-American experience in the 20th century, Two Trains Running is set in a struggling Pittsburgh diner in 1969. The surrounding black neighborhood is largely crumbling, with the city buying up lots for urban renewal, but proprietor Memphis (Terry Bellamy) refuses to sell for less than the $25,000 he believes he deserves, all property-value evidence to the otherwise.
The other regulars include waitress Risa (Nambi E. Kelley), who apparently scarred her own legs to make herself less attractive to men; Wolf (Anthony Irons), who runs numbers for the local lottery; Holloway (Alfred H. Wilson), the wizened elder who promotes the counsel of the far more wizened elder Aunt Ester, a presence in other of Wilson's works but unseen here; and the disturbed Hambone (Ernest Perry Jr.), who's become singularly focused on a perceived slight by a white business owner a decade earlier.
The status quo at Memphis's place is beset by forces large and small: the arrival of Sterling (Chester Gregory), a charismatic young man just out of prison and fervently on the make, coincides with a black-power rally in the name of the assassinated Malcolm X that Sterling wants to promote and Memphis wants to ignore, and the more recent death of Prophet Samuel, a local evangelist of dubious sincerity but beloved by the community.
This entry in Wilson's opus, which premiered in 1992 when the moment it depicted was at hardly a generation's remove, backs off from grand figures and gestures for a more on-the-ground pulse check of the civil rights movement. Chuck Smith's new production, the centerpiece of a citywide August Wilson Celebration marking the tenth anniversary of the playwright's death, is markedly grounded and extraordinarily funny, with strong, moving work from the whole ensemble. In depicting seven distinct characters with seven differing visions for the future, Two Trains is a vivid reminder that every movement runs on multiple tracks.
Goodman Theatre. By August Wilson. Directed by Chuck Smith. With Terry Bellamy, Chester Gregory, Nambi E. Kelley, Anthony Irons, Ernest Perry Jr., A.C. Smith, Alfred H. Wilson. Running time: 2hrs 50mins; one intermission.