Under a Rainbow Flag at Pride Films & Plays | Theater review
A new musical about gay soldiers on leave during World War II shows promise but gets bogged down in mawkish ballads.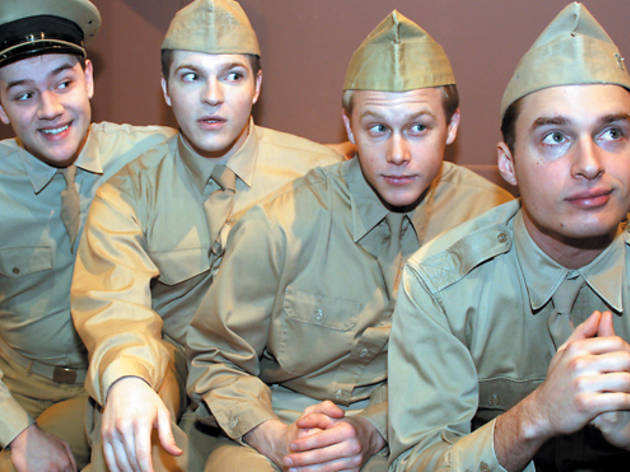 This new musical by Leo Schwartz centers on four gay soldiers who meet on a train during World War II. When the GIs pull into San Francisco for a week of R & R, it looks like we're in for a queer version of the classic servicemen-on-leave musical, On the Town. Schwartz's score doesn't have the brash exuberance of the music Leonard Bernstein composed for that 1944 gem, but Schwartz does have a flair for bitchy dialogue and bouncy comic numbers with titles like "You Can't Run Away from Gay, Baby" and "Queens" (the hands-down best song in the show).
Unfortunately, the composer gives these gifts full expression in only one of the four story lines—the one involving Russell (a delightfully swishy James Nedrud), who leaves the war with a feisty boyfriend (Luis Herrera) and a medal for repairing field vehicles. The other three members of the quartet—hayseed Phillips (Sam Button-Harrison), medic Stefano (Jordan Phelps) and Army career-man Gibbs (Nick Stockwell)—are marooned in maudlin plots involving lost, unrequited or thwarted love. Schwartz shows an admirable compassion for gays who risked their lives for their country but were forced to stay in the closet. A slew of drippy ballads, however, saps the energy from David Zak's well-cast, well-sung staging. It doesn't help that all the slow songs sound the same.