Vigils at the Gift Theatre | Theater review
In the Gift's handsome revival, Noah Haidle's depiction of grief and renewal makes the supernatural matter-of-fact.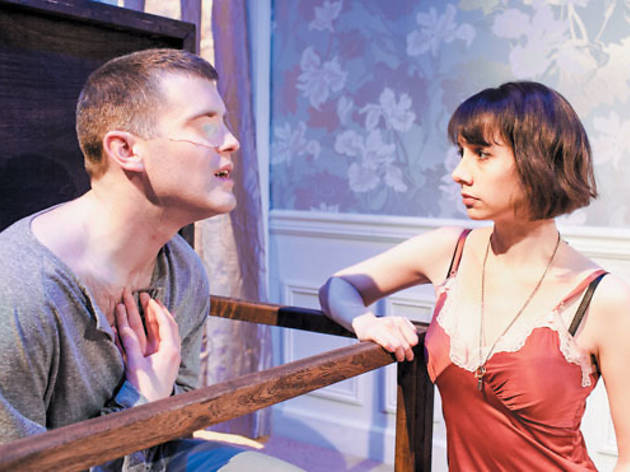 It's the ghost who's haunted in Noah Haidle's domestic meditation on mourning and the dubious steps grieving lovers take to unburden themselves of their loss. Trapped in a chest in his wife's bedroom, a firefighter's blind soul (Jay Worthington) relives a ceaseless torrent of memories of life with his widow and his former self (Hillary Clemens and James D. Farruggio) while she entertains the possibility of a new suitor (Kyle Zornes). Though the former spouses occupy different realms, they share a purgatory of l'esprit de l'escalier—the right words revealed only in hindsight—in Erica Weiss's deliberate and careful production for the intimate Gift Theatre.
Rumination isn't a particularly dynamic activity to stage, but Haidle's thoughtful, often piercing nonlinear examination makes the couples' inner conflict active and gripping. Resentment, regret, longing and gratitude are played out with impartiality and without judgment. Compassionate and darkly comedic, Vigils only occasionally draws attention to itself more than its characters, with a foray into metatheatrics briefly diverting Haidle's human portrait rather than heightening it. For all its time spent in the ether, Gift's ensemble, whose members regularly rank among the most consistent and well-crafted in Chicago theater, keeps the play's stakes on firm ground.