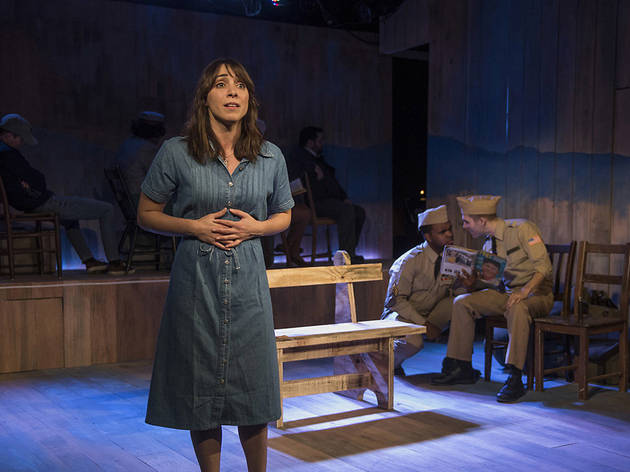 1/8
Photograph: Michael Brosilow
Violet
2/8
Photograph: Michael Brosilow
Violet
3/8
Photograph: Michael Brosilow
Violet
4/8
Photograph: Michael Brosilow
Violet
5/8
Photograph: Michael Brosilow
Violet
6/8
Photograph: Michael Brosilow
Violet
7/8
Photograph: Michael Brosilow
Violet
8/8
Photograph: Michael Brosilow
Violet
A singular lead performance makes this early musical from composer Jeanine Tesori something really special.
The hardest road for any piece of musical theater to walk is that of genuine, homespun grit. When characters are constantly bursting into song and dance, it's difficult to simultaneously make folks buy into the dirt under their nails and the dust on their boots. Many musicals solve this by steering wide of anything that even resembles grit. It's all sequins and top hats: artifice so artificial that it forms a cartoonish, dream-logic reality all its own. These shows ask you to believe nothing, in the hopes that you'll believe everything.
It would have been all too easy for Griffin Theatre's production of Violet, a 1997 musical from Fun Home composer Jeanine Tesori, to fall into the same trap. Tesori's music is wonderful and lively, her tunes drawn from country, honky-tonk and gospel music—and music director John Cockerill does them all justice—but it still plays by the basic musical theater bylaws. Director Scott Weinstein stages the show with a down-to-earth charm without sacrificing clarity, and yet transforming a set of tired Greyhound bus riders into a musical chorus still requires a degree of artificiality.
What sets this production apart is Violet herself, and the remarkable performance from Nicole Laurenzi that brings her to life. Specifically, it's Laurenzi's singing voice, which skips out on cold, technical precision and opts instead for something more organic, more playful, and more moving. She doesn't feel like a classically-trained singer, but rather like a regular person who just so happens to sing very, very well. Her voice is an extension of herself and she wields it as an actor's tool, shading her lines with melancholy, anger and raw, desperate hope. The way she sings is so real that it allows you to forget she's singing a song at all.
(On the other end of the spectrum, LaShera Zenise Moore's astounding performance as a gospel singer absolutely blows the roof off the joint. As the kids say: she has the range—with a few additional octaves to spare.)
Based on The Ugliest Pilgrim, a short story by Doris Betts, with book and lyrics by Brian Crawley, the show takes place in 1964 and follows the 25-year-old Violet as she travels by bus from her home in the hills of North Carolina all the way to Tulsa, Oklahoma. Violet has a large, ugly scar running down her face, the result of an accident with an axe when she was 13, and she hopes that a slick, faith-healing televangelist (played with the perfect balance of charm and smarm by Anthony Kayer) whose show is filmed in Tulsa can make it disappear.
Along the way, she meets a pair of soldiers: Flick (Stephen Allen), who is African-American, and his friend Monty (Will Lidke), who is white. The three gradually befriend each other and then fall into a sticky, complicated love triangle. Violet also frequently flashes back to her younger self (played by Maya Lou Hlava) and her relationship with her father (Matt Miles), a man whose sincere love for his daughter was matched only by the pain he felt at his wife's loss.
The production isn't quite aided by its set (designed by Lauren Nigri), which tries to evoke an old-timey country barroom but ends up looking more like a sauna than anything else. (Maybe some sawdust would have helped?) But the other design elements, like Izumi Inaba's costumes and Alexander Ridger's lighting, do much to create the sense of place that the scenic element fails to achieve. And while the set might not be ideal, it does little to distract from the sublime joy that pulses through this production or the heart-stopping faith and sorrow present in every moment of Laurenzi's performance. It's a feeling that will stick with you long after you've left the theater, like a bit of soil that clings to your boots and refuses to be shook off.
Griffin Theatre Company at the Den Theatre. Music by Jeanine Tesori. Book and lyrics by Bryan Crawley. Directed by Scott Weinstein. With ensemble cast. Running time: 1hr 40mins; no intermission.