Violet at Bailiwick Chicago | Theater review
Despite the 1997 musical's weak book, Bailiwick's ensemble excels.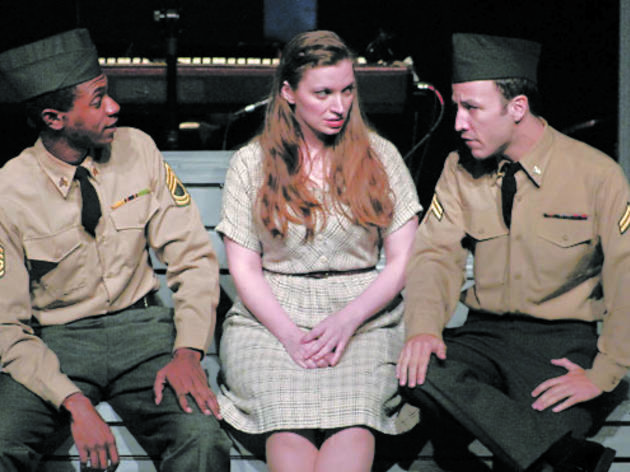 When she was 13 years old, Violet's face was scarred by the blade of her father's ax. Twelve years later, Violet (Harmony France) takes a Greyhound bus from her North Carolina home to Tulsa, where she hopes to have her face healed by a televangelist she's been watching for years. Based on the short story "The Ugliest Pilgrim" by Doris Betts, the 1997 musical Violet features a fantastic country/bluegrass-inspired score by Jeanine Tesori, but Brian Crawley's book fails to capture the weight of Violet's struggle. Because director Elizabeth Margolius doesn't establish early on the attraction between Violet and her fellow passenger, soldier Flick (Evan Tyrone Martin), Violet's final decision seems a rushed, illogical conclusion to the story.
Bailiwick's ensemble excels musically, filling the Mercury Theater with gorgeous harmonies that create emotion where the script is lacking. Balance issues with the pit cause diction problems, particularly the first line of the show from Young Violet (Glynis Gilio), which is repeated throughout the production but is never quite clear.
Despite the weak book, France nails the title character's vulnerability and shame, without a visible scar on her face, and Martin's strong vocals lend themselves to Flick's charming character. When he sings with France, the love between them becomes palpable.