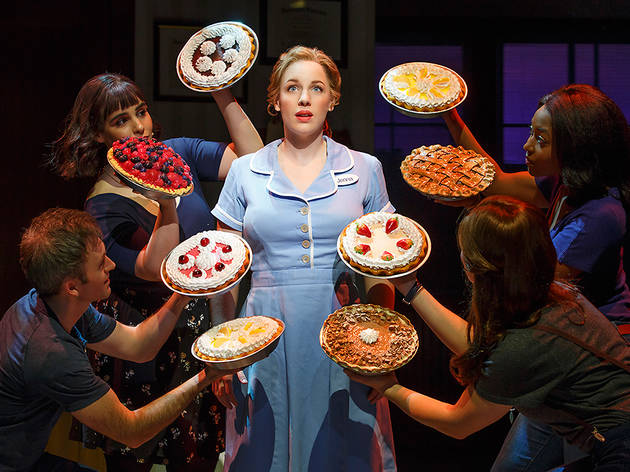 If this joyous tearjerker proves anything, it's that we need more musicals from Sara Bareilles, pronto.
The Cadillac Palace Theatre is turning into Chicago's premier destination for musicals that once featured local actress-turned-Broadway superstar Jessie Mueller. Last December, the venue hosted a national tour of Beautiful—The Carole King Musical, and it's currently showing Waitress, an adaptation of the late Adrienne Shelly's beloved 2007 indie film. Mueller headlined both musicals on Broadway, but each production—Waitress especially—still has much to offer in her absence. And the kickass songbooks help: Beautiful had Carole King and Waitress has Sara Bareilles.
As channeled through a live onstage band, Bareilles's rowdy, casually frank ballads are the perfect match for musical theatre. When listening to her melodies, it's hard not to feel like Bareilles is your best friend—the kind who will tell you to your face that the guy you're dating is an asshole. Not one song into Waitress and you start to wonder: Why has it taken Bareilles this long to write a musical? And when is she penning another?
As far as adaptations go, Waitress remains faithful to its cinematic source material, which is slightly ironic considering that the story is rife with infidelity. The plot follows Jenna (Desi Oakley), a small-town woman whose only escape from her loveless, abusive marriage is her passion for baking pies. Jenna works at a local diner with her two friends, fellow waitresses Becky (Charity Angél Dawson) and Dawn (Lenne Klingaman), where her baking talents are put to delicious use.
The musical opens with Jenna discovering that she's pregnant, an upsetting realization mostly because she despises her lug of a husband, Earl (Nick Bailey). Determined to keep the baby and desperate for a way out, Jenna starts having an affair with her gynecologist (Bryan Fenkart) and squirreling away her tips to enter a regional baking competition. If she wins the $20,000 grand prize, she'll be able to start a new life with her daughter.
Oakley is great, expertly blending desperation, cynicism and genuine kindheartedness with the precision of a master baker, and she's supported by five other fantastic performers. Dawson and Klingaman are wonderful, as is Fenkart, who is a superb comedian. In the role of Dawn's besotted, uber-geek suitor Ogie, Jeremy Morse brings down the house, while Larry Marshall's performance as the diner's sweet but somewhat dirty owner, Joe, is pathos personified. Bailey does what he can with Earl, but the character is impossible to love.
Speaking of dirty: The show features a lot of sex, and it's rarely elegant. Romantic, yes, but awkward and fumbling all the same. Director Diane Paulus never lets Waitress escape from the weirdness of the human body. When Jenna feels a sharp pain and goes into labor, for instance, the stage fills with bodies of women going through the same. It's a candidness that brings out the best in Bareilles's songwriting, and vice versa. Waitress is a joy, a pleasure, a tearjerker and an all-around feelings factory—a feat made possible thanks to its brutal honesty. Well, as brutally honest as a play about pies can be.
Cadillac Palace Theatre. Written by Jessie Nelson. Music and lyrics by Sara Bareilles. Directed by Diane Paulus. With Desi Oakley, Charity Angél Dawson, Lenne Klingaman, Bryan Fenkart, Nick Bailey, Larry Marshall, Jeremy Morse and ensemble. Running time: 2hrs; 30min; one intermission.