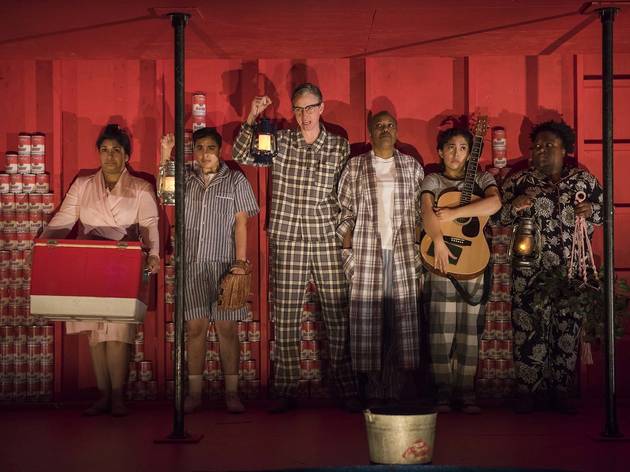 1/7
Photograph: Michael Brosilow
2/7
Photograph: Michael Brosilow
3/7
Photograph: Michael Brosilow
4/7
Photograph: Michael Brosilow
5/7
Photograph: Michael Brosilow
6/7
Photograph: Michael Brosilow
7/7
Photograph: Michael Brosilow
Two families work through national and neighborly fear as the Cuban Missile Crisis looms in this new comedy by Basil Kreimendahl.
You might think a play being presented in 2018 that hinges on the Cuban Missile Crisis would be all too concerned with the disturbing parallels between that moment and our current escalating tensions with North Korea.
In the case of We're Gonna Be Okay, the new play by Basil Kreimendahl at American Theater Company, you'd be incorrect. The play looks back at the Cuban Missile Crisis and the seismic shocks it sent through the national psyche, but with an entirely different purpose in mind. It's interested in the crisis as a moment when the foundations of American society felt suddenly unsteady. It wants to know what happens when everything turns upside down, even if it has to use the threat of nuclear war in order to do it.
The play begins with a conversation between two suburban patriarchs: the excitable, paranoid Ephran (Kelli Simpkins, playing him like the Scarecrow on uppers at a John Birch Society meeting) and his down-to-earth, blue-collar neighbor Sul (Penelope Walker.) Ephran is convinced the two should collaborate on a bomb shelter in their backyards—an idea that Sul, understandably, thinks is a bit loony. The two are soon joined by their respective wives, Leena (Adithi Chandrashekar) and Mag (BrittneyLove Smith). Leena thinks Ephran's bomb shelter is a silly idea, but Mag, whom Smith imbues with a quiet, sad fearfulness, sees it as sensible.
Eventually we meet the children, too. Ephran and Leena's boy, Jake (Avi Roque), is trying way too hard to be the big, swaggering jock, while Sul and Mag's daughter Deanna (Sarai Rodriguez, with a permanent yet elastic grimace) is the kind of teenager adults find cool but fellow teens think is lame.
The characters all bounce off one other for the first act, with Ephran and Mag eventually convincing Sul the bomb shelter is a good idea. When the shelter is semi-completed, news of the crisis hits and the families rush down into it, with Ephran in particular believing he's ready to wait out the sure-to-be nuclear apocalypse.
He's not, of course, and he's the first one to lose his marbles in the half-finished bunker. Act II sees the characters connect, break apart, and generally try to reckon with their place in the world—or worlds, really: the one that came before, the one they exist in now, and the one that is sure to come. Ephran, for one, is terrified of losing his patriarchal status, especially once Leena burns her bra in defiance of his wishes.
The show is allergic to the brand of staid realism that often defines historical dramas. Kreimendahl's script is all contemporary language and impressionistic rhythms; there's no "well-made" plot here. The playwright is more interested in the way the characters change and evolve (or devolve). No guns mounted conspicuously on the wall in Act I so they may be fired dramatically in Act II.
Then there's the casting—characters comprising three men and three women, all of them cisgender, are played by five cis women and a trans actor. When looking at the power structures that define our society and our family units, gender is one of the core supports holding the whole thing up. By having non cis-male actors portray these cis-male characters, those structures are up-ended from the very start. The roles these men play are allowed to be just that: roles.
And lastly there's the design, which is a welcome departure from the kind of straight representational realism mostly present on Chicago stages. And it's not minimalist, either; by storefront standards, it's opulent. The stage is a raised platform with a large, Liechtensteinesque backdrop of a stack of pancakes that just so happen to resemble a mushroom cloud. The set (by William Boles), costumes (by Melissa Ng) and props (Jamie Karas) are all presented in bold, solid colors; Rachel Levy's lighting is just as fantastical and fantastic. The shelter itself—when it finally makes its appearance—is a solid, bright red, with stacks of Campbell's Soup cans lining the walls. And over the whole thing hangs a menagerie of aerial bombs, each looking like it's poised to drop onto the actors' heads at any moment.
Lest you think the title of the show is some cruel switcheroo, it does all come out right in the end, or at least it does for the kids. The show's final beat is an extended back and forth between Jack and Deanna that turns the phrase "you're weird" from an accusation into a triumphant affirmation. It would seem that these two really are going to be okay after all. We can only hope the same is true for the rest of us. Disturbing parallels and all.
American Theater Company. By Basil Kreimendahl. Directed by Will Davis. With Kelli Simpkins, Adithi Chandrashekar, Sarai Rodriguez, Avi Roque, BrittneyLove Smith, Penelope Walker. Running time: 2hrs; one intermission.