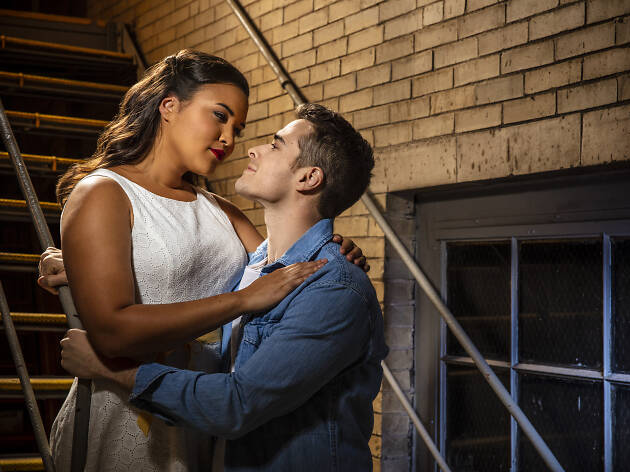 Time Out says
Theater review by Alex Huntsberger
Francesca Zambello's supersized West Side Story is a classical take on a classic musical; aside from Peter J. Davison's massive set, created to fill the Lyric Opera's stage, the production wouldn't be out of place in any of the Loop's large touring venues. With a show as airtight as this one, such an approach is understandable, yet it also runs the risk of seeming dutiful instead of daring. But performers Corey Cott and Mikaela Bennett bring such vibrant life to the story's central pair of star-crossed lovers, Tony and Maria, that the show all but leaps off the stage. Their performances are sublime.
In its opening notes and dance moves, West Side Story is a marvel of storytelling economy, laying out the New York gang rivalry between the American Jets and the Puerto Rican Sharks with nary a line of dialogue. Arthur Laurents's libretto holds up well—remarkably so for a script so packed with midcentury jargon—while Leonard Bernstein's gorgeous music (assisted by Stephen Sondheim's lyrics) masterfully evokes the longing of "Maria," the helter-skelter panic of "The Rumble," the yearning of "Somewhere." From the moment that Tony and Maria catch eyes across a crowded gymnasium, their love seems beyond question. That's to the credit of both Bernstein and original choreographer Jerome Robbins, whose work has been re-created for this production by Julio Monge. (This is one of the rare musicals where the dancing is as iconic as the score.)
Brett Thiele and Manuel Stark Santos play rival gang leaders Riff and Bernardo, and Amanda Castro shines as Bernardo's girlfriend, the outspoken Anita. But Cott and Bennett are the ones who bring the show to life. Cott brings a charmingly nervous energy to Tony, frequently twisting the rhythms of Bernstein's score and Laurents's dialogue, while Bennett's Maria pairs a more classically legit (and utterly gorgeous) singing voice with a sweet, adolescent energy. Despite their contrasting styles, the actors share a childlike innocence that animates their characters' doomed romance. Tony and Maria are barely more than kids, after all, and this West Side Story doesn't let you forget that. Even if you know what's coming, you feel the sting anew.
Lyric Opera of Chicago. Music by Leonard Bernstein. Lyrics by Stephen Sondheim. Book by Arthur Laurents. With Corey Cott, Mikaela Bennett, Amanda Castro, Brett Thiele, Manuel Stark Santos. Running time: 2hrs 30mins. One intermission.
Details
Users say