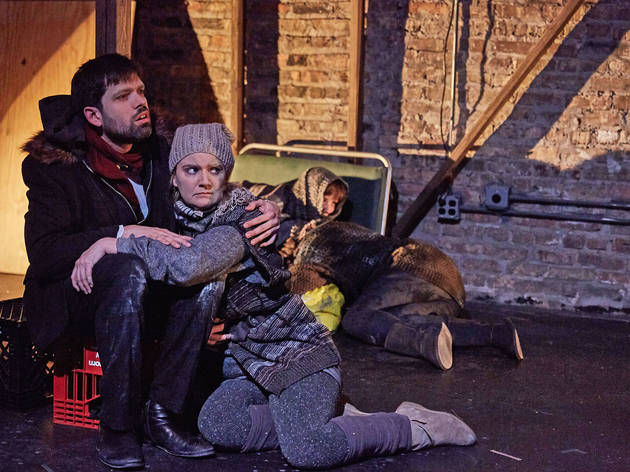 1/10
Photograph: Ian McLaren
What of the Night? at Cor Theatre and Stage Left Theatre
2/10
Photograph: Ian McLaren
What of the Night? at Cor Theatre and Stage Left Theatre
3/10
Photograph: Ian McLaren
What of the Night? at Cor Theatre and Stage Left Theatre
4/10
Photograph: Ian McLaren
What of the Night? at Cor Theatre and Stage Left Theatre
5/10
Photograph: Ian McLaren
What of the Night? at Cor Theatre and Stage Left Theatre
6/10
Photograph: Ian McLaren
What of the Night? at Cor Theatre and Stage Left Theatre
7/10
Photograph: Ian McLaren
What of the Night? at Cor Theatre and Stage Left Theatre
8/10
Photograph: Ian McLaren
What of the Night? at Cor Theatre and Stage Left Theatre
9/10
Photograph: Ian McLaren
What of the Night? at Cor Theatre and Stage Left Theatre
10/10
Photograph: Ian McLaren
What of the Night? at Cor Theatre and Stage Left Theatre
Stage Left and Cor Theatre stage Fornes's grim generational drama.
What of the Night? is not for the faint of heart. Across its three-hour running time, this cycle of four one-act plays from playwright María Irene Fornes rarely relents. It is an often grim portrait of poverty, how it can drag down generation after generation, like a hereditary disease passed from parent to child. The show begins in 1938 and moves forward through the 20th century, ending in a kind of dystopian future that, who knows, might actually be right around the corner. What of The Night? premiered in 1990, and while its style can feel dated at times, its themes do not.
This co-production from Stage Left and Cor Theatre is moving but inconsistent, containing too many iffy performances and poorly staged scenes to ever really soar. Director Carlos Murillo should be commended for taking on a show this massive, and he brings the play's more overtly theatrical moments to life, but it isn't until after intermission that the show feels like anything greater than simple (if effective) agitprop.
Granted, that is also the fault of the script, the first half of which employs all the subtlety of an after-school-special with the shock value turned up to 11. In the first sequence, set in 1938, a poor family struggles to survive during the depression. The matriarch, Nadine (Tosha Fowler), sells her body to an abusive gangster, Pete (Miguel Nunez), in order to afford medicine for her daughter, while her son Charlie (Casey Morris) works for Pete as a low-level thief and endures constant beatings for the trouble. The second section, set in 1958, follows Nadine's daughter, Rainbow (Kathryn Acosta), as she lives in a cramped apartment with her sickly German girlfriend, Greta (Allyce Torres). Rainbow has to steal in order to make their way and soon ends up owing favors to the wrong guy. Both passages are horrifying, but in exactly that way you would expect them to be.
What of the Night? gets better following the intermission, which is mostly owing to the fact that it gets much, much weirder, too. The third episode, set from 1968 to 1983, features Rainbow and Charlie's brother, Ray (Nelson Rodriguez), who was given up as a baby and now finds himself firmly ensconced in the middle class. Ray marries Leah (Kate Black-Spence), the slightly disturbed daughter of his rich boss (Stephen Loch). What follows is a kind of Marxist-sexual nightmare, as Ray's devotion to his work and his distaste for Leah drives them both to the brink of sanity. There is a full-out dream sequence that's best described as "Twin Peaks for the socially conscious."
The final section, set in the too-close-for-comfort dystopia, finds Charlie and Ray living in a semi-abandoned tenement and scraping to get by—not too different from the life they both lived all those decades ago. As to the why, the what, the how of their predicament, these scenes leaves a great deal to the imagination, which is probably why they are some of the show's strongest. It creates a glimpse of a horrific future and lets the audience draw its own connections—which nowadays is not too difficult.
Stage Left Theatre and Cor Theatre. By María Irene Fornes. Directed by Carlos Murillo. With ensemble cast. Running time: 3hrs; one intermission.