What the Constitution Means to Me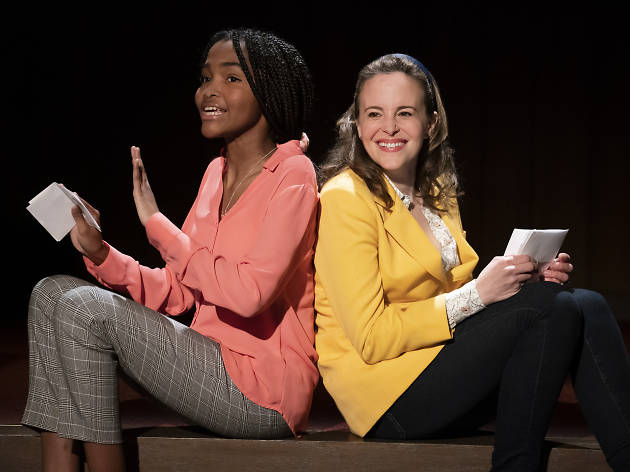 Time Out says
Theater review by Alex Huntsberger
Heidi Schreck's What the Constitution Means to Me is so wonderful—so smart, so moving, so invigorating—that I wish I could describe it in one catchy sentence to help spread the word. But one of the play's greatest strengths is how stubbornly it resists easy description. Schreck starred as herself in the original New York production (which made her a finalist for the Pulitzer Prize). That Maria Dizzia is now playing Schreck—and also sometimes playing herself—only makes the show even harder to pin down. But Dizzia's warm yet razor-sharp performance is a selling point all its own. She's an absolute joy.

Directed by Oliver Butler, the play is a history lesson by way of personal memoir. When Schreck was a teenager, to earn money for college, she travelled the country participating in debate competitions about the U.S. Constitution. Competitors were required to draw personal connections to whichever part of the document they were speaking about, a formula that Schreck now employs to masterful effect. Through stories about women in her own family—her great-great-grandmother's arrival in the U.S. as a mail-order bride, her mother and grandmother's histories of domestic abuse, her own tendency to use politeness as a survival mechanism—she demonstrates the promise and the disappointing reality of constitutional principles.

The play takes place in an impressionistic rendering of a U.S. Foreign Legion hall, designed by Rachel Hauck. Dizzia alternates between portraying Schreck as a grown-up and a 15-year-old, with the mostly silent Mike Iveson by her side as an American Legion veteran (and later as himself). Schreck waxes poetic on the "penumbra" of rights that Supreme Court Justice William O. Douglas employed to shape the idea of a right to privacy, and juxtaposes that analysis with the shadowy gray zones that surround women in the law. "Our bodies have been left out of the Constitution from the beginning," she says. The American legal tradition relies heavily on inference and interpretation; it's men who have done most of the interpreting, and women have often paid the price. (She devotes particular ire to the 2005 Supreme Court decision in Town of Castle Rock v. Gonzales.)

What the Constitution Means to Me's final section is presented as a live debate, judged by the audience, between Dizzia and one of two formidable teenage debaters, Jocelyn Shek and Rosdely Ciprian. The subject: Should we keep the Constitution, or scrap it and write a new one? The answer to that question is less important than the fact of who is discussing it, and in what terms. Schreck's play mixes righteous anger and pain with genuine civic zeal; while it refuses to look away from the failures of the past and present, it offers a hopeful vision for the future. A new generation of bright young women is rising to meet the challenges that face them. Where we have failed, maybe they can do better.

Broadway Playhouse. By Heidi Schreck. Directed by Oliver Butler. With Maria Dizzia, Mike Iveson, Jocelyn Shek, Rosdely Ciprian. Running time: 1hr 40mins. No intermission.
Details
Users say