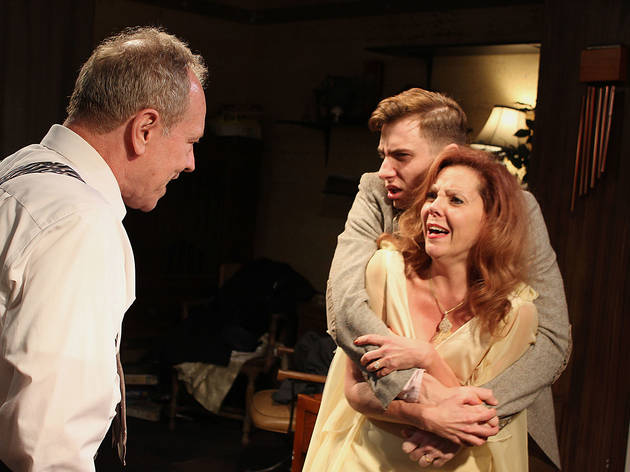 1/4
Photograph: Jan Ellen Graves
Who's Afraid of Virginia Woolf? at Redtwist Theatre
2/4
Photograph: Jan Ellen Graves
Who's Afraid of Virginia Woolf? at Redtwist Theatre
3/4
Photograph: Jan Ellen Graves
Who's Afraid of Virginia Woolf? at Redtwist Theatre
4/4
Photograph: Jan Ellen Graves
Who's Afraid of Virginia Woolf? at Redtwist Theatre
An American classic struggles some in close quarters, but still packs a wallop.
Audiences aren't just quiet observers in this production from director Jason Gerace. They might as well be furniture. Seats ring the walls of George and Martha's living-room-cum-battledome. An inattentive spectator could very well trip actress Jacqueline Grandt as her Martha circles the living room like a prowling cougar. A more alert onlooker might be tempted to reach out and slap the bourbon out of George (Brian Parry's) hand as he pours another slug. The Edward Albee classic is still popular enough to play Broadway–sized houses, but Gerace makes a case for staging the play in a bottle. Crammed into Redtwist's storefront, this Who's Afraid of Virginia Woolf? feels as claustrophobic as the marriage at its center.
The play does, however, go through some shrinking pains. The cast, which includes Stephen Cefalu Jr. and Elizabeth Argus as the older couple's prey Nick and Honey, can often be caught overplaying their hands. The moment when George and Martha's son is first mentioned telegraphs the evening's endgame, and Nick and Honey's marriage is obviously crumbling from the very start. Not even crumbling. It's just crumbs. There are times when Albee's mortar shell wit, best served for howitzer volleys across the open field, gets jammed up in close quarters. It's not quite fit for hand-to-hand combat.
But the evening still has much to recommend it. For one, Grandt and Parry practically do a Fred Astaire–Ginger Rogers routine atop the thin line between love and hate. To misquote Norma Desmond, George and Martha are still big. It's just the theater that got small.
Redtwist Theatre. By Edward Albee. Directed by Jason Gerace. With Jacqueline Grandt, Brian Parry, Elizabeth Argus, Stephen Cefalu Jr. Running time: 2hrs 55mins; 2 intermissions.