Will Eno, playwright of Middletown and Tragedy: A Tragedy
Eno, a Pulitzer finalist for Thom Pain (based on nothing), took a circuitous route to writing.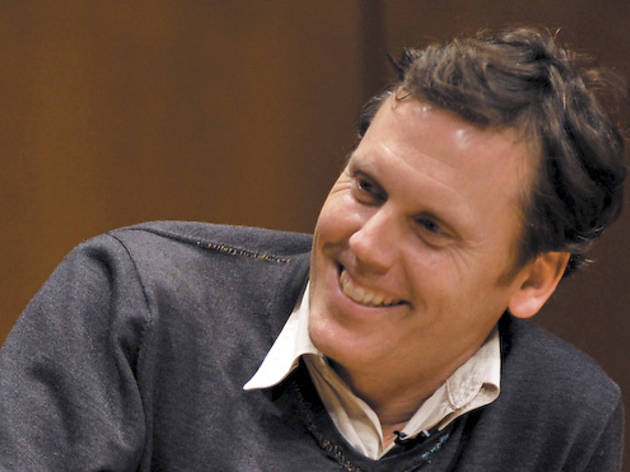 These days, a lot of playwrights establish themselves by going to a top M.F.A. program. Others start out as actors or solo performers, building a rep within a local scene. Will Eno's initial break was a little different. On vacation in London in the late '90s, the writer dropped off his play Tragedy: A Tragedy, which makes its Chicago debut this week, at the stage door of the illustrious National Theatre, with what he calls a "crazy note" on its title page.
"About a month later, Jack Bradley, the literary manager, called and asked if they could do a reading at the National Studio," Eno recalls. That reading led to the play's initial 2001 production at London's Gate Theatre. "For a while, I thought that was how things worked, until I realized it wasn't."
It's an improbable story, but then Eno is an uncommon talent. He has created a distinctive body of work by charting in inimitable hesitant rhythms the emotional and metaphysical minefields of contemporary life. Along the way, his monologue Thom Pain (based on nothing) was a finalist for the 2005 drama Pulitzer, and The New York Times' Charles Isherwood called Eno "a Samuel Beckett for the Jon Stewart generation."
Not bad for someone whose earliest relation to writing was more larcenous than felicitous. In conversations via e-mail and phone from his Brooklyn home, Eno traced his first encounters with the written word. "I think, in a secret I kept from myself, I did want to be a writer when I was a kid, but I was very scared to start," he says. "In fourth grade I stole a bunch of pencils from school, every day. I may have had 500 by the time my brother told on me."
After stints as a semipro cyclist and a Wall Street broker, the 45-year-old eventually found his way to legendary editor and writing teacher Gordon Lish. "Gordon is in some senses the only teacher I ever had," Eno says. Lish schooled him in the link between language's form and emotional expression.
The playwright cites a seemingly basic sentence used as the title of an Iranian documentary about lepers, The House Is Black. "That sentence is an emotional and psychological event," he explains. "Some of that power, in a mysterious way, comes from the k sound at the end of the sentence."
That intense focus on language permeates his conversation: "Someone came up with the word tree; that has a lot of human struggle in it, somehow or other," he observes at one point. And it pervades his plays, whether the media-saturated drama of Tragedy, in which broadcast news jockeys report breathlessly and futilely on whether the sun will ever rise again, or the superficially more traditional Middletown, coming to Steppenwolf next month, in which one character notes, "Having a baby. The words seem so tiny and quiet, compared to the truth of it."
No formula has yet emerged for Eno's writing. "There are playwrights who say that every time they set out to write a new play, they have absolutely no idea how to write it, but I feel that to an almost embarrassing degree," he says. Almost invariably, the road to a new play involves extended spells of hopelessness.
The process may be arduous, but the results are striking in their disconcerting sincerity. Jeremy Wechsler, who's directing Tragedy at Lakeview's Red Tape Theatre after helming two other Eno pieces for Theater Wit and Black Sheep Productions, describes his writing's extraordinary quality. "Whenever we rehearse his work," Wechsler tells me, "we spend two weeks getting over this perception that the characters are odd and the action bizarre. And then the day comes when everyone's like, Oh no, I see, it's completely normal, recognizable human behavior.
"He's a very humane and gentle writer," Wechsler concludes. Steppenwolf artistic director Martha Lavey concurs, saying, "Will is funny, smart and kind in the same way that Middletown is."
This chilly spring, Chicagoans might particularly appreciate one surprising manifestation of Eno's compassion. In an aside about baseball, the Massachusetts native confides: "I grew up totally a Red Sox fan, but now that they've won a World Series—the Cubs seem like the last of the cursed teams, and I'm kind of pulling for them."
Tragedy: A Tragedy begins previews Thursday 5 and opens Monday 9.