Xanadu at Drury Lane Oakbrook Terrace | Theater review
The 2007 parody of the ridicule-worthy 1980 movie musical is almost dangerously self-congratulatory, but ultimately winning.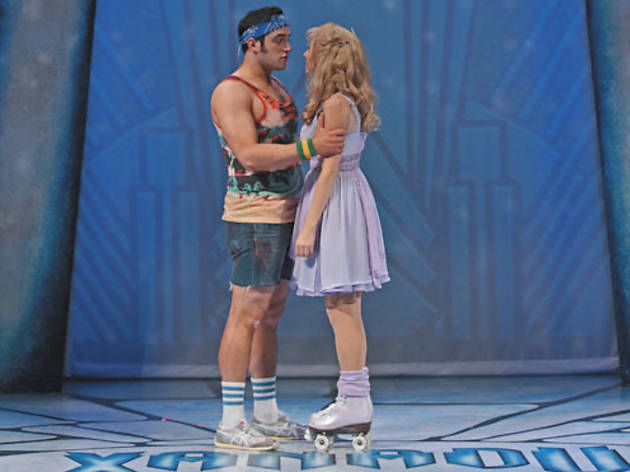 I've wondered at least since my first viewing a few years back if Xanadu the stage musical reaches the diminishing-returns level of Parody Ouroboros. I was familiar with the source, the gloriously inept 1980 film musical starring Olivia Newton-John as a Greek muse come to life as a Venice Beach roller-disco babe. But to those unaware of the Hollywood bomb and its cult-camp status, would waggish playwright Douglas Carter Beane's almost egregiously self-referential book and repurposing of ELO songs like "Magic" and, uh, "Strange Magic" be exclusionary satire eating itself?
The musical's opening scene, as blunt and bewildering as the movie's, doesn't help ease audiences in. My companion, an ardent fan of the film in all its ridiculousness, was overjoyed by the play's cheeky explanation for the Greek muse's Australian accent (and outstanding comic lead Gina Milo's vocal impression of ONJ), but others around us seemed initially impervious to the attempts of Rachel Rockwell's hardworking cast.
Still, in Xanadu did Carter Beane a greatly clever foam set free. Resistance to its frothy, lightweight charms proves futile. One might wish the playwright were more generous with the male lead, underwritten himbo Sonny (played here by the game and talented Chris Critelli), yet Xanadu the musical charts plenty of shallow but unexpected pleasures.