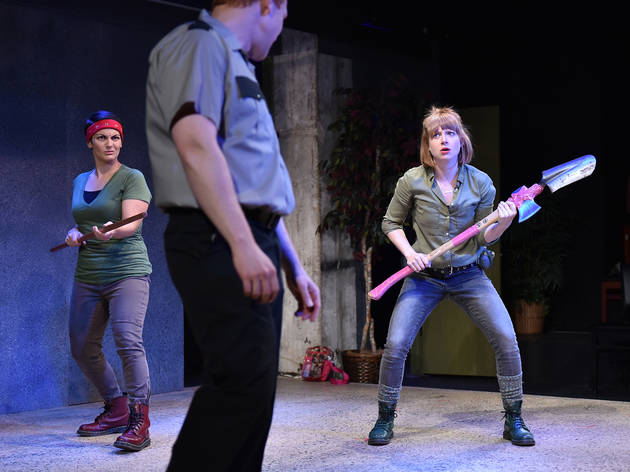 1/10
Photograph: Michael Courier
Zombie Broads at Factory Theater
2/10
Photograph: Michael Courier
Zombie Broads at Factory Theater
3/10
Photograph: Michael Courier
Zombie Broads at Factory Theater
4/10
Photograph: Michael Courier
Zombie Broads at Factory Theater
5/10
Photograph: Michael Courier
Zombie Broads at Factory Theater
6/10
Photograph: Michael Courier
Zombie Broads at Factory Theater
7/10
Photograph: Michael Courier
Zombie Broads at Factory Theater
8/10
Photograph: Michael Courier
Zombie Broads at Factory Theater
9/10
Photograph: Michael Courier
Zombie Broads at Factory Theater
10/10
Photograph: Michael Courier
Zombie Broads at Factory Theater
The Factory makes a killing with a zombie-fueled thrill ride.
There are two types of zombie stories: Ones where zombies are utterly terrifying (Night of the Living Dead) and ones where zombies exist mostly to be killed in totally awesome ways (Zombieland). With Zombie Broads, writers Corrbette Pasko and Sara Sevigny have set out to create the latter. And with the help of director Janice L. Blixt, they have succeeded with flying colors. Well mostly, one flying color: blood red.
The play's title comes from a Zombie-themed "book group" run by doomsday preppers Maxine (Tara Sullivan) and Marco (Kevin Alves). The group is attended by their friends, Riley (Rebecca Wolfe), Lexie (Ashley Yates) and the recently returned Monica (Kim Boler), who is somewhat alarmed to see how gung-ho everyone has gotten about the possibility of the zombie apocalypse in her absence.
Of course, as it turns out, Maxine, Marco and company are exactly right to prepare. Because it just so happens that Phyllis (Cameron Feagin), a local lab scientist, has created an anti-aging serum with one unfortunate side effect: Anyone who uses it becomes ever so slightly undead. Making things worse, her lab assistant Alex (Spenser Davis) also happens to be dating Maxine and Marco's teenage daughter, Shelby (Elise Spoerlein), putting her at the epicenter of the inevitable outbreak. It's not for nothing that when you pick up your ticket for Zombie Broads, they warn you about "the splash zone."
The show is a little slow going at first. Until the cast members start taking bites out of each other, many of them settle for chewing the scenery. Once the zombie outbreak is in full swing, however, Zombie Broads finds its sweet spot. The performances are still big, but the circumstances swell to fit them. There is plenty of action—choreographed with delightful gusto by Matt Engle—but also a surprising amount of pathos. ZombieBroads delivers on the undead part of its title, but it delivers on the human half too.
Factory Theater. Written by Corrbette Pasko and Sara Sevigny. Directed by Janice L. Blixt. With ensemble cast. Running time: 1hr 35mins; one intermission.