100 best things we ate and drank in 2007 (in no particular order)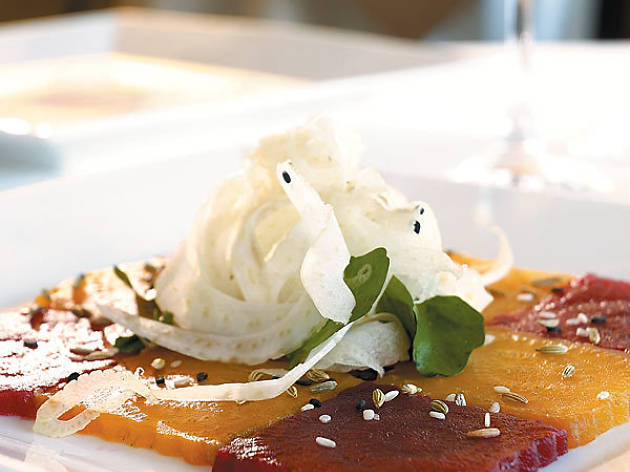 1. Beet salad | Sola
Anyone who had this summer offering knows Sola's little secret: Beet salad can be innovative. At least it is the way Carol Wallack does it, cutting different varieties of beets into puzzlelike pieces and fitting them together on the plate in a gorgeous geometric display that would be ruined—ruined!—with the stereotypical (but, here, graciously omitted) addition of goat cheese. 3868 N Lincoln Ave (773-327-3868). $7. Seasonal.
2. Oxtail ravioli | Aigre Doux
One of the most anticipated openings of the year, Aigre Doux is still being anticipated—the long-promised bakery/café portion of the restaurant has yet to be realized. Luckily these toothsome pasta pockets stuffed with juicy oxtail meat make the wait just a little bit easier. 230 W Kinzie St (312-329-9400). $12.
3. Spice-rubbed pork | Azucar!
Azucar! was the most exciting opening of the year! (Or at least the most energetic!) And when you eat this pork, the tender medallions contrasted by the crunchy pistachios, the excitement is catching! Especially when you see how cheap the food is here!!! 2647 N Kedzie Ave (773-486-6464). $10.
4. Oysters Rockefeller | Tramonto's Steak & Seafood
Despite all of the tricks and gimmicks Rick Tramonto has up his sleeve (TRU's caviar staircase comes to mind), it's this deliciously simple classic (served on a bed of cinnamon, star anise and peppercorn–infused sea salt) that steals the show at his steakhouse. 601 N Milwaukee Ave, Wheeling (847-777-6575). $14; available occasionally on special.
5. Mixiote de borrego | Tepatulco
Geno Bahena is a sauce man, a chef whose moles and other sauces stand out as the clear winners on his plates. That's not to say the lamb in this stew is inconsequential—it's impossibly tender. But the pasilla-pepper sauce that it's immersed in has such a lingering, intricate flavor that you can't help but think of it for days afterward. 2558 N Halsted St (773-472-7419). $21.
6. Pan con timba | El Cubanito
How do you create a new cult sandwich? Take three ingredients (crusty bread, mild Swiss cheese, sweet guava). Press them together. Repeat until the lines die down or, more likely, you run out of food. 2555 N Pulaski Rd (773-235-2555). $2.50.
7. Granola | Milk & Honey
Who knew that brown sugar–toasted oats could grow into such a side business that Milk & Honey would have to set up a separate production plant just to keep up with demand? The combo of caramelized oats, dried cherries, sunflower seeds and almonds is so good we've killed a bag just standing in line. Grab two so you can make it home with some. 1920 W Division St (773-395-9434), 1543 N Damen Ave (773-227-1167). $6.
8. Caramels | Katherine Anne Confections
These are the best caramels we've tasted all year. They're made with honey (local wildflower honey, actually), giving them a complexity that run-of-the-mill sugar-only caramels can't match; and they're incredibly soft, slowly melting on the tongue instead of getting stuck in your teeth. katherine-anne.com. $8.50 for a quarter pound.
9. Coriander and chile–crusted tuna | Mexx Kitchen at the Whiskey
If food could impart life lessons (it can't, but stay with us for a minute), this simultaneously spicy, fruity, acidic and luscious dish would lie to you and tell you it's possible to have it all. 1015 N Rush St (312-475-0300). $24.
10. Beignets | Blackbird
Pork made plenty of appearances this year, but none were quite as sublime as the bacon ice cream that pastry chef Tim Dahl concocted. He adds a scoop of the salty-smoky stuff to beignets filled with fig jam and dusted with orange salt, then drizzles a velvety butterscotch on the plate alongside a few segments of cara cara oranges. The resulting dessert is salty, sweet, tangy and, yes, porky…in a way that makes us rethink the pig's role as merely a main course. 619 W Randolph St (312-715-0708). $10.
11. Sweetbreads | Quince
Rumor has it that chef Mark Hannon doesn't even like sweetbreads—he keeps them on the menu for Quince owner David Reynolds, who's a fan. But you can't taste an ounce of bitterness in these things: They're crisp, savory and absolutely perfect, whether Hannon likes them or not. 1625 Hinman Ave, Evanston (847-570-8400). $12.
12. Chili | The Depot American Diner
That trace of curry or that morsel of heirloom pork? Yeah, you can stop searching for it. There's nothing fancy about this classic, lightly spicy, perfect-for-cold-weather chili; that's why it's so exceptional. 5840 W Roosevelt Rd (773-261-8422). $3.56.
13. Chocolate rugalach | Tel Aviv Bakery
The challenge: Find chocolate rugalach that could fool New Yorkers into believing it was the same Jewish pastry churned out by famed gourmet grocer Zabar's. The winner: Two transplants didn't bat an eye, but one keen eater said it "held up pretty well considering the travel time." Little did they know the travel time from Devon Avenue to downtown is less than an hour. 2944 W Devon Ave (773-764-8877). $4.50 for a bag of 17.
14. The lobster trifecta | Between Boutique Cafe & Lounge
Radhika "Rad" Desai is a no-holds-barred chef with a penchant for flavors that tower over you. So it's no surprise that she takes an over-the-top ingredient like lobster and presents it in a trio of lush (risotto cakes), lusher (creamy maki rolls) and insane (an indulgent curried bisque). 1324 N Milwaukee Ave (773-292-0585). $18.
15. Goat cheese biscuits | TABLE fifty-two
Art Smith's signature meal starters are put in the wood-burning oven the minute you sit down, only to be tapped out of their cast-iron skillet tableside just a few minutes later. That means these biscuits, rich with creamy goat cheese, are too hot to hold and almost too hot to eat. But so far, that hasn't stopped anybody from devouring them and quickly asking for seconds. 52 W Elm St (312-573-4000). Free.
16. Salt and butter flight | Juicy Wine Co.
We were never under the impression that Rodney Alex ran a health-food joint. Still—a trio of butters (Tournevent goat-milk butter, Vermont Butter and Cheese Company's cultured butter, and Parmigiano-Reggiano butter from Emilia-Romagna) topped with a trio of salts (red Hawaiian sea salt, Black Cyprus sea salt and truffle salt, respectively) and served with baguette slices? It seemed way too indulgent to order even once. Until we did order it once. And then a second time. And then a third…. 694 N Milwaukee Ave (312-492-6620). $7.
17. Borek | Big Buns and Pita
Can you imagine what a shame it would be if such a well-named restaurant were deficient in the flavor department? Well, luckily, thanks to the eggroll-like borek, with its crackly, simultaneously crispy and chewy shell and filling of impeccably spiced beef, you don't have to worry. You'll want to visit—and say—Big Buns repeatedly. 6649 N Clark St (773-262-2000). Two for $2.29.
18. Papadzules | Xni-Pec
There's a reason why Xni-Pec landed on LTH Forum, Check, Please! and in these very pages this year. And that reason is this incomparable slice of the Yucatán: housemade tortillas stuffed with eggs and topped with a nutty, complex pumpkin-seed sauce. 5135 W 25th St, Cicero (708-652-8680). $10.
19. Gelato | A Mano
Apparently a trip to Italy for some serious gelato sampling paid off for the BIN 36 crew behind this subterranean trattoria. The dense, velvety stuff is served in seasonal scoops like pumpkin, and signatures such as olive oil and pistachio are so close to what we've had in the Boot, we half expected to return to a hotel rather than home. 335 N Dearborn St (312-629-3500). $7 for three scoops.
20. Hot chocolate | Coco Rouge
Imagine the best hot chocolate you've ever had, kick the bittersweet quotient up to about 78 percent, thicken it and you've just about got the house blend at this hip, high-end chocolatier. This stuff makes Swiss Miss seem like some cruel joke. 1940 W Division St (773-772-2626). $4.25.
21. Roasted pork buns | KS Seafood
When you roast pork belly and slice it into glistening slivers then tuck it into puffy steamed buns, you could charge us 20 bucks each and we'd find a way to pay it. This little Taiwanese find charges $8 for three of them. Sold. 2163 S China Pl (312-842-1238). $8.
22. Heirloom tomatoes | Henry's Farm stand at the Evanston Farmers' Market
All those Omnivore's Dilemma–touting, canvas tote bag–carrying farmers' market heads who talk your ear off about the superiority of locally and lovingly raised heirloom tomatoes? These are the tomatoes they're talking about. University Pl and Oak Ave, Evanston. Saturdays, May–October.
23. Sweet-potato beignets with bacon | Fahrenheit
Sweet potatoes and bacon sound like the makings of a side dish, but don't let that deter you: Here the potatoes have been transformed into warm, hearty doughnuts, while the bacon, served on the side in a swath of caramel, adds a salty richness to the plate. 1890 W Main St, St. Charles (630-444-1350). $9. Seasonal.
24. Tea cakes | Floriole Bakery's Green City Market stand
The proprietors of this bakery have figured out the perfect way to keep people from asking them (again) when they're going to open a store (for the record, they're working on it): stuffing people's faces with soft, scrumptious tea cakes. By the time you're reading this, the Green City market will have closed for the season, but you can still special-order the tea cakes from floriole.com or 312-550-2526. $20 per cake.
25. Corn muffins | Izola's
We understand the impulse to reach for the butter when presented with a basket of warm, golden corn muffins. But trust us, these muffins are so buttery on their own you won't need it. 522 E 79th St (773-846-1484). Two for $1.
Show more