2011 Bank of America Shamrock Shuffle | Executive Director Carey Pinkowski
For many Chicagoan runners, the annual Bank of America Shamrock Shuffle marks the end of winter and beginning of their spring/summer running season, regardless of the weather.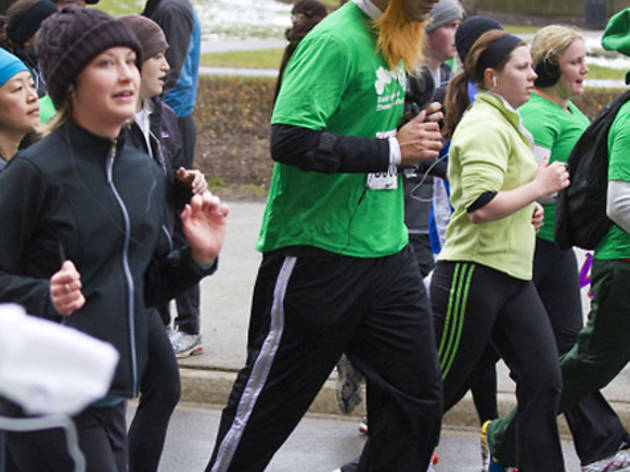 TOC took the opportunity to speak with Carey Pinkowski, Executive Director of the BOA Shamrock Shuffle and Chicago Marathon, about his thoughts regarding the "summer-like" weather predicted for Sunday's race.

TOC: Mr. Pinkowski, thank you for taking time from your schedule just two days out from the Shamrock Shuffle to speak to our readers. What are your thoughts on the "summer-like" weather forecasts for Sunday?
Carey Pinkowski: I don't know what runners and fans would do if we had perfect weather! [laughs] Over the years, the weather has given us plenty of opportunities to prepare for different weather conditions. We actually have a meteorologist on staff, and we work closely with Chicago agencies to prepare for the race.
TOC: Did the weather factor into this year's April Shamrock Shuffle date? Many of us remember the 2009 Shamrock Shuffle and the chilly, raining and slushy weather that day.
CP: A lot [of planning] has more to do with scheduling events at Navy Pier than anything else. An important part of the Bank of America Shamrock Shuffle is the two-day Health & Fitness Expo that precedes the race and that is hosted at Navy Pier.
TOC: I noticed a number of green movement initiatives mentioned in the Participant Guide posted on the official Shamrock Shuffle website. Can you explain how the program works?
CP: We're working closely with the Counsel for Responsible Sport and the Chicago Park District to step up sustainability initiatives like our recycling program. We're also encouraging runners and their families and friends to take public transportation. Family and friends can purchase $5 CTA Day Passes at the Health & Fitness Expo. The Day Passes can be used to go to different race route locations and neighborhoods. We're also providing bike valets at Navy Pier and at the race Start Area to encourage participants and fans to bike to the event.
TOC: Is there anything new planned for this year's race?
CP: Due to this year's record number of 40,000 runners, we moved the Starting Line a little north from Jackson to Monroe to give more staging area for additional corrals and seating. The race route is also back to the more traditional Shamrock course, which had to be altered in previous years due to construction.

TOC: With a record number of runners participating, how much are you expecting to raise in fundraising dollars?
CP: Our goal is $500,000. Bank of America matches a percentage of registration fees each year too. The Shamrock Shuffle also helps participating charities network and recruit runners for other fundraising events including the Chicago Marathon in the fall.
TOC: What are your plans leading up to Sunday's race?
CP: Tomorrow I'll be doing a final walk-through of the route to finalize any fine-tuning needed as well as keeping an eye on the weather.