7 steps to make the perfect cutoffs
It's too hot for jeans, but the weather's perfect for cutoffs. Buffalo Exchange manager Mattie Reynolds explains how to make 'em right: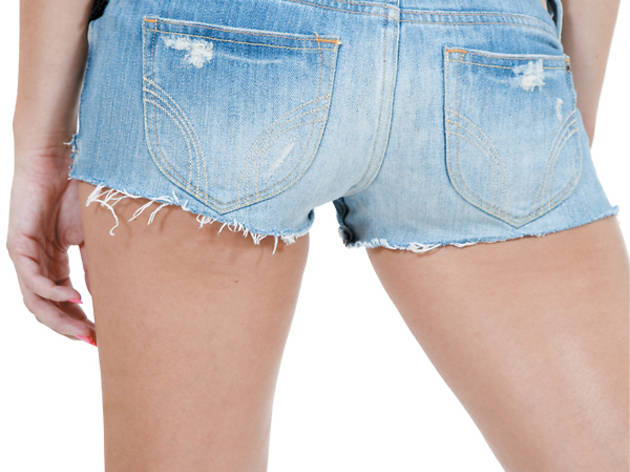 1. Find the perfect upper fit and a wash you love.
2. Put them on and mark your desired length with a pencil. If you want a cuffed hem, give yourself an extra inch of fabric.
3. Once they're marked, lay the jeans on a flat surface. If they have a lower rise in the front than the back, don't try to match up the waistline. Instead, focus on the leg being straight and side hems being even. Take a ruler and draw a straight line across your marked area. This is your cutting line.
4. Use scissors to cut across your marked line, cutting the front and the back of the denim at the same time so the length will be even.
5. After one leg is cut, try the jeans on for size and desired length.
6. Cut the other leg using your already-cut leg as a guide.
7. If you want that instant worn-in look, pull some of the loose threads from the bottom of your shorts before throwing them in the washer and dryer. If you want a clean look, fold a one-inch hem at the bottom of your shorts and press with an iron.
More cut-off advice from Buffalo Exchange's Justin Goellner:
- A great, crowd-pleasing length for guys is right above the knee cap, with the full thigh covered. It's flattering to every leg type (muscular, skinny, lil' excess flab). That's probably the longest you'd want your cutoffs to be, but if you want to go shorter, just make sure it's no shorter than mid- to lower thigh.
- Cut your shorts dirty, then wash them right away to get a great fray around the edges. Trim off extra long threads so you look put-together, but don't over trim. Cut-offs are carefree, not tailored and manicured.
- Cuffed looks are popular this season. Simply fold an inch all the way around and fold it up one more time to get classic, Americana cuffs on your shorts. This looks particularly great with that pair of jeans or chinos that are one size too big.
- Denim washes or colors that may seem too extreme in a full-leg style can make perfect cut-off shorts. While you may not want 3 feet of acid-washed legs announcing your arrival, one foot of acid-washed shorts can be a fun, interesting way to spice up your look.
Score gently used jeans at Buffalo Exchange (1478 N Milwaukee Ave, 773-227-9558) and other resale shops.
Ice-Cream Sandwiches
|
Ceviche
|
Cocktail Pitchers
|
Ice Rinks
|
Store Things in Your Freezer
|
Breezy Updos
|
Public Pools
|
Texas Tips
|
Make Cutoffs