A brief history of skyscraper thrill-seeking in Chicago
Nik Wallenda is not the first daredevil to climb atop a Chicago skyscraper. Here is a brief history of high altitude stunts in downtown Chicago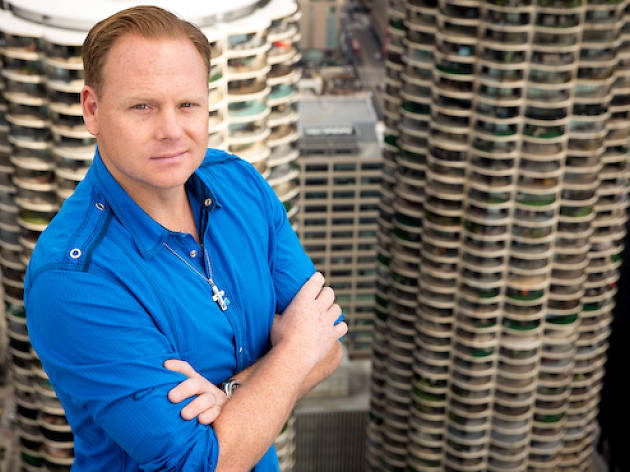 On Sunday, November 2, Nik Wallenda, a.k.a. "The King of the High Wire," will walk a wire 1,500 feet above the ground between Marina City and the Leo Burnett building. Oh, and the wire will be on an incline. Oh, and afterward he's walking a high wire between the two Marina City towers blindfolded. It's a stunt so awesome and audacious, we had to interview the man.

Wallenda is the latest daredevil to scale Chicago's beautiful buildings for thrills. However, this event is legal and sanctioned, broadcast live on the Discovery Channel. In the past, climbers and jumpers have often scaled our skyscrapers guerrilla style.

Here is a brief history of building stunts in Chicago.
In June 2013, a trio jumped off the roof of the Trump Tower after midnight and parachuted to the ground below. The thrill-seeking three were not the first people to take a flying leap off a Chicago skyscraper. The city's towering crop of sheer structures has made it a Mecca for adrenaline junkies over the years.

In April 2011, BASE jumper—BASE stands for Building, Antennae, Span, Earth—Shaun Walters was apprehended after a leap from the construction site of the Waterview Tower in the Loop; he floated 25 stories down onto Wacker Drive next to a CPD squad car, which whisked him off to a jail cell.
Local BASE jumping veteran and skydiving instructor Dave Cicciarelli told TOC that some of his 400 plunges may or may not have been off Chicago skyscrapers. He namechecked some popular spots in the city for BASE jumping. "I've heard a really good BASE jump was the Aon Center. Remember when they had the golf course and the driving range down on the lower level? You could land right down in the lower level, sneak under a fence and be right down on Wacker Drive. Nobody would ever see you. ... Water Tower Place—that's been jumped a lot. A lot of buildings that, for the past six years, have been under construction—those have been jumped. The Aon Center used to be a public building. You could get on top and nobody would question you. Now you need a scan card. The terrorists ruined it for BASE jumping!"

The year before Walters was caught, in July 2010, pro "wingsuit flyers" jumped from the Trump Tower, Chicago's second tallest structure, for a Transformers: Dark of the Moon stunt that was far more fun to watch than the Michael Bay's movie. Watch below.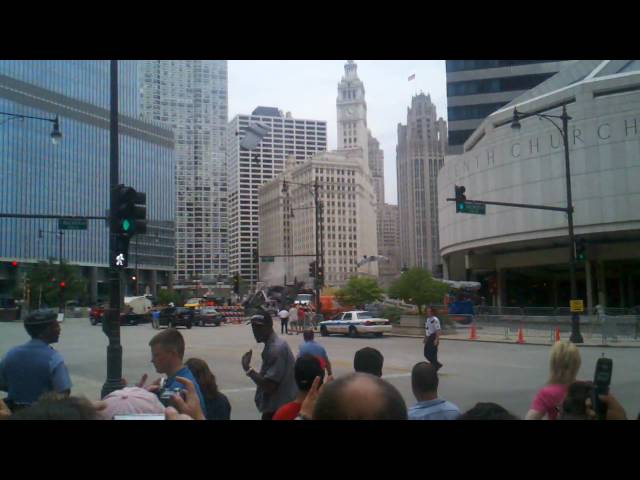 Back in September 2006, John Winkelkotter and Patrick Walker parachuted off of a skyscraper construction crane at The Fairbanks at CityFront Plaza. Along with their getaway driver, Joshua Burnett, the men were charged with misdemeanor disorderly conduct. But Cook County Circuit Judge William O'Malley said the charges would be dropped if they didn't parachute for six months and had no other run-ins with the law.
Just over a week before Winkelkotter and Walker's stunt, three people had jumped from the same site. They got away. Maybe it was members of the Extreme Team from this homemade Chicago BASE jumping video?

For some thrill jockeys, the best part is going up. On May 25, 1981, Dan "Spider Dan" Goodwin
illegally scaled the
Willis Tower
's 1,454 feet using suction cups and a spring-loaded climbing device. The Chicago Fire Department was ordered to hose him off the building.
Six months later, Goodwin returned to climb the
John Hancock Center
, this time wearing a makeshift Spider-Man suit. With firemen breaking windows in an attempt to grab the climber, Mayor Jane Byrne intervened and Goodwin continued to the top.