A day at Hawthorne Racecourse
A 102-year-old family-owned track is a winner—even if it's spent a fifth of it's life on a gambling expansion bill that might never pass.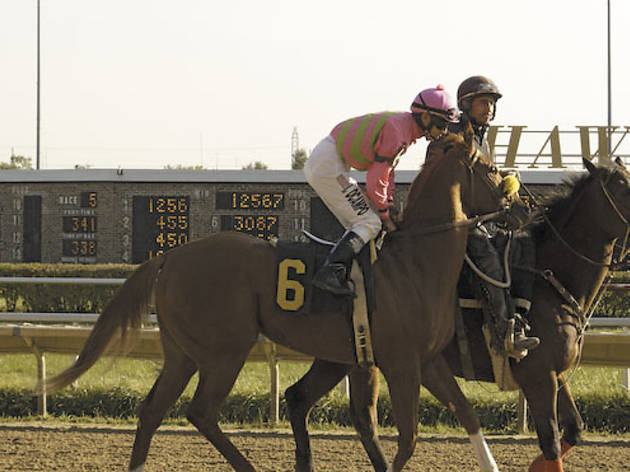 Tucked in a purely industrial area near Midway Airport, Hawthorne Racecourse doesn't have the panache of, say, downtown Louisville, Kentucky's spire-laden Churchill Downs. But it does have its own Cicero charm, starting with helpful parking-lot attendants, who, with thick accents, ask us if we prefer da $5 valet (well advised) or da $3 parking.
On an unseasonably warm fall day, I arrive at the track for an afternoon of entertainment: $2 bets, horse names that make indie band monikers look unoriginal and the exhilarating sound of thundering horse hooves.
Quintessential racing traditions aside, it's a time of change for Illinois tracks: The ailing horse industry hopes a two-decade-in-the-making gambling expansion bill will pass and allow "racinos"—a financial boon for the 13 states that possess them. But Gov. Pat Quinn has emphasized his reluctance to sign off on track slots.
As the longest-running gambling business in Illinois, Hawthorne—helmed by the Carey family since 1909—is an outspoken proponent of the bill. The track says it would use slot revenue to fatten race purses and attract better horses. That, it hopes, means skyrocketing attendance on major race days and a gut rehab with a nightclub, steakhouse and party deck.
For now, the $3 admission buys a commentary-packed program and entrance to the quaint if well-used facility. Make reservations for the Gold Cup Dining Room's buffet ($19.95–$35), and you'll cinch a great view of the track at one of several tables staggered down the dining room's multileveled floor. For hard-core horseplayers, a depressing few hundred TVs show what's happening at other tracks around the world.
Today, I opt for the dining room and scoop up shrimp and a cornucopia of salads. It's Illinois Festival of Racing (one of five major stakes race days), which means 11 races, many of them only featuring Illinois-bred horses, including a number of stakes winners.
Races post every 30 minutes, starting at 1:40pm. On the second race, my friends and I place an array of bets at mutuel windows a stone's throw away. It's easier than it looks to read the itty-numbers on a program and assess a horse's history—its race record, course conditions and racing surface record.
Before the fifth race, having won nothing but about $1.50 on a few $2 bets to show, we check out the lower-level paddock. On our way, we pass by a family-friendly outdoor space, replete with $2-hot-dog slingers. The acrid dirt and horse scent smells oddly glorious. Unlike Arlington, which boasts a 2005 synthetic turf track, Hawthorne has kept its old-fashioned dirt track. Fall and spring seasons send a flurry of skilled tractor-driving workers in to churn the dirt to prevent it from freezing.
Inside the paddock, silk-clad jockeys trot out the animals—we see which colts and geldings look focused. My friend places $10 to win on Sweet Luca, a ready-looking long shot with 15-1 odds.
Unlike betting on a football game, the odds at a track are set by horseplayers, meaning the odds are a mathematical reflection of how fans have wagered their combined money up until the race starts. In a gambling world with an increasing emphasis on team sports (fantasy football alone is an $800 million industry), racing seemsso nuanced.
And so risky.
For the fifth race, we watch from up close as powerful beasts kick up dramatic sprays of dirt; we holler for our numbers. Sweet Luca comes from behind and wins.
No doubt, slots would benefit the graying facility, but it's this feeling—three minutes of dirt-track excitement—that makes Hawthorne a joy to attend.
That $150 we walked away with? It's a pretty sweet bonus.
Hawthorne's season runs through December 31 on Wednesdays and Sundays (3501 S Laramie Ave, Cicero; hawthorneracecourse.com).