A decade of You Are Beautiful
The artist behind the iconic stickers looks back at ten years.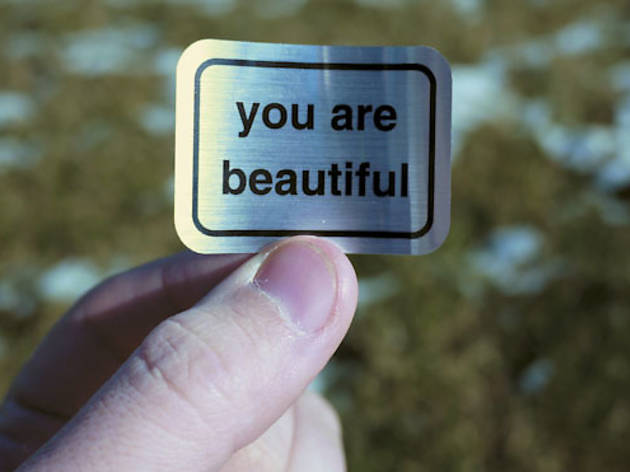 It started small, only 100 stickers. "They arrived in the mail, and they were terrible," Chicago artist Matthew Hoffman recalls. "They were supposed to be green but came in sort of brown." Still, the stickers' simple message—you are beautiful—was just right. The 23-year-old began sharing them with friends and putting them up around the city—and the affirmative slogan stuck. "It can pick you up on a low day," Hoffman says. "It can be a high five."
Ten years and 540,000 stickers later, those three words have become iconic. Silver with black lowercase type, the inch-wide signs have been affixed to walls, benches and newspaper boxes on every continent. Hoffman, now 33, got the phrase tattooed across his chest. He ships stickers to people who send a self-addressed stamped envelope to his post office box. (For details, visit you-are-beautiful.com.) In return, he often gets photos of the labels in far-flung places. "A couple who did a voyage to Antarctica sent photos of a snowman they had made," he says, "and the snowman was holding a You Are Beautiful sticker."
Transcending the confines of adhesive rectangles, the project has been adapted into exhibitions, graffiti murals and public installations. Notably, Hoffman coproduced a city-approved You Are Beautiful piece that adorned the construction scaffolding of State Street's Block 37 for three years.
To mark the tenth anniversary, Hoffman is compiling photos and stories into a book, for which he's trying to raise $25,000 to fund design and production. He has also organized a retrospective opening February 7 at the Green Exchange (2545 W Diversey Ave, second floor), "As You Are: A Decade of You Are Beautiful."
Contribute to the You Are Beautiful book at kck.st/Y6xjDa through February 11.