After School Matters after Maggie Daley
Mrs. Daley's death was one in a series of challenges for the teen apprenticeship program.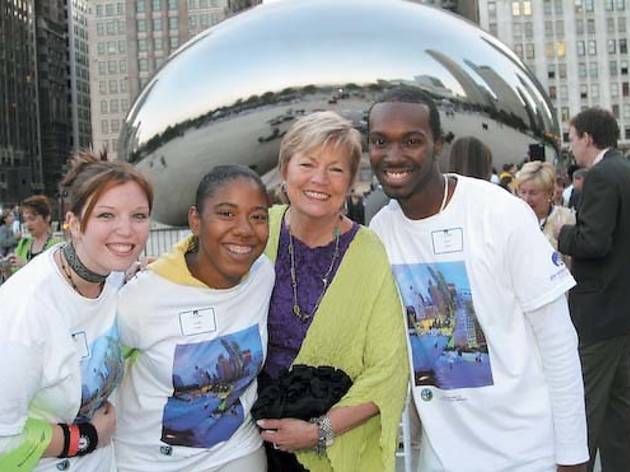 Backstage with her students at the Museum of Contemporary Art last week, Angelina Amankwa is heavy-hearted. As downtown regional director for After School Matters, she's excited for her students to perform the dances they practiced during the fall session, but mournful that their patron, former Chicago first lady Maggie Daley, won't be there to watch. On Thanksgiving night, after living with metastatic breast cancer for nearly ten years, Daley died at age 68.
"When I heard she had passed, I was devastated. My heart was broken," Amankwa says by phone from the event. She was among the first students enrolled 20 years ago when Daley planted the seed for ASM with the teen arts program Gallery 37. The nonprofit now provides paid apprenticeships in the arts, science, sports, technology and writing to 20,000 Chicago Public Schools teens. "She was so passionate about the teens," Amankwa says. "She paid attention to what they were saying."
Even in poor health, Amankwa recalls, Mrs. Daley would come to programs at Gallery 37 to spend time with students. Now, without the former Chicago first lady's presence and vision—not to mention her deep political and philanthropic connections—Amankwa wonders what the future holds for ASM.
Before its founder's passing, ASM already had perhaps the toughest year in its two-decade history. A Northwestern University study released in June concluded that the program had no significant impact on teens' academic performance or job skills. In October, Chicago Inspector General Joe Ferguson released a damning report about ASM's fund-raising. It showed evidence that companies seeking tax breaks from the city were pressured into donating to Richard M. Daley's wife's cause, which receives contributions from foundations, corporations and individuals, as well as grant money from the city and state.
ASM denied Ferguson's findings. Former Mayor Daley called the report a "disgraceful thing." ASM publicist Jennifer Hutchison told us no one was available to speak about how the Northwestern study or the IG's report will affect the organization's future.
Another hit came when ASM slashed student stipends for the 2011–12 fiscal year by almost 75 percent—dropping from $400 for a semester of work to $100. Although ASM blamed budget cuts, a WBEZ investigation showed the org's budget is slightly larger than the previous year's. Of its $25.5 million, 15.3 percent ($3.9 million) goes to pay the teens. In the 2010–11 fiscal year, 27.6 percent of the budget went to pay the students.
Those stipend cuts have made it difficult for many students to participate in the program, says Judy Gall, executive director of Alternatives, an Uptown nonprofit center that operates three ASM programs. "We've had some that have not been able to continue doing after-school programs because they need to try to find a [higher-paying] job," Gall says. "For other students, just the cost of transportation is an issue. They can't afford to increase their expenses if they're not going to make any money."
As part of an ASM video-production class at Alternatives, 17-year-old Tevin Williams is shooting a documentary on how CPS students feel about their education. He says money wasn't the reason he joined the program, but he's not happy about the stipend decrease. "I used to pay for school clothes and fees and put some in the bank," he says. He also gave a percentage to his mother, who works multiple jobs, to put toward his college fund.
Still, Gall says not to bet against ASM: "I hope that people don't feel like, Oh, Maggie passed and so After School Matters will go by the wayside." Though Daley is no longer at the helm, Gall says, she worked to ensure her baby could survive under new leadership.
---
After School Matters by the numbers
20,000
Students served in 2011.
25.5
Million-dollar budget for 2011–12 fiscal year.
3.9
Million dollars will go to teen stipends, 15.3 percent of the total budget.
47
Percent of students dropped out of the program during the Northwestern University study.