Agga B. Raya, a Polish-born fashion
A Polish-born fashion designer finds a weird version of home in a local diner.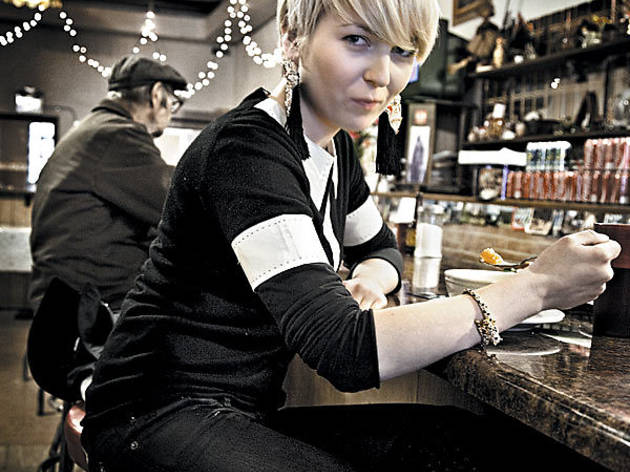 "The first job I got when I moved to Chicago was for that paper," says 25-year-old fashion designer and stylist Agga B. Raya, gesturing at the Polish Daily News a patron is flipping through at the long Formica counter of Polish diner Podhalanka (1549 W Division St, 773-486-6655). Raya, a petite blond with a pixie haircut, took a semester off from her law studies at University of Lodz to visit Chicago in 2002, decided to stay and landed the newspaper gig. "I was supposed to put all the little ads in the back, like for housekeepers. I didn't end up ever working there, though." Instead, Raya began tending bar at nightclubs like Funky Buddha Lounge. "That's how I met the whole city: behind a bar," she says. "I could start styling and designing during the day because I was making money at night. And it was great for networking, because a lot of what goes on in the fashion industry happens at night, in the clubs."
Whenever Raya, who uses the professional name Agga B, misses Poland, she comes to Podhalanka. The blue and white Christmas lights are still up, illuminating the decorative pyramids of canned soda displayed alongside Polish dolls, an antique musket and a picture of the late Pope John Paul II. An all-ages crowd of Polish and American couples dines on kielbasa and blintzes at five large tables covered in plastic, lace-patterned tablecloths.
Raya turns and, in Polish, asks Podhalanka's owner, a stern grandmotherly type who lurks behind the counter under a wall-mounted TV, about the soups of the day. "This [restaurant] is the funniest place on earth," Raya says. "The lady never sees what's on the TV [from where she's standing], so she'll put, maybe, the Discovery Channel on. You're trying to eat your dinner and they're, like, doing surgery on a dog."
As she heads to a table, Raya continues her airport-to-runway immigration narrative: Through her nightclub connections, Raya landed jobs as a photo stylist and took a short internship in New York with a French label, which inspired her to start her own company. Now, she designs two women's clothing lines—the sophisticated, elegant collection Agga B, and the more casual, moderately priced J Lee Silver, which debuts this spring—from her studio near the Merchandise Mart. Locally, Gamma Player (2035 W Division St, 773-235-0755) and Jake (939 N Rush St, 312-664-5553) carry her designs. As the cowinner of 2008's Chicago Fashion Incubator (a program cosponsored by Macy's and the City of Chicago to support fledgling designers), she also maintains a temporary studio at Macy's. "I was right away working downtown with people from all around the world, so I never had the chance to just stay surrounded by the Polish community," she says.
This quick integration—and a drift away from the ethnic community—is a trend Raya observes in many other young Polish immigrants. "They have no problem going into the deep water," she says as a server brings over fresh bread and white borscht dotted with sausage. "If you came from a bigger city and you're educated and you have a little different perception of life, then you would not necessarily spend too much time in the Polish parts [of Chicago]."
Most of her collaborators are American, but Raya's clothing is produced at her mother's factory in Poland, which also manufactures luxury labels including Burberry and Max Mara. Raya flies back to Poland regularly, but she still stops by Podhalanka every few weeks for home cooking and to participate in a slice of the odd Polish-meets-American culture that may be disappearing. "People don't come here [from Poland] anymore to make money, because we're free to travel in Europe without a passport," she says as two cops sit down at a back table positioned next to a revolving rack of Polish-language greeting cards, all depicting Jesus. "The creative aspect here is great, but a lot [of Poles] come and go back because they aren't making any money."