Anti Valentine's Day events in Chicago
In which the unattached throw off the yoke of Valentine's Day oppression.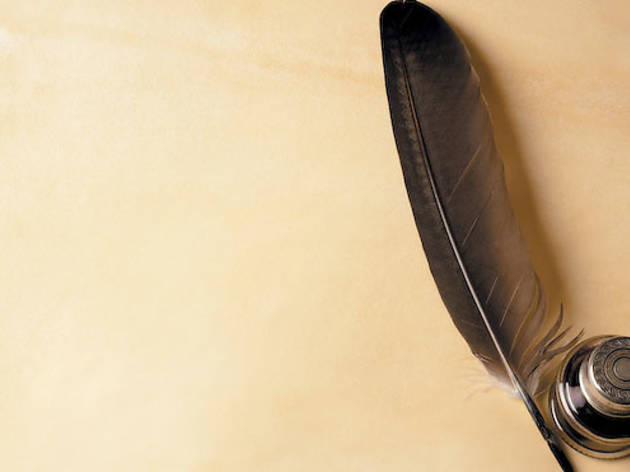 We the single people are fully aware of the approaching nightmare that is Valentine's Day. Yes, we know that—like sleepy puppies, Baileys-flavored ice cream and Ryan Gosling—romance is terrific. Got it. Enough already. We who are not in love, not in a relationship, not even dating, are tired of feeling like inadequate consumers and objects of pity on V-Day. We're fed up with your dinner-for-two deals and couples' massages onthe 14th. We're taking back the night. We have rights, and we will not be ignored!
We have the right to tell tales of one-night–stands and loneliness loudly and in public without fear of derision. Thank heaven for ideas like the new reading series Solo in the Second City (Cobra Lounge, 235 N Ashland Ave; Mon 13, 8–9:30pm; free), where we can hear people talk without fear of reprisal about the joys and, yes, sometimes woes of being single.
We have the right to a good table for one in a restaurant. And no, that one near the kitchen and the bathrooms does not count. We understand that with rights come responsibilities, and we promise to tip generously because we know full well that waiters live by the gratuity, and a one-top is considered by many in the profession to be tipping hell.
We have the right to a good stiff drink with no judgment about being at a bar alone. If we strike up a conversation it does not mean we are hitting on you, we swear. Hallelujah for the Franklin Tap's Beer is My Valentine (325 S Franklin St, 312-212-3262; Tue 14, 11am–midnight), where we can purchase drink specials to celebrate one of the longest relationships we've been in—with beer, which, as Homer Simpson so rightlyputs it, is "the cause of, and solution to, alllife's problems."
We have the right to party, and,contra the Beastie Boys, we shouldn't have to fight for it. We demand a safe, happy space to dance solo. Obviously, we didn't have to explain that to the Fabulous Ladies of Fitness, who decided to make "love is a battlefield" the February theme of their monthly Get Physical dance party (Cole's Bar, 2338 N Milwaukee Ave, 773-276-5802; Thu 9, 9:30pm–1:30am; free).
We have the right to special deals that don't involve being in a twosome. Not every spa package should be for two (and, ew, those couples massages sound so unsanitary). Avieve Spa and Salon (2558 N Southport Ave, 773-281-3330) gets that; its Over Him package includes a brow wax and blow-out for $50.
We have the right to a February 14 office conversation that does not involve your pudding-wudding and the trail of rose petals you awoke to this morning that led from the bed to the kitchen table, where heart-shaped French toast awaited you. Aww. So sweet! Put a sock in it.
We have the right to a proper education. In particular, we'd like to know more about this "romance" of which you speak. We are therefore gratified to hear of Night Lab: the Science of Love and Attraction (Schubas, 3159 N Southport Ave, science-is-sexy.com; Sun 12 at 6:30pm; free), at which professor Eli Finkel will talk about the psychology of online dating sites. Then, to add a bit of risque fun, Rebecca Fons, the education program manager for the Chicago International Film Festival, will talk about doin' it onscreen and how actors fake it.
We have the right to do nothing on Valentine's Day, and to not be made to feel we must explain ourselves. Tuesday the 14th? Well, I might be reading a book that evening. You got a problem with that?