Architectural/Historical Tour
Wateriders Sat and Sun 10am, 2:30pm.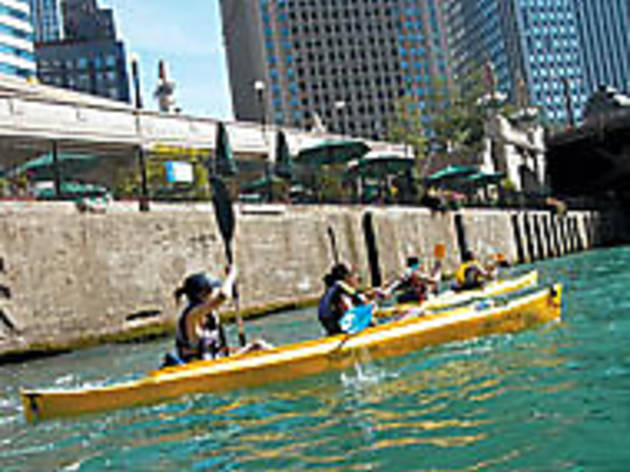 It's simple enough: Take in a lecture about the history of the Chicago River while paddling a kayak through its currents. But, as I discovered one recent Sunday morning, this is no leisure trip.
The River North–located Wateriders is a kayak tours and rentals company offering a (mostly) historical group tour of the Chicago River. Upon arrival you choose a kayak—a pal and I opt for the double kind, which offers far more stability. Then you launch out of a dock by the old Montgomery Ward building. We enjoy our group of 12: a few couples looking for sporty romance and some fitness-inclined singles. The tour starts out with a quick steering lesson from Charlie—one of two helpful guides—who's prone to reciting Nelson Algren poems and strumming a ukulele mid-trip. Surprisingly, wrestling with the garbage- and boat-filled waters is tough; but we manage to stay afloat (unlike one guy, whose accidental plunge into filthy waters delays our start).
The tour's first stop is the spot where the three river branches cross, near the curved glass of 333 West Wacker Drive. There, Charlie gives a history lesson on Chicago's rise from rough town on the prairie. Unfortunately, it's easy for your mind (and hard-to-steer kayak) to wander during the oft-recited history of the river and the Chicago Fire. But the tour lightens up with Charlie's amusing asides—including the notorious tale of the Dave Matthews Band tour bus emptying its sewage onto the helpless patrons of a sightseeing boat.
Heading down the south branch dodging food wrappers and clumps of cigarettes, toward the cleaner waters of the main branch, we pass the Art Deco Merchandise Mart and Marina City. Then the kayaks stop at the site of the Eastland wreck, where 845 people died when the ship capsized in 1915. The tour's most interesting when you're able to row up close to some truly astonishing historical areas. Charlie tells of its haunted past. Then, arms sore but sated by the stories, we start back.
The lazy boat-tourists on their high decks wave, but it's a superior feeling to get down and work for river views of the city.—Kat McCullough