Art in Chicago's subways
Andy Paczos blazes a trail for painting in Chicago's subways.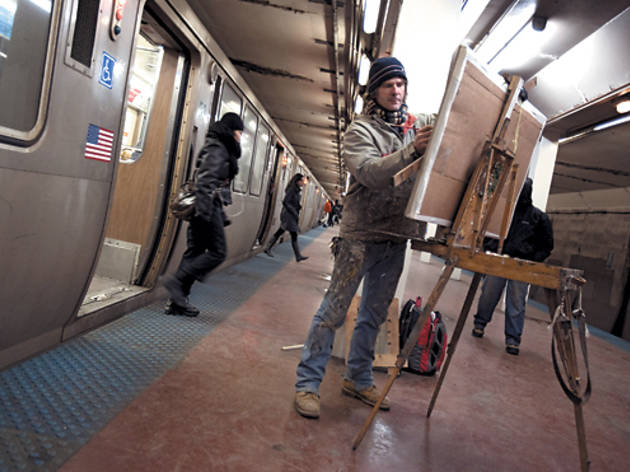 It's not that Andy Paczos thought no one would notice him—there's no way to hide an easel parked on a subway platform. But he hoped no one would care.
RECOMMENDED: Chicago transit guide
He'd gotten away with it in early fall last year when he painted a landscape at the Clybourn Metra station. The conductors spotted him—messy brown hair and stained jeans that clearly have served as a brush rag—but no one said anything. So in late November, the Chicago artist entered the Division Blue Line stop, paid his fare and set up his materials at the end of the platform. He'd been painting for 15 minutes when a Chicago Transit Authority employee tapped Paczos on the shoulder and ejected him. The CTA licenses only mimes and musicians to perform in four of the city's train stations.
Paczos, 49, is used to getting kicked out of places. Unlike many artists, he paints his urban landscapes on site rather than from photographs, often traversing on restricted property to work a few hours a day over the course of months. To create some of the paintings in a 2009 show at the Hyde Park Arts Center, he spent a year dodging security guards who patrolled the abandoned site of the former Chicago Paperboard Company, breaking down his easel and crouching in the bushes whenever he saw them approach. He never knows if he'll finish a painting before he's chased off.
"Most of the people that see me think that I'm doing something important, but then the other people think I'm doing something criminal," says the artist, represented by River North's Maya Polsky Gallery. "I'm a law-and-order guy. I think rules are good, but sometimes common sense should trump the official law."
Plein air painting—particularly in Chicago during the winter—is not for the physically fragile. This year, Paczos planned to work in the subway to beat the cold. When the CTA told him to leave, he appealed to his friend Chuck Thurow, the well-connected former head of the Hyde Park Arts Center, who arranged a meeting between Paczos and the agency.
"I kept telling them, 'Think of Monet in the railway station,'?" Thurow says.
Once the CTA realized Paczos wouldn't be blocking traffic or painting passengers, the agency was enthusiastic. Spokeswoman Noelle Gaffney says that in her 15 years at the agency this was the first request she's seen from a painter. Instead of a street-performer badge, the CTA gave Paczos a contract, which he can present to agency employees. The CTA waived the $2,000 per day fee it usually charges filmmakers, but insisted Paczos have liability insurance. The Hyde Park Arts Center stepped up, sponsoring Paczos so he could access the institution's $3 million policy. Part of the center's mission is to provide artists access to institutional benefits they need in order to create, says executive director Kate Lorenz.
Paczos's experience sets a precedent that could pave the way for other artists wishing to attempt similar projects, Lorenz says, "although I'm not sure how many artists want to be painting plein air in the subway." (Gaffney says the CTA will consider artists on a case-by-case basis.)
Security guards aside, riders at the Division Blue Line station have been intrigued seeing the same artist day after day, sitting at the end of the platform, painting both sets of train tracks. "After all this fuss," Paczos says, "if I don't produce good paintings, I'm going to be really disappointed."