Battle of the gayborhoods
When Chicagoans-straight and gay-want to shop, get drunk, eat sushi, or dance the night away, they often head to Andersonville or Boystown. But which 'hood is hotter? We compare the scenes, shops and services, and declare a winner.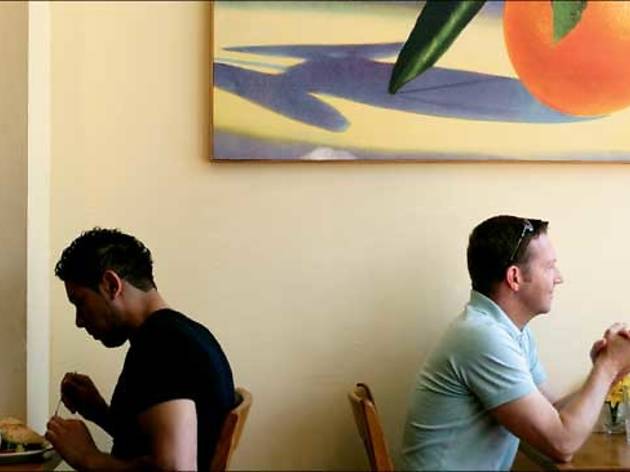 Public transportation
Andersonville: The 22 Clark is about as reliable as Chicago's weather. There's also the 92 Foster and the 9 Ashland, sure, but you can't reach those easily from any El line, and the train is a good walk from the main drag.
Boystown: Trains, buses, automobiles—is there anything you can't take to get your cute ass there? Major El (Red, Brown and sometimes Purple) and bus lines (22 Clark, 36 Broadway, 77 Belmont, 151 Sheridan) cross the neighborhood. The winner: Boystown Andersonville might appeal to those who want to stay secluded, but it ain't fun waiting 45 minutes in the cold for that damn Clark bus.—Cecilia Wong
Margarita
Andersonville: Olé Olé This local fave offers two choices: a house margarita ($8) and the Olé Olé ($11), a blend of Patrón tequila and Grand Marnier. The house is excellent, but the Olé Olé is worth the extra three bucks: With rounder citrus flavors, it tastes like a new cocktail altogether. 5413 N Clark St (773-293-2222).
Boystown: Las Mañanitas This spot makes its money by plying the kids with margaritas and alcohol-absorbing Mexican food. The margaritas come in lime and Alizé variations ($7). But on a recent visit, the lime was poorly made, and the passion-fruit Alizé was bland. We had to drink quite a few before the lack of flavor stopped bothering us. 3523 N Halsted St (773-528-2109).
The winner: Andersonville If you're the discerning type willing to shell out the cash for a quality 'rita at Olé Olé, get a table and stay awhile—you'll probably dig its solid nuevo Latino menu, too.—Nicholas Day
Best bakery
Andersonville: Swedish Bakery The long lines at this neighborhood stalwart—which has been providing sugar fixes since the '20s—sometimes make us wonder what the bakers are putting in the batter, but the truth is we couldn't care less. Marzipan cakes, butter cookies, cardamom braids—we're hooked on all of them. 5328 N Clark St (773-561-8919).
Boystown: Cupcakes The world is a happier place when you're holding a cupcake. A rotating weekly menu of eight flavors here includes classic yellow, plus varieties like key lime pie and Butterfinger. But at $3 a pop, these babies are a splurge. 613 W Briar Pl (773-525-0817).
The winner: Andersonville Seventy years of baking for the neighborhood trumps an expensive dessert trend anytime.—Judy Sutton Taylor
Bookstore
Andersonville: Women and Children First This small, lesbian-friendly shop runs a lively reading series and hosts a bunch of activities, like the Intergenerational Feminist Book Group. Ladies in search of reading matter on, say, their aging bodies or emotional issues would find all they need here, as well as a small but solid fiction section. 5233 N Clark St (773-769-9299).
Boystown: Unabridged Bookstore Yes, you can pick up a copy of Rough N' Queeny, along with dozens of other picture books of buff boys. But Unabridged has an extensive travel-book selection; a large, friendly space filled with children's books; and shelves heaped with literary fiction and nonfiction. 3251 N Broadway (773-883-9119).
The winner: Boystown More room, more books and more topics put Unabridged on top of our best-seller list. Sisterhood is powerful, but so is a big selection.—Ruth Lopez
Sexiest sex club
Andersonville: Man's Country This men's club was originally a fraternal organization when it opened its doors in 1907; 100 years later the gentlemen here are still just as friendly. 5015 N Clark St (773-878-2069).
Boystown: Steamworks Meet the Barneys of bathhouses. Aside from the occasional condom wrapper floating in the hot tub, this place offers three immaculate floors of steam rooms, saunas, workout facilities and cozy corners for gay boys and bi guys on the down-low. 3246 N Halsted St (773-929-6080).
The winner: Boystown Just waiting in the line of hotties to get our locker key is enough to get our libidos revved up.—Jason A. Heidemann
Burger joint
Andersonville: Hamburger Mary's This new kid on the block is part of a San Francisco chain that's big on kitsch (your tab is set on the table tucked inside a high-heeled pump) and portion size (patties weigh in at a half-pound). 5400 N Clark St (773-784-6969).
Boystown: Twisted Spoke Located a few blocks west of Halsted at Roscoe Street and Clark Street, this biker-themed bar's signature half-pounders, called fatboys, are served on soft egg buns with a side of hand-cut fries. Drink specials like $2.50 beer (for most brands) on Tuesdays and half-price (on all) whiskey on Wednesdays help those big daddies go down easy. 3369 N Clark St (773-525-5300).
The winner: Boystown Biker grub beats fairy food in a burger-to-burger showdown. And can you turn down something called a fatboy? —Judy Sutton Taylor
Brunch spot
Andersonville: m. henry Once the wait's over, m. henry will make you very, very happy. We love the gosh-darn niceness of every server, the blackberry bliss pancakes with vanilla mascarpone, the tempting specials. And the coffee? Yum. 5707 N Clark St (773-561-1600).
Boystown: Orange They've got a really nifty orange-squeezing machine, but the wacky omelette- and pancake-based brunch menu's worth staring at, too. 3231 N Clark St (773-549-4400).
The winner: Andersonville We find m. henry so charming, clever and tasty, we're thinking about moving in upstairs.—Nicholas Day
Greatest gym
Andersonville: Cheetah This trendy spot has plenty to brag about, including a 15,000-square-foot strength-training room, flat-screen TVs on the elliptical machines and Cheetah's Energia Juice Bar, all in one of the most urban-chic buildings in the city. Cost is $199 initiation fee and then $69 a month, though they occasionally offer a $99 initiation/$49 a month deal. 5248 N Clark St (773-728-7777).
Boystown: Halsted Multiplex The pluses: Amenities here include cardio and strength-training equipment galore, three group-exercise studios, massage therapy and a rarity in the city—indoor heated parking (and it's free!). The minus: The superserious gym rats always have that Martha Stewart look of determination and total insecurity on their faces. Cost is $350 initiation fee and then $79 a month, though if you time it right, sometimes they waive the initiation. 3228 N Halsted St (773-755-3232).
The winner: Andersonville The exposed brick and beams, the three-story waterfalls, the cruisy clientele—where do we sign up?—Jason A. Heidemann
Sushi spot
Andersonville: Tanoshii Score a seat at the sushi bar and chat up Mike Ham ("Sushi Mike" to regulars). His specialty is creating custom maki, combining fresh fish with a mix of standard (cucumber, teriyaki sauce) and less traditional (olive oil, parsley) ingredients. 5547 N Clark St (773-878-6886).
Boystown: Nohana When your sushi jones is strong but your finances are weak, Nohana is your spot. With happy-hour deals (discounted sushi from noon to 1pm and 5 to 6pm, Monday to Saturday) and party trays (15 nigiri and three maki for $25), you never have to go without. 3136 N Broadway (773-528-1902).
The winner: Andersonville When we really think about it, cheap fish freaks us out.—Judy Sutton Taylor
Window display
Andersonville: Paper Trail The staff at this chic retailer of paper goods could be described as snooty. But wouldn't you be, if your buttoned-down urban window treatments were the envy of every would-be home decorator on the North Side? 5309 N Clark St (773-275-2191).
Boystown: Batteries Not Included The windows at this sex shop and self-proclaimed "bachelorette party headquarters" are hilariously campy. A recent window display featured an airplane scenario straight out of a '70s disaster film. 3420 N Halsted St (773-935-9900).
The winner: Andersonville It's basically origami versus orgasm and, while we've admittedly purchased more from BNI, we'll always aspire to be Paper Trail people.—Jason A. Heidemann
Leather bar
Andersonville: Eagle This bar is a dimly lit and occasionally dodgy (in a good way) leather hangout with a dress-code enforced backroom (that is, you must wear leather) where men go bump in the night. It's also the official home of International Mr. Leather, Inc. 5015 N Clark St (773-728-0050).
Boystown: Cell Block Boystown's only leather hangout accepts all into its low-key lair. Various kink groups are welcomed on the weekends, when both the holding cell and dress-code-enforced yard are open. 3702 N Halsted St (773-665-8064).
The winner: Andersonville The difference is negligible, but the Eagle has the added advantage of being close to the Leather Archives & Museum, and Far North Side fetish hangouts Touché and Jackhammer.—Jason A. Heidemann
Rent
Andersonville: If your idea of street culture is bakeries and babies, and your idea of a reasonable rent for a one-bedroom is squarely three figures, Andersonville's where it's at. One-bedrooms start at $625, but most hover in the $800 range and top out at $1,200.
Boystown: High-rises and glamour are code for high rent in Boystown. A bustling street scene and easy access to the lake add up to a high demand and higher prices. When we checked online, the bulk of the one-bedrooms were in the $1,000 range, going up to $2,295.
The winner: Andersonville We'll take cozy over glam any day, even if it weren't going to save us money.—Ruth Welte
Sex-toy emporium
Andersonville: Tulip Nowhere else in Chicago can you experience fresh-cut flowers and local artwork while a knowledgeable staff member explains how the harness with built-in front pocket and vibrator will pleasure her just right. 1480 W Berwyn Ave (773-275-6110).
Boystown: Cupid's Treasures From the leather daddies stocking up on fetish gear to giggly straight couples testing the waters of light S&M, Cupid leaves no bone unturned. 519 N Halsted St (773-348-3884).
The winner: Andersonville Tulip wins, but never fear, Lakeview residents: A new Tulip location has opened in Boystown (3448 N Halsted St, 773-975-1515), as well.—Jason A. Heidemann
Place to see go-go boys
Andersonville: @mosphere Now that Madrigal's has headed South to N'Awlins, @mosphere has picked up the slack with strippers on weekends. As a unique twist on dinner theater, it offers a light supper on Sundays while the boys get busy taking it off. 5355 N Clark St (773-784-1100).
Boystown: Cocktail Don't bother saying you're just here to chill: Everyone's here to watch a racially diverse menu of gorgeous guys dance around in glittery undergear while rubbing crotches with a horned-up clientele. 3359 N Halsted St (773-477-1420).
The winner: Boystown @mosphere started having strippers only recently and is still testing the waters. At Cocktail, the water is just fine and the boys have jumped in.—Jason A. Heidemann
Outdoor drinking
Andersonville: Big Chicks It's hard to leave the inside of Big Chicks, with its beautiful wooden surfaces and old-school neon. Out back, however, there's a serene patio surrounded by brick walls. And when you leave, the bartender might say, "Bye baby, next time come back naked." 5024 N Sheridan Rd (773-728-5511).
Boystown: Buck's Saloon Buck's has shabby picnic tables, a bar shack that looks like it was dragged off the beach, and bartenders who smile when you ask for one beer and two waters. It's like hanging out in your neighbor's backyard, if your neighbor grilled free food for the block every Sunday. 3439 N Halsted St (773-525-1125).
The winner: Boystown When you don't have a backyard, sometimes it's nice to pretend.—Nicholas Day
Safety issues
Andersonville: One might assume that less-densely populated Andersonville would be safer, but www.chicagocrime.org reveals surprisingly similar crime statistics for the two 'hoods between Nov. 2, 2005, and June 22, 2006. In a comparison of their respective police districts, Andersonville had 73 percent more "sex offenses" (26 compared to 15; including public indecency and peeping toms), and almost as many assaults and batteries as Boystown (609 compared to 610).
Boystown: Boystown had 92 percent more criminal sexual assaults (23 compared to Andersonville's 12) during the same period.
The winner: Andersonville. It's close, but Boystown's high incidence of violent sex crimes puts it over the edge. —Ruth Welte
Wine bar
Andersonville: Joie de Vine This small and sleek bar is hidden away on a charming residential strip, making it the perfect spot for taking that $26 bottle of Vouvray out to the sidewalk. The lushes here are usually ladies, but guys need not worry: There's no attitude whatsoever, much less antimale hateration. 1744 W Balmoral Ave (773-989-6846).
Boystown: X/O Chicago A witty wine list is broken up into whimsical flights (if you can resist the "Voluptuous and Flamboyant" flight, you're in the wrong bar). But there are more passes made here than in a football game, so all that food and drink seem somehow secondary. 3441 N Halsted St (773-348-9696).
The winner: Andersonville Stop cruising us and let us drink our wine, for God's sake.—David Tamarkin
Parking places
Andersonville: Nowhere to park on the metered main drag? Try the side streets and you'll likely find a spot for your hoopty. If side streets are doing you wrong, head just west of Ashland, where street vacancies abound.
Boystown: You brought your car? Poor bastard. You thought you were going to be cruising for cuties all night, but instead you'll spend those hours cruising for parking. Try the side streets at your own risk—they're almost all permit-only. Often, your best bet is to shell out for a spot in a pay lot.
The winner: Andersonville, by a mile.—Ruth Welte
Puppy wash
Andersonville: Scrub a Dub Dub Teresa Boris teaches customers how to wash their pooches in her self-service baths, so everyone walks away looking good. For an added fee, she'll do the dirty work herself, using massage techniques to soothe your furry beast. 1478 W Summerdale Ave (773-275-7387).
Boystown: Scrub Your Pup This self-service dog wash and pet-supply store provides all the props, from towels and shampoo to ear cleaner and cologne, to get your pup looking all dapper. The best part: It takes care of the mess when you're finished, so you and your pet can make a clean exit. 2935 N Clark St (773-348-6218).
The winner: Boystown A bit more wiggle room and the possibility of postbath designer treats make Fido very happy.—Judy Sutton Taylor
Beer list
Andersonville: Hopleaf There are ten Belgian beers on tap and 20 non-Belgians, including a clutch of local brews. (And there's an imaginative and affordable wine selection, too.) But don't worry: The mussels (in wine or ale) and frites with aioli will soak up the booze in your belly and keep you upright. 5148 N Clark St (773-334-9851).
Boystown: Roscoe's The hardest-working gay bar in Chicago, Roscoe's has almost everything you'd want: a fireplace, a beer garden, a famous dance floor and a wet-boxer contest. The beer list is mighty ordinary—20 predictable drafts and bottles—but this is a bar for frozen cocktails, not connoisseurs. 3356 N Halsted St (773-281-3355).
The winner: Andersonville Hopleaf's beer list is incomparable. Just don't try to dance there.—Nicholas Day
Best Ann Sather
Andersonville: A few years ago Tom Tunney, the 44th Ward alderman who owns the Ann Sather franchise, sold this location to his sister Debbie. She wanted to do more with the restaurant, and that's exactly what she's done: The menu here includes items you'd never see at any other Ann Sather, like the Jamaican jerk chicken scramble and "Swedini," the Swedish panini. 5207 N Clark St (773-271-6677).
Boystown: This is not the original Ann Sather (that location was a few doors down, and proved too small after ten years), but it's the oldest one we've got. During the day, it's filled with patrons who were probably eating there when the restaurant's namesake was still around. But they scatter at night—probably scared off by all the goth kids. 929 W Belmont Ave (773-348-2378).
The winner: Andersonville Debbie Tunney stuffs one of the famous cinnamon rolls with mascarpone and makes French toast with it—can you even imagine? Thus, we'll forgive her this location's prohibitive hours.—David Tamarkin
Men's clothing shop
Andersonville: His Stuff This place is more metrosexual than homosexual, making it a top stop for urban hombres of all orientations. The store carries top brands like 7 Diamonds, Modern Amusement and Report Collection, plus the owners (Ralph Fasano and Jeffrey Worth) know what looks good on you and aren't afraid to say so. 5314 N Clark St (773-989-9111).
Boystown: Universal Gear While there's a lot of posturing and posing here, this boutique is a must-visit spot, thanks to its ample selection of casual wear, swimwear, shoes and accessories (most from brands like Penguin, Calvin Klein and Diesel). 3153 N Broadway (773-296-1090).
The winner: Boystown The underwear collection alone at Universal Gear is more diverse than the entire North Side.—Jason A. Heidemann
Street décor
Andersonville: When we see this neighborhood's quaint benches, old-timey streetlamps and decorative brickwork along the sidewalks, we're perfectly aware that our emotions are being toyed with. But damn if it isn't cute anyway.
Boystown: Rainbow-colored phalluses, ahoy! Boystown, the United States' first officially recognized gay village, sports a proud parade of 11 pairs of rainbow-ringed decorative pylons along Halsted Street from Grace Street to Briar Place. They were installed as part of a $3.2 million "streetscaping" effort by the city in 1998, and they're still looking mighty perky.
The winner: Boystown Our heart (or what have you) still swells when we see those rainbow rings.—Ruth Welte
Favorite server/bartender
Andersonville: Adam LeBlanc at Crew The servers here all have their charms, but the luckiest charm of all is cutie pie karaoke impresario, '80s-cover band frontman and secret crush LeBlanc. With his dreamy eyes, late-afternoon scruff and laid-back attitude, he keeps us on the gay end of the Kinsey scale. 4804 N Broadway (773-784-CREW).
Boystown: Karen Holden at Closet Late-shift drink-slinger Holden could stare down a lion without breaking a sweat. We defy you not to be both intimidated and reverent at the same time and, if she cracks a smile your way, consider yourself among the chosen ones. 3325 N Broadway (773-477-8533).
The winner: Boystown We'll let hunky heartthrob LeBlanc be the center of our Tootsie Roll Pop anytime, but Holden is still the holy grail of girl-on-girl bartenders.—Jason A. Heidemann
The overall winner
In a way, they're both winners. But in another, more accurate way, Andersonville wins by the total of 14-10. Try to take this depantsing in stride, Boystown. As Cubs fans have learned, there's always next year.