Bear in mind: a guide to Bears tailgating
Wanna give tailgating a try? A die-hard Bears fan tells us how to expertly drink, grill and—come winter—keep your limbs from freezing off.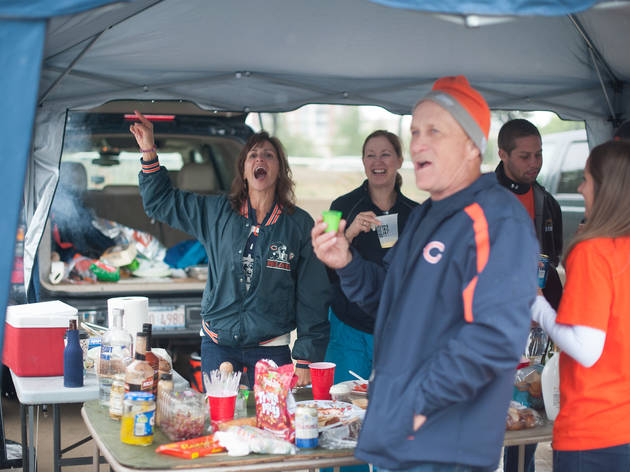 Don't ask Steve Christensen over to watch the Bears' home opener; he's got plans. Christensen, 30, of Logan Square, is one of many who tailgates before every home game in parking lots around Soldier Field. So if you're tailgating-curious but nervous about parting the sea of orange and blue, Christensen brings you tips from his more than seven years of hard-core experience.
RECOMMENDED: Our guide to the Chicago Bears
1
Plan ahead. On Tailgating Eve (you do celebrate, right?), marinade the meat, boil the brats, chop the onions, load the beer in the car. "That way you don't have to worry about doing anything in the morning other than just dragging yourself out of bed." If you don't have Bears parking passes, your best bet may be the 31st Street lot at South Moe Drive, which offers cash parking ($25 per car).
2
Arrive early, duh. Christensen says the 31st Street lot begins to fill up with fellow tailgaters between 7 and 9am on game days. Which is why, for a noon kickoff, he shows up with his gang at 6am and gets to work on breakfast. "I can't even count how many times we'll be down there at 6, we'll be set up and we'll be starting to eat by 7, and you'll see this huge line of cars waiting to get in."
3
Don't invite Oscar Mayer to the festivities. "Go to the butcher, spend the money, get good steak, get good ribs, get interesting, different sausages." Football tailgating is a special occasion; splurge instead of buying everyday food.
4
Go inside. In winter, Christensen recommends a ten-by-ten-foot pop-up tent with attachable sides plus a portable propane heater. "We close all four sides and pump the heat in and only leave to flip the meat or play bags." And remember to tie down your tent to your car or nearby poles or to use sandbags. "We've seen many tents go up in the air and go flying."
5
Share and share alike. Fork over food to other tailgaters (they'll give you some of theirs), and if you're feeling generous, non-tailgaters walking by on their way to the game. "They kind of give you the sad eyes, like, 'Please ask me if I want it.' "
6
Man the flames. "I'm a big advocate of that Match Light charcoal. A lot of purists say that you can't use it, but I would say when it's windy on the lake at seven in the morning, I want something I can drop a match on and it lights." Think ahead: Bring a gallon of water to dump on your coals. "A lot of people will just take their charcoal and flip it over on the parking lot and leave the hot coals there." We know you'd walk across hot coals for your Bears, but you shouldn't have to.
Find the tailgating rules at chicagobears.com/tickets/comingtoagame.asp.