Best laid (off) plans
Best laid (off) plans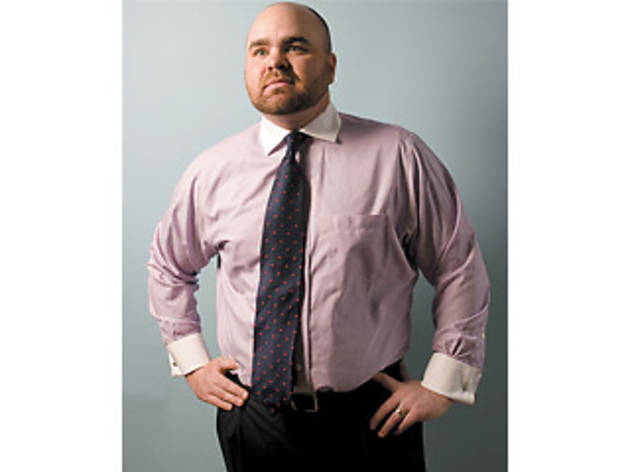 NICHOLAS RICHARDSON
On the last Friday of February, Richardson was laid off from his law firm. "There wasn't enough business for us, so I took an unexpected vacation," Richardson says. An attorney specializing in family law and criminal defense, Richardson ended up starting his own law firm-—but not before losing 25 pounds and improving his golf game.
Found time for Golf. According to the beginning golfer, "I almost judge my game by the balls I lose."
Tried Highland Woods (2775 Ela Rd, Hoffman Estates, 847-359-5850)—the wide fairways mean fewer balls lost in the trees.
Saved money by Snagging 10–20 percent off green fees at greatgreenfees.com or golfnow.com.
Richardson found time for Baseball. Richardson saw five daytime Cubs games—guilt free.
Tried Cubs games on a weekday—when suckers are working.
Saved money by Go to stubhub.com or craigslist.com for advance tickets, and look to the street-corner scalpers for spur-of-the-moment finds.
Richardson found time for Walking Fido. "I have the most energetic dog in the world," says a slimmer Richardson.
Tried The forest preserves. "They're beautiful, and my dog could run around freely." Go to fpdcc.com for a list of local forest preserves.
---
CARLY POKORNOWSKI
Until April 1, Pokornowski—an architectural designer—worked with a small residential firm that saw work drop off with the economic downturn. "My boss had to let the whole staff go," says Pokornowski. The bright side: "The first thing I did is tell everybody I knew, and surprisingly, a lot of people started giving me free things."
Found time for Minor-league baseball games.
Tried Watching the Madison Mallards. "They shoot someone out of a cannon. It's a total gas," says Pokornowski.
Saved money by Checking the promotional schedule. Gary RailCats' (One Stadium Plaza, Gary, IN, railcatsbaseball.com) website lists deals like $1.50 Michelob Ultra drafts on "Thirsty Thursdays."
Found time for Architecture tours
Tried CAF's Historic downtown tours. Pokornowski- says "It's a good architecture refresher, with interesting history."
Saved money by Using a membership to Chicago Architecture Foundation. "I got it as a gift—if you're a member you go on tours for free" (membership $55, architecture.org).
Found time for meet-ups. "I just joined the young architect forum on meetup.com, and the meeting helps me prepare for the architectural exam."
Tried To find a group, go to meetup.com and plug in your area of interest and your zip code.
---
SAMANTHA SIMONS
The meeting planner created high-end programs until her company eliminated the position in early March. "I took some time off to feel sorry for myself," Simons says. On the plus side: Simons spends more time with her relatives. "I pick up my niece and nephew from elementary school and take them to Dairy Queen. It's something I never was able to do," Simons says.
Found time for Outdoor workouts.
Tried Self Magazine's annual Workout in the Park last May.
Saved money by Enjoying the great (and free!) outdoors. Millennium Park (Michigan Ave, between Monroe and Randolph Sts) offers Workouts on the Great Lawn gratis on Saturdays, 7am–11am.
Found time for Happy hour
Tried Kitsch'n in River North (600 W Chicago Ave, 312-644-1500) offers free apps on Thursdays and Fridays, and Finn McCool's (15 W Division St, 312-337-4349) gives away free wings from 4–7pm.
Saved money by "I get Time Out and the RedEye and look for all the free fun things to do," Simons says.
Found time for Webinars and career groups
Tried General networking sites, like bnchicago.com or, for nonprofit workers, ynpn.org.
---
JEN
Jen left a management consulting firm in early winter to chart a new course. "I want to open a wine bar or try something else that's a little more eco- or socially conscious," Jen says. Until then, Jen busies herself with web projects and volunteering—and she's always on the lookout for part-time gigs.
Found time for Soup and bread bar nights.
Tried Tuesdays at Brando's Speakeasy (343 S Dearborn St, 773-216-3213), where free soup and bread are spiced up with burlesque.
Saved money by Filtering through chi.myopenbar.com, a website that lists and rates free or cheap booze offers.
Found time for Volunteering
Tried Helping out at the Dill Pickle food coop (dillpicklefoodcoop.org)—"I do their newsletter," Jen says—and working as a crisis counselor for the YWCA. For more information, e-mail crisisservicesvolunteer@ywcachicago.org.
Found time for Buying and riding a good ole' two-wheeler
Tried Using craigslist to buy cheap rides.
Saved money by Scoring a ride on craigslist from boB, a purveyor who offers great bike deals. "I got a $200 bike for $50," Jen says.