Best of the fests | The World of Faeries Festival, Wrigleyville Summerfest, Belize Day in the Park
Let your imagination transport you to a land of make-believe and the Caribbean.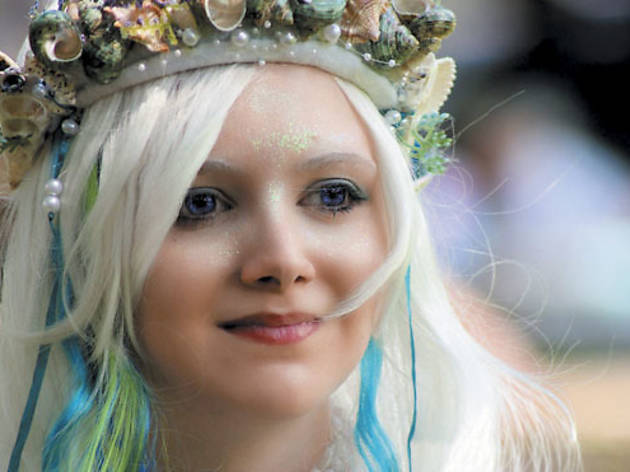 The World of Faeries Festival
Earn your wings (by, you know, buying them) at this magical fest's eighth manifestation. Your world-famous Tickle Spell is forbidden at Ren Faire. Here, let your inner child's imagination run wild, and cast magicks à la Harry Potter. Live folk music sets the whimsical mood for fairy tea parties, pirate quests and a Bubble Wonders Show with an international bubble master. Vasa Park, 35W217 Rt 31, South Elgin (815-788-1630). Sat 4, 10am–7pm; Sun 5, 10am–5pm; $11, seniors $8, kids under 13 free.
Wrigleyville SummerFest
Cover bands? Check. Fried foods? Check. Day drinking? Check. Kids' zone? Check. Pastoral Care booth? That's a check, too, at this tenth anniversary celebration run by Resurrection Lutheran Church. The street fest has all the staples—along with a pastiche of Lucy's Psychiatric Help station from Peanuts for those looking for a little friendly advice. While some summer dreams look bleak (maybe next year, Cubs fans?), these old faithful fete essentials are guaranteed. Seminary Ave at School St (773-665-4682). Sat 4, noon–10pm; Sun 5, noon–9pm; free.
Belize Day in the Park
If you're looking to experience Caribbean culture without leaving the Midwestern climate you've grown to tolerate, this ethnic fest transports you to a Central American state of mind. Familiarize yourself with Garifuna music and its drum-centric, hip-circling beats. Then pack on any calories you might've burned by gorging on traditional Caribbean cuisine like oxtail and jerk chicken. Thankfully, you're not what you eat. Hawthorne Race Course, 3501 S Laramie Ave, Cicero (773-881-0412). Sun 5, noon–10pm; $5, kids under 13 $2, kids under 5 free.